South China Sea dispute: Beijing is 'not afraid of war' with the US - but just what would they be fighting over?
War of rhetoric reaches new levels after US guided missile destroyer sails past the Subi Reef - a 5.7km strip of sand that isn't even above sea level during low tide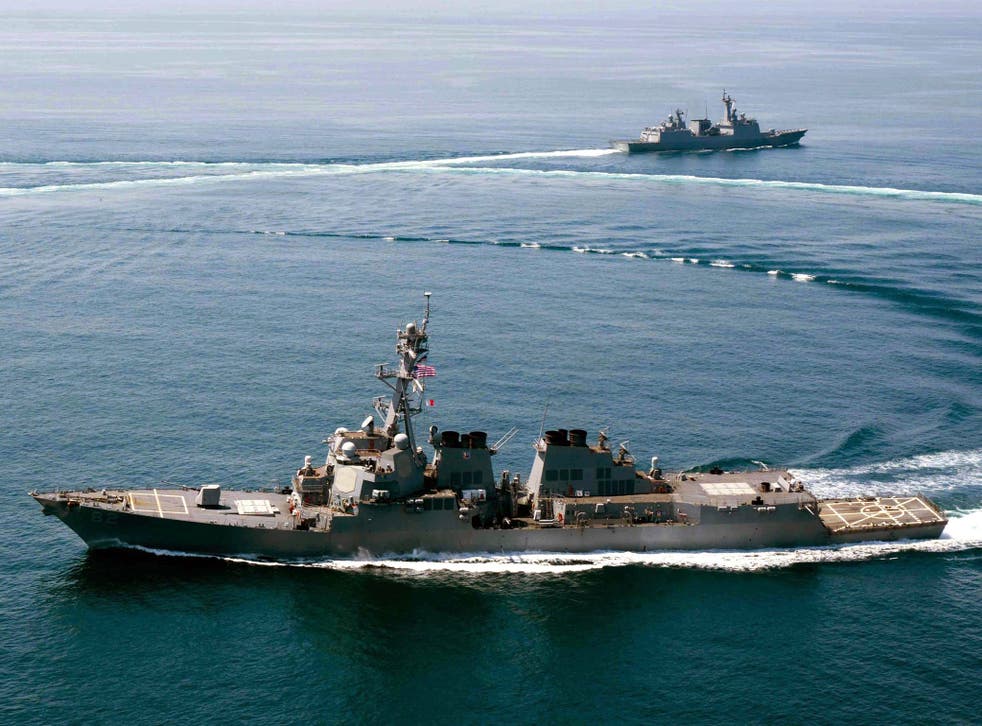 The battle of rhetoric between the US and China continues to escalate over the disputed South China Sea, with state-linked newspapers claiming Beijing is "not frightened to fight a war in the region".
The threat in an editorial of the Global Times comes after the US said it did sail a Navy ship near to China's artificial islands in the Spratly archipelago – and that it will do it again.
But just what is it that has led the two nations, who are otherwise working to forge closer ties, to such a diplomatic impasse?
What are they fighting over?
Located at a maritime crossroads between Malaysia, Vietnam, the Philippines and China, the Spratly Islands are sliced through by a confusion of different claims to sovereign territory.
Areas of open sea in the archipelago have been aggressively dredged by the Chinese Government, however, and in barely two years more than 2,000 acres of new land has been created.
The activity has proved highly controversial because China is accused of creating new land to extend its sea borders. As if to sure up its claims, the Communist state has piled military bases, docks and even a runway on the new islands.
Why is the US involved?
The US has said it does not have a position on the land reclamation projects that have incited such anger from China's neighbours.
But the US Defence Secretary, Ash Carter, implied that the mission to sail the USS Lassen missile destroyer within 12 nautical miles of the Subi Reef was an expression of the right to freedom of navigation.
US condemns China s land reclamation in South China Sea
He told a congressional hearing: "We will fly, sail and operate wherever international law permits." Mr Carter has previously demanded an "immediate and lasting halt" to the reclamation projects in the area.
The Philippines, which has conducted its own land-building efforts on a smaller scale, welcomed the US sail-by as a way of helping maintain "a balance of power" in the region.
How has China reacted?
China says it tracked and then warned the USS Lassen as it sailed by the Subi Reef, which only lay above sea level at low tide before Chinese military installations appeared there around 2012.
It has since summoned the American ambassador, Max Bacaus, in protest. China's foreign ministry said on its website that ministers told Mr Bacaus the US had acted in a "provocative" manner which threatened China's sovereignty and security.
Chinese newspapers linked to the Communist party expressed outrage in more colourful terms. According to the Guardian, a Global Times editorial suggested Beijing "should deal with Washington tactfully and prepare for the worst".
China's territorial disputes

Show all 5
"This can convince the White House that China, despite its unwillingness, is not frightened to fight a war with the US in the region, and is determined to safeguard its national interests and dignity."
China's main military newspaper, the People's Liberation Army Daily, reportedly made examples of the US's chaotic interventions in Iraq and Afghanistan.
It said: "Cast-iron facts show that time and again the United States recklessly uses force and starts wars, stirring things up where once there was stability, causing the bitterest of harm to those countries directly involved."
What are the long-term implications?
China has reacted defiantly, saying it will continue to develop its island-building projects and add new buildings, harbours, helipads and runways on them.
But, according to the Associated Press, other countries in the region have greeted the intervention and could use it as encouragement to stand up to China's assertiveness.
Further afield, regional powers including Singapore and Indonesia are wary of being caught up in the increasingly bitter dispute – and all sides are calling for negotiations on a long-term solution to head off the possibility of conflict.
Join our new commenting forum
Join thought-provoking conversations, follow other Independent readers and see their replies