China to build on disputed shoal in South China Sea
Beijing will begin work on 'environment monitoring' stations despite protests from the US and the Philippines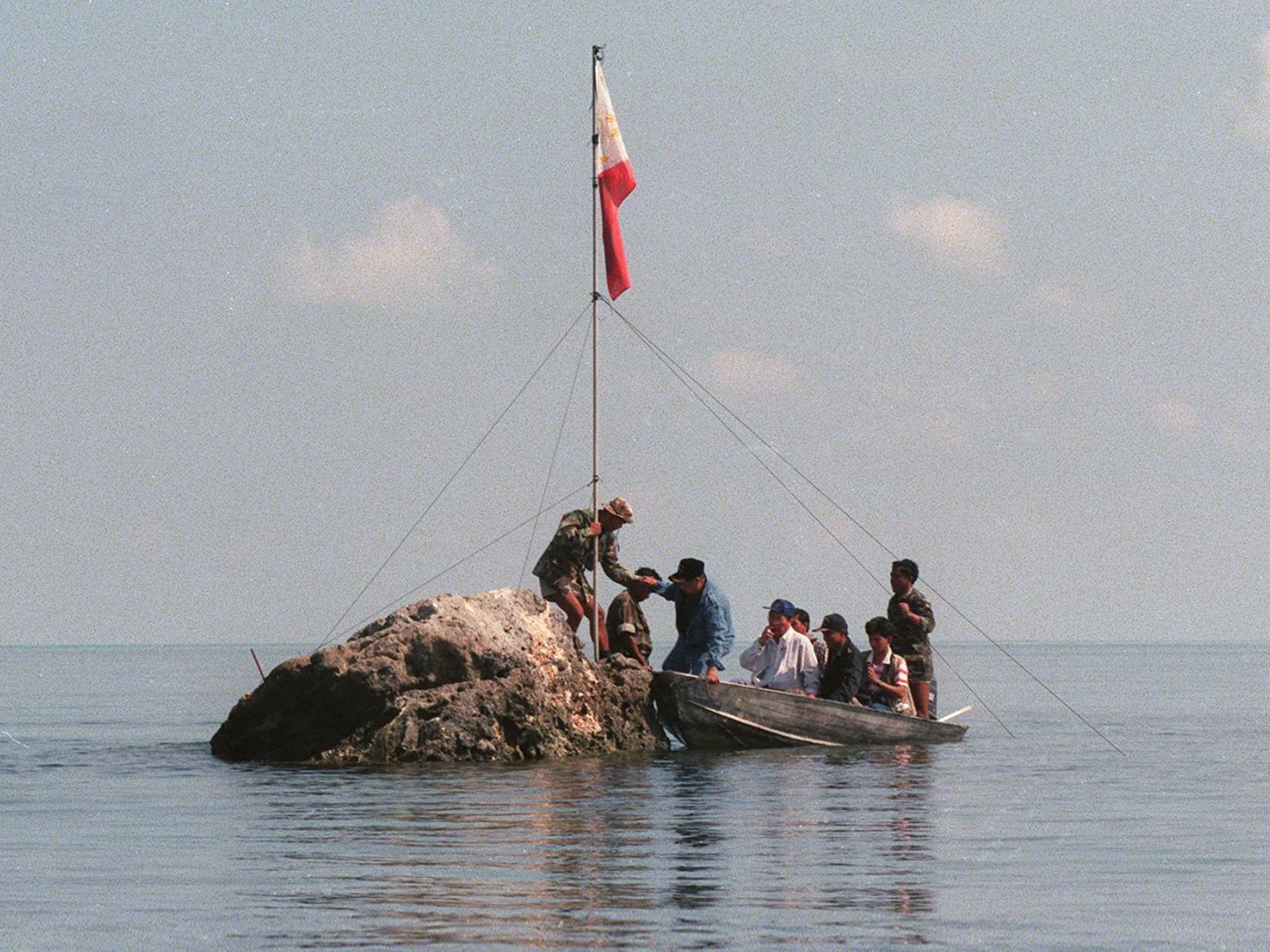 China is to begin construction work on tiny islands in the South China Sea which are claimed by several other countries in the region.
Beijing seized the strategically important islands on the Scarborough Shoal in 2012.
The US has warned China against carrying out land reclamation work in the area, which it has already carried out in other parts of the region.
In 2016, the Permanent Court of Arbitration unanimously ruled in favour of the Philippines and said there was no evidence that China had historically exercised exclusive control over the waters or its petroleum reserves.
Despite this Xiao Jie, the mayor of what Beijing calls Sansha City – an administrative base for the disputed South China Sea islands and reef it controls – said China was planning preparatory work this year to build environmental monitoring stations on a number of islands, including in the Scarborough Shoal area.
The monitoring stations, along with docks and other infrastructure, form part of island restoration and erosion prevention efforts planned for 2017, Mr Xiao told the state-owned Hainan Daily.
The move comes as two US senators introduced a bill to impose sanctions on Chinese activities in the region.
Florida Senator and former Republican presidential candidate Marco Rubio and Maryland Democrat Senator Ben Cardin introduced the South China Sea and East China Sea Sanctions Act, which would ban visas for Chinese people helping to build South and East China Sea projects.
It would also sanction foreign financial bodies that "knowingly conduct or facilitate a significant financial transaction for sanctioned individuals and entities" if China steps up activity at Scarborough Shoal, among other actions.
Chinese Foreign Ministry spokeswoman Hua Chunying called the bill "extremely grating" and said it showed the "arrogance and ignorance" of the senators.
World news in pictures
Show all 50
The dispute is likely to cause a headache for US Secretary of State Rex Tillerson, who arrived in Beijing on Saturday.
Mr Tillerson was expected to raise the issue with his Chinese hosts, having previously called the activity "illegal".
Last June, the then US Defence Secretary Ash Carter warned China that any move to retake the shoal would "result in actions being taken by the both United States and ... by others in the region which would have the effect of not only increasing tensions, but isolating China".
The US is keen for the passageway to remain free for all ships to travel through as an estimated $5 trillion (£4 trillion) in trade passes through every year.
Manila, which previously fought China's claims to the shoal vigorously, has wavered in its opposition to Beijing in recent months with President Rodrigo Duterte flip-flopping on the issue.
In October he announced his country, which previously had close ties to US, was now "separated" from Washington and added that close cooperation with China was the Philippines' "only hope" during a visit to Beijing to meet Xi Jingping.
He said the dispute could "take a back seat" during the countries' economic and trade talks and it was "not the time to go to war" with China.
But last week, he declaried to a news conference that a separate disputed waterway, the Benham Rise, was Filipino.
He said: "You go there and tell them straight that this is ours, but I say it in friendship."
Mr Duterte added that Manila had no choice but to resolve the issue diplomatically as they "cannot match the might of China".
Additional reporting by agencies
Join our commenting forum
Join thought-provoking conversations, follow other Independent readers and see their replies