South Korea ferry disaster: Victims' families express outrage at government's failure to conduct full inquiry and recover bodies
It is one year since the country's worst marine disaster claimed 304, mainly young, lives - and frustrated relatives are in no mood for a quiet memorial
Donald Kirk
Tuesday 14 April 2015 19:57 Comments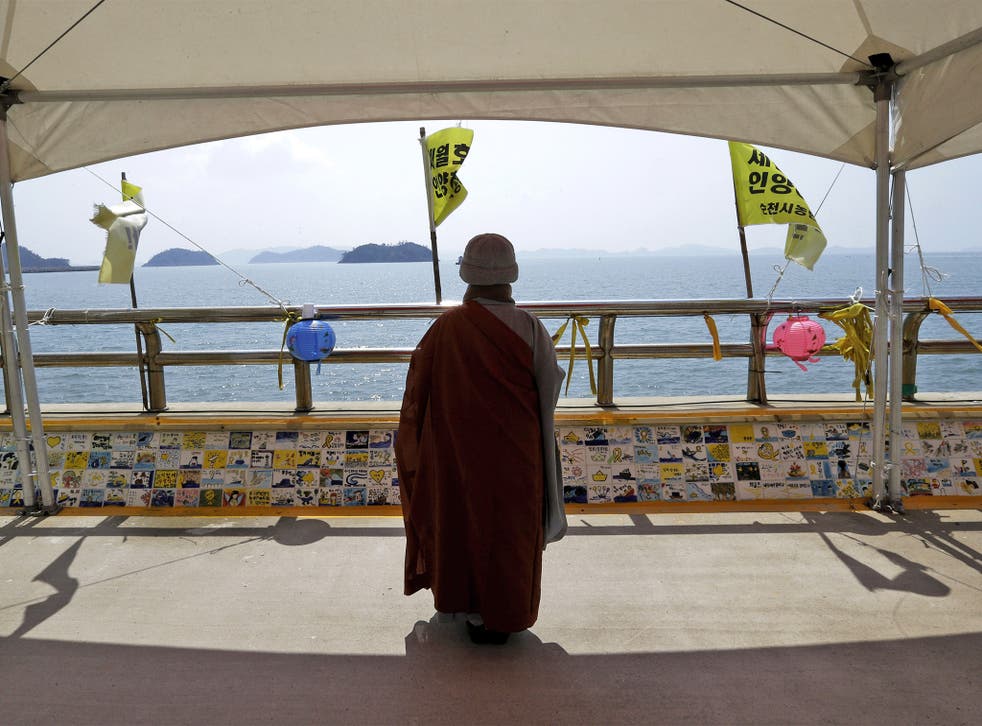 It should be a day of mourning for families of the scores of children who drowned when an overloaded ferry, the Sewol, sank a year ago. But parents and friends of the 304 victims of South Korea's worst marine disaster, mostly schoolchildren, are in no mood for a quiet memorial.
Instead, they are building up a massive protest against the government for what they see as its cover-up of what really happened – a story they believe will reveal ineptitude and cowardice far beyond that of the captain and crew who fled the ship and now are serving lengthy sentences.
"We don't think their trials were about finding the real cause. They were intended to limit responsibility," said Yoo Gyeong-geun, whose 18-year-old daughter was among those who died when the Sewol capsized in swirling currents off Korea's southern coast.
Without a hard-hitting investigation, parents, friends and relatives believe, there can be no closure. "We want to have this tragedy resolved," said Mr Yoo. "Our anger is against the Korean government and the people who are hindering the investigation."
The rage is at its most explosive in the southern Seoul suburb of Ansan where 250 of the 304 victims were students at a local secondary school on a holiday cruise to the island of Jeju. For their parents, the grief is so intense that memorials seem meaningless while the government fails to find out what really happened.
Anger is also growing in a row of tents set up by family members on the grassy central reservation of a broad avenue that runs through central Seoul towards the Blue House where President Park Geun-hye lives and works – oblivious, the families say, to the suffering of the bereaved.
One of them, Oh Byung-whan, has been living since last July in the shadow of a statue of South Korea's greatest national hero, Admiral Yi Sun-shin, who defeated a Japanese fleet more than four centuries ago near where the Sewol went down on 16 April last year.
While parents, relatives and friends handed out pins with small yellow ribbons, Mr Oh doubts he'll ever find out why his 17-year-old son had to drown. "We now realise the government is not doing anything," he says. "They are manipulating our protest to say we are pro-North Korean."
Mr Oh, whose interpreter is from the People's Solidarity for Participatory Democracy, which is co-ordinating the protest, adds: "They talk about democracy, but they are the same as dictatorship. Our own government should not break our hearts."
The ordeal started the moment parents first heard most of the passengers were trapped inside, then watched mobile phone footage of teenagers at first joking, then panicking as the ship leant over and water engulfed their cabins. Mr Oh and others say their loss is compounded by official intransigence. His wife needed hospital treatment after police beat her outside the maritime ministry during a demonstration at which parents tried to submit their views about the investigation.
South Korea ferry disaster

Show all 50
"The ministry said they will meet with family members," Mr Oh says, "but there is no response." As long as officials ignore them, he continues, "We do not want a memorial."
A major point at issue is what the protesters say is a government attempt to nullify an official investigation into the disaster – authorised by a special law enacted after much delay late last year. The law authorised a commission to conduct a fresh investigation, but Lee Suk-tae, the commission's chairman, says a so-called "enforcement decree" guarantees seats for officials who have no desire to embarrass anyone with their findings. "If there were a satisfactory investigation by the government, we would not have needed such a law," says Mr Lee. "Now we must find out what really happened and why the government failed to rescue more people. The commission must be independent from political influence."
The key question is why the coastguard and navy dithered during emergency calls, arriving at the scene half an hour after other small craft in the area. The government, says Mr Lee, "is afraid to let the people know the facts".
Undoubtedly the most irreconcilably suffering are parents and relatives of nine passengers whose bodies were never found. "All I ask is please find my daughter," says Park Jung-soon. "She is under water right now. I would like to ask President Park to do her best to find everyone. All we want is for family members who are missing to be returned."
The parents of the missing promise to keep up their lonely crusade until the government raises the 6,825-ton ship from the seabed. The water-logged and mud-encrusted vessel now weighs twice that much, say officials, who estimate that the job would cost $500m (£338m) and risk divers' lives.
Although the search ended last November as frigid, stormy weather closed in, President Park has ordered a review to see if salvaging is possible. "If the ship's recovery is technically feasible," she announced, "we will gather the opinions of the families of the missing and experts and actively consider raising the hull."
Parents dismiss these words as a political ploy. They say they have been listening to empty promises for months.
"All of us were at the site until November when they officially stopped," says Lee Heun-hui, who also lost a daughter. "We are living day to day. There is no punishment worse than what we are going through now." As long as her child is missing, she refuses to think about a funeral.
At street corners, activists distribute petitions demanding "Bring every last person back home!" The implication is clear: if Ms Park fails to act, she faces a growing political groundswell that is sure to damage the remaining three years of her presidency.
Recovery of the vessel, the petition says, "forms the first step towards building a safer society".
Register for free to continue reading
Registration is a free and easy way to support our truly independent journalism
By registering, you will also enjoy limited access to Premium articles, exclusive newsletters, commenting, and virtual events with our leading journalists
Already have an account? sign in
Join our new commenting forum
Join thought-provoking conversations, follow other Independent readers and see their replies