Sri Lanka hires hangmen for first prisoner executions in over 40 years
Island nation to put four convicts to death in Duterte-inspired drug trafficking crackdown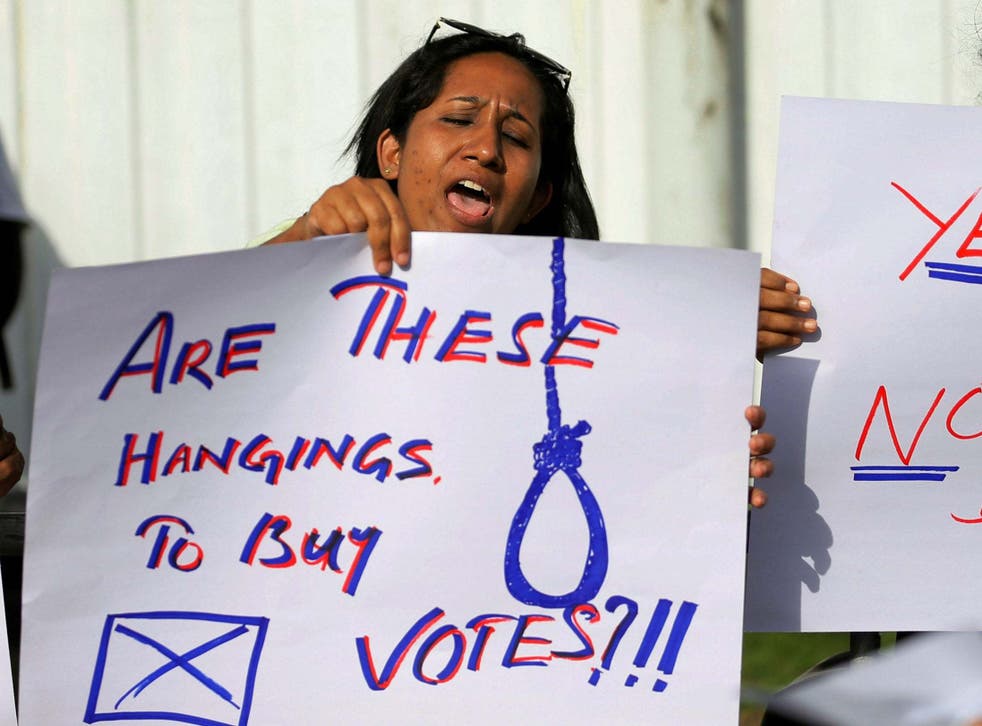 Sri Lanka has hired two hangmen as it prepares to carry out executions for the first time in over 40 years.
Four prisoners convicted of drug offences are to face the death penalty, the prison authority said.
President Maithripala Sirisena announced an end to a moratorium on the death penalty in force since 1976 on Wednesday.
The move is intended to clamp down on the drugs trade and political analysts say it will boost Mr Sirisena's popularity in the run-up to an election due to take place later this year.
Rape, drug trafficking and murder are all punishable by the death penalty in Sri Lanka but no executions have taken place for 43 years.
World news in pictures

Show all 50
Thushara Upuldeniya, the prisons spokesperson, said: "The recruitment process is finalised and two (hangmen) have been selected.
"The two need to go through final training which will take about two weeks."
Over 100 applicants responded to a job advert calling for executioners with "strong moral character" posted in February.
Applicants needed to be a Sri Lankan citizen, male, aged 18-45 and possess "a very good mind and mental strength".
However, one US citizen also applied for the role, the prison authority said.
While Sri Lanka's last execution took place in 1976, the prison authority kept an executioner in place until his retirement in 2014.
Since then, three replacements have left after short stints, including one who resigned after seeing the gallows and going into shock. Another never turned up to work.
Mr Sirisena said he had signed the death warrants of the four prisoners but they had not been told yet.
"We don't want to announce the names yet because that could lead to unrest in prisons," he said.
Sri Lanka's decision to revive capital punishment has been condemned by the UK, Canada, the EU and the United Nations.
A statement from the EU read: "The death penalty is a cruel, inhuman and a degrading punishment, and the EU unequivocally opposes its use in all circumstances and all cases."
"While the Sri Lankan authorities have cited the need to address drug-related offences, studies show that the death penalty fails to act as a deterrent to crime."
Support free-thinking journalism and attend Independent events
A spokesperson for the UN's Office on Drugs and Crime said introducing the death penalty may "impede international cooperation in fighting drug trafficking".
There are 1,299 inmates on death row in Sri Lanka, including 48 convicted of drug offences.
During a visit to the Philippines just last month, Mr Sirisena praised the country's president Rodrigo Duterte for his bloody crackdown on drugs, which he referred to as "an example to the world".
Additional reporting by Reuters
Join our new commenting forum
Join thought-provoking conversations, follow other Independent readers and see their replies