Peter Dahlin: Swedish human rights law activist detained in China makes a 'scripted' confession
Peter Dahlin, 35, was arrested for actions which supposedly endangered the Chinese state.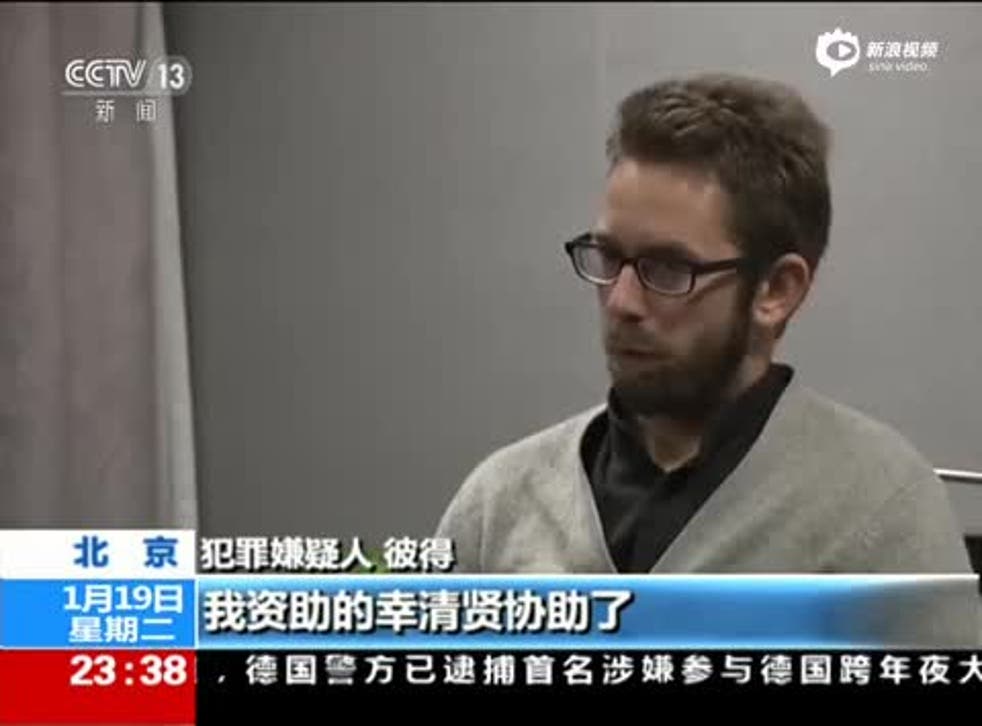 A Swedish man working for a legal NGO in China has made a "scripted" television confession following his detainment earlier this week.
Peter Dahlin, 35, is the co-founder of the Chinese Urgent Action Working Group (CUAWG), an advocacy organisation for human rights law in China.
In a TV appearance on the state-run CCTV news channel, Dahlin said: "I violated China's law through my activities here. I've caused harm to the Chinese government. I've hurt the feelings of the Chinese people. I apologise sincerely for this and I am very sorry that this ever happened. I have been given good food, plenty of sleep and I have suffered no mistreatments of any kind."
The CUAWG describes itself as "a team of human rights defenders working in mainland China composed of Chinese academics, lawyers, and political professionals. We work with a wide network of activists and leaders to assist fellow human rights defenders in distress."
Their stated aim is to "protect human rights defenders in peril and facing political persecution for their work." They claim to do this by providing funding for legal aid, raising media attention, working with human rights groups and "communicating with international institutions like the UN and local diplomatic missions in China as a means of applying pressure on the Chinese government."
Cases the CUAWG have worked on include that of Qi Chonghuai, a journalist and writer who was imprisoned for reporting on Communist party corruption, and Ni Yulan, a lawyer who opposed illegal demolitions and was beaten, harrased and imprisoned by police.
However, the operation to arrest Dahlin was described by state run Xinhua news agency as the smashing of "an illegal organization that sponsored activities jeopardizing China's national security." Dahlin and others were accused of receiving illegal international aid money and of carrying out unregulated activities.
"The police said the organization hired and trained others to gather, fabricate and distort information about China, providing "China's human rights report" to overseas organizations," said Xinhua.
"It also organized others to interfere with sensitive cases, deliberately aggravating disputes and instigating public-government confrontations to create mass incidents."
Michael Caster, a colleague of Dahlin, said to the Guardian of the TV appearance: "The lines about being sorry for causing harm to the Chinese government or Chinese state are clearly scripted. There was really never a point that he considered what he was doing to be harmful to the Chinese state or the Chinese society." Caster also mentioned that Dahlin appeared "strained" during his TV appearance.
The move is part of a growing clampdown in China on perceived dissent. It also raises further concern about China's draft Foreign NGO management law, which could give state powers "wide discretion in overseeing and managing the work of NGOs, and raises the risk that the law could be misused to intimidate and prosecute human rights defenders and NGO workers," according to Amnesty International.
Earlier this month, concerns were raised as to the whereabouts of Hong Kong bookseller Gui Minhai, and several of his colleagues, who worked in a bookshop which sold material critical of Beijing. It was widely suspected that their disappearance was the result of being kidnapped by Chinese security services. Earlier this week, Minhai also made a confession on CCTV.
Join our new commenting forum
Join thought-provoking conversations, follow other Independent readers and see their replies