Taiwan water park explosion: First death reported following fire at amusement park
181 people remain in intensive care following the incident
Siobhan Fenton
Monday 29 June 2015 09:51 Comments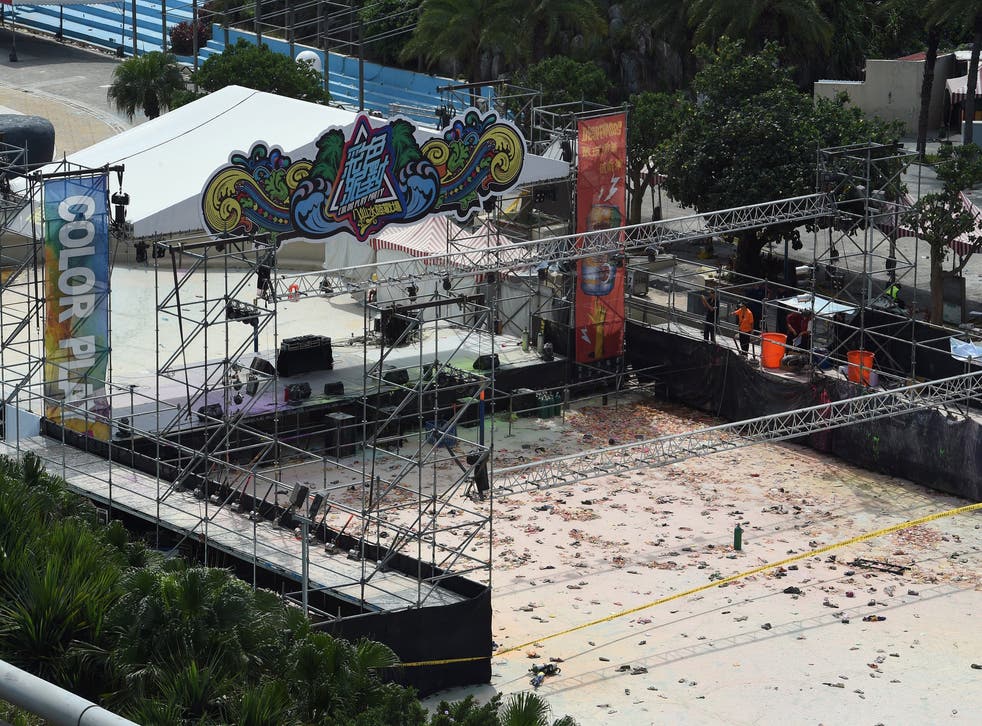 A 20-year-old woman has died this morning following a fire at an amusement park in Taiwan, it has been reported.
Taiwan's Central News Agency has named Li Pei-yun as the first fatality of the tragedy in which more than 500 people have been injured. She is understood to have suffered from burns covering 90 per cent of her body.
It is reported that she was at the park with her 12 year old brother, who also suffered severe burns and remains in intensive care.
The fire was sparked by an accidental explosion of coloured theatrical powder, which was thrown from the stage in front of a crowd of about 1,000 people at Formosa Water Park on Saturday night, according to the fire agency and local media.
The powder, used in a one-time event called "Colour Play Asia", ignited along the ground, said Wang Wei-sheng, a liaison with the New Taipei City fire department command centre.
The fire department said: "Our initial understanding is this explosion and fire… was caused by the powder spray. It could have been due to the heat of the lights on the stage."
An investigation into the incident is on-going.
519 victims were sent to 41 hospitals in the region. 181 remain in intensive care.
Register for free to continue reading
Registration is a free and easy way to support our truly independent journalism
By registering, you will also enjoy limited access to Premium articles, exclusive newsletters, commenting, and virtual events with our leading journalists
Already have an account? sign in
Join our new commenting forum
Join thought-provoking conversations, follow other Independent readers and see their replies