Thai king endorses leader of junta General Prayuth Chan-ocha as Prime Minister
The General seized power in a military coup three months ago
Thanyarat Doksone
Monday 25 August 2014 19:28 Comments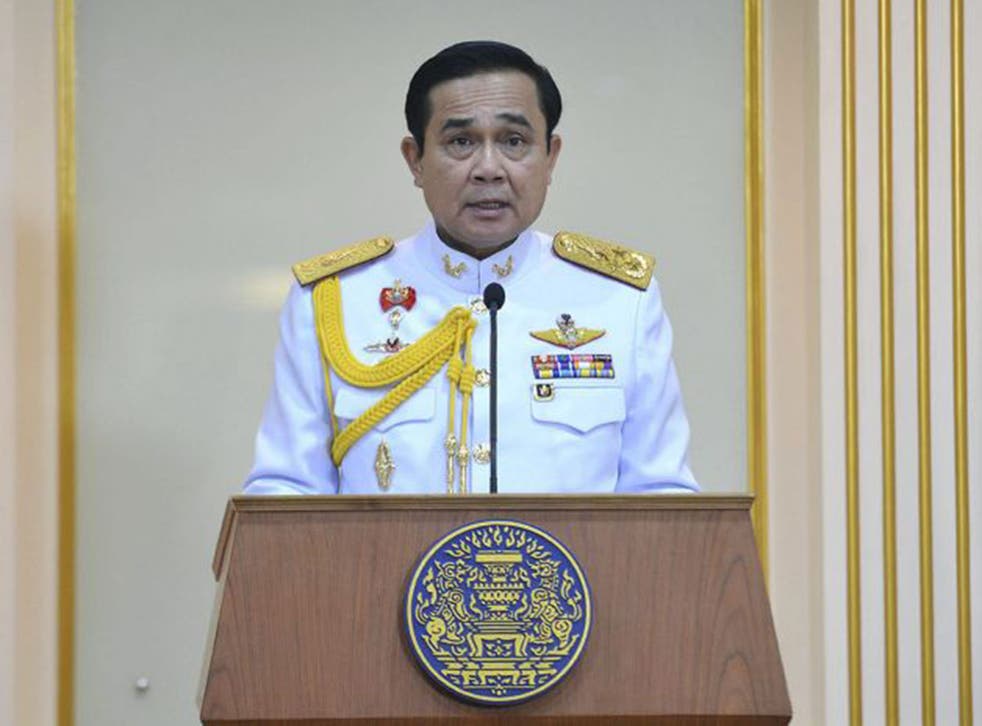 The leader of the military junta, who seized power in a military coup three months ago, officially assumed his new post as Prime Minister yesterday following an endorsement from Thailand's monarch.
In a ceremony in Bangkok, General Prayuth Chan-ocha accepted a command issued by King Bhumibol Adulyadej certifying his appointment as the country's 29th premier.
Thailand's junta-appointed legislature voted overwhelmingly last week to name the 60-year-old army chief to the new post. He was the only candidate.
Prayuth is due to retire from the military next month and will hold both jobs until he does so.
On May 22, Prayuth oversaw a coup in which the military toppled Thailand's elected civilian government. Analysts say his new post cements the military's control of government.
Thailand protests: Thai army declares martial law

Show all 25
The move was the latest in a series of moves by the junta to consolidate power on its own terms. In July, the military adopted a temporary 48-article constitution and appointed the legislature.
Prayuth, who is expected to name his Cabinet next month, has said elections could be held in 2015.
Prayuth has said the army had to stage the coup to end half a year of political deadlock between protesters and the government, and to stop sporadic protest-related violence that had killed dozens of people and wounded hundreds more. While stability has been restored, it has come at a steep price: Thailand's democratic institutions have been entirely dismantled, and the country's authoritarian rulers have crushed all dissent.
Last week, Human Rights Watch issued a statement criticizing the deterioration of human rights in the country.
"Since the May coup, the generals have tightened rather than relaxed their grip on power," said Brad Adams, Asia director at Human Rights Watch. "Instead of the promised path back to democracy through free and fair elections, Thailand's military seems to be opting for a road to dictatorship."
"As both prime minister and junta leader, Gen. Prayuth can wield broad power without accountability," Adams said. "This marks a dark day for human rights and the future of democracy in Thailand."
AP
Register for free to continue reading
Registration is a free and easy way to support our truly independent journalism
By registering, you will also enjoy limited access to Premium articles, exclusive newsletters, commenting, and virtual events with our leading journalists
Already have an account? sign in
Register for free to continue reading
Registration is a free and easy way to support our truly independent journalism
By registering, you will also enjoy limited access to Premium articles, exclusive newsletters, commenting, and virtual events with our leading journalists
Already have an account? sign in
Join our new commenting forum
Join thought-provoking conversations, follow other Independent readers and see their replies