Thailand beach murders: Thai PM suggests 'attractive' female tourists cannot expect to be safe wearing bikinis
In a televised speech on tourist safety Prime Minister Prayuth Chan-ocha questioned whether female travellers can be safe in bikinis in comments that he has since apologised for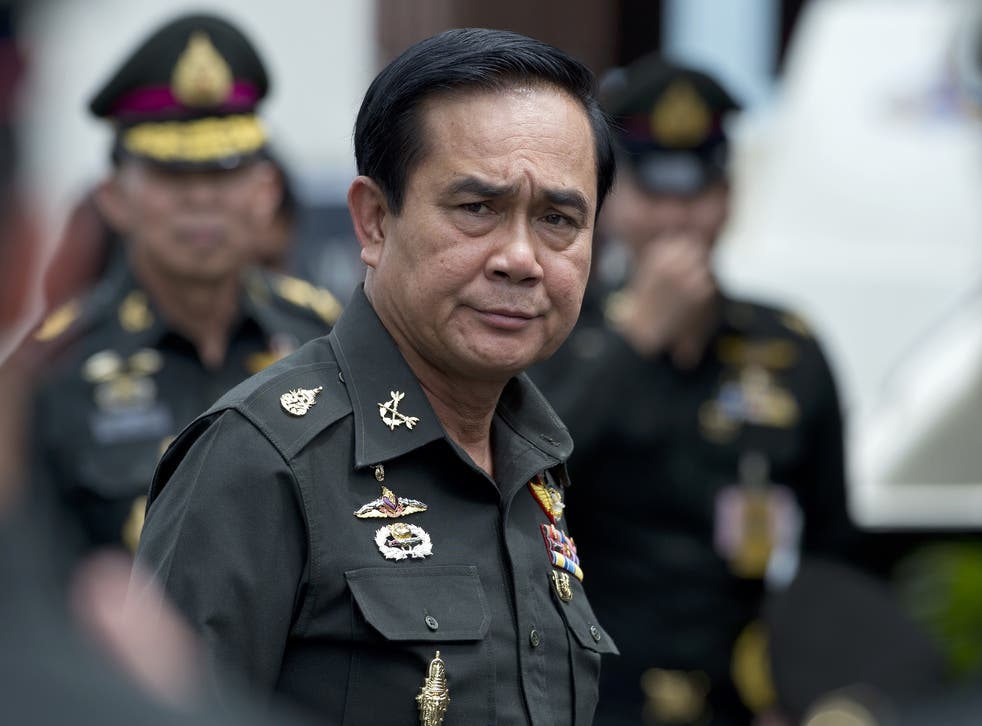 Thailand's military ruler has suggested that "beautiful" female visitors to his country should not expect to be safe in bikinis.
Prime Minister Prayuth Chan-ocha made the comments as the investigation into the death of two Britons intensifies.
David Miller, 24, and Hannah Witheridge, 23, were killed earlier this week after they attended a beach party on the island of Koh Tao in the Gulf of Thailand.
Negative attention on the country – to which 800,000 Britons visit each year – appears to have left its leader attempting to offer explanations for why young travellers may run into trouble there.
Speaking in a live broadcast on Wednesday discussing tourist safety, he said: "There are always problems with tourist safety. They think our country is beautiful and is safe so they can do whatever they want, they can wear bikinis and walk everywhere," according to the AFP news agency.
He added: "Can they be safe in bikinis... unless they are not beautiful?"
The Prime Minister has since apologised for his remarks, telling a press conference on Thursday: "I'm sorry that it hurt people."
The comments, which drew widespread condemnation, also resulted in the British embassy contacting him for clarification.
No arrests have yet been made following the murder of Miller and Witheridge, whose bodies were found less than 100 metres from the location of where the gathering was being held on Sunday night.
A number of leads had been chased up, including the questioning of 11 Burmese migrants after Thai authorities said they found bloodstains on their clothes.
Police had also been quizzing two British brothers who were understood to have shared a room with Mr Miller in Thailand, however DNA tests carried out on the men have returned no matches.
An Asian man who was seen on CCTV running in the direction of where the bodies were later found was also being sought by officials.
Miller and Witheridge's bodies were taken to Bangkok and autopsies yesterday found that Witheridge died from head wounds while Miller suffered severe blows to the head and then drowned in the surf.
Forensic Police Chief Pornchai Suteerakun added that Miller also had wounds on his hand indicating that a struggle had taken place.
His comments drew censure from victim support charities such as Rape Crisis who said they were "hugely insensitive" and "completely inappropriate".
Spokeswoman for Rape Crisis England & Wales, Katie Russell, said: "The responsibility for rape and murder lies solely with rapists and murderers; to suggest that someone can invite such violence against themselves by how they dress fails to acknowledge this and undermines the seriousness of these terrible crimes.
"The implication that only 'beautiful' women can experience sexual violence also perpetuates the harmful myth that rape is about sexual desire and loss of control when precisely the opposite is true; rape is an act of violence that involves the abuse of power and control and has nothing to do with sexual attraction."
Mr Chan-ocha, who is also the army chief, had been giving his televised views to government officials, but gave a similar view on Tuesday when he said that the "behaviour" of Witheridge and Miller should also be investigated.
These comments were rebuffed by Witheridge's MP, Brandon Lewis, who told the Daily Mail: "I have not seen anything indicating that there should be any blame on the victims, and right now the investigation will hopefully be targeted on finding the perpetrator of the crime.
"I hope the focus will be on bringing whoever committed this barbaric crime to justice."
The Foreign and Commonwealth Office has the following advice for tourists going to Thailand:
"Western tourists have been victims of vicious, unprovoked attacks by gangs in Koh Phangan [an island near to Koh Tao].
"These attacks are particularly common around the time of the Full Moon parties and generally occur late at night near bars in Haad Rin on Koh Phangan.
"Violent assaults and robberies have been reported in the Koh Samui archipelago. Attacks have also occurred in other tourist districts in Thailand including in Chiang Mai, Pattaya and Krabi. Take care, especially at night."
Additional reporting by agencies
Register for free to continue reading
Registration is a free and easy way to support our truly independent journalism
By registering, you will also enjoy limited access to Premium articles, exclusive newsletters, commenting, and virtual events with our leading journalists
Already have an account? sign in
Register for free to continue reading
Registration is a free and easy way to support our truly independent journalism
By registering, you will also enjoy limited access to Premium articles, exclusive newsletters, commenting, and virtual events with our leading journalists
Already have an account? sign in
Join our new commenting forum
Join thought-provoking conversations, follow other Independent readers and see their replies