Thailand election: Democracy returns – but the ruling military junta has a 250-seat lead
Army-drafted constitution stacks odds heavily in favour of military junta, as it seeks to hold on to power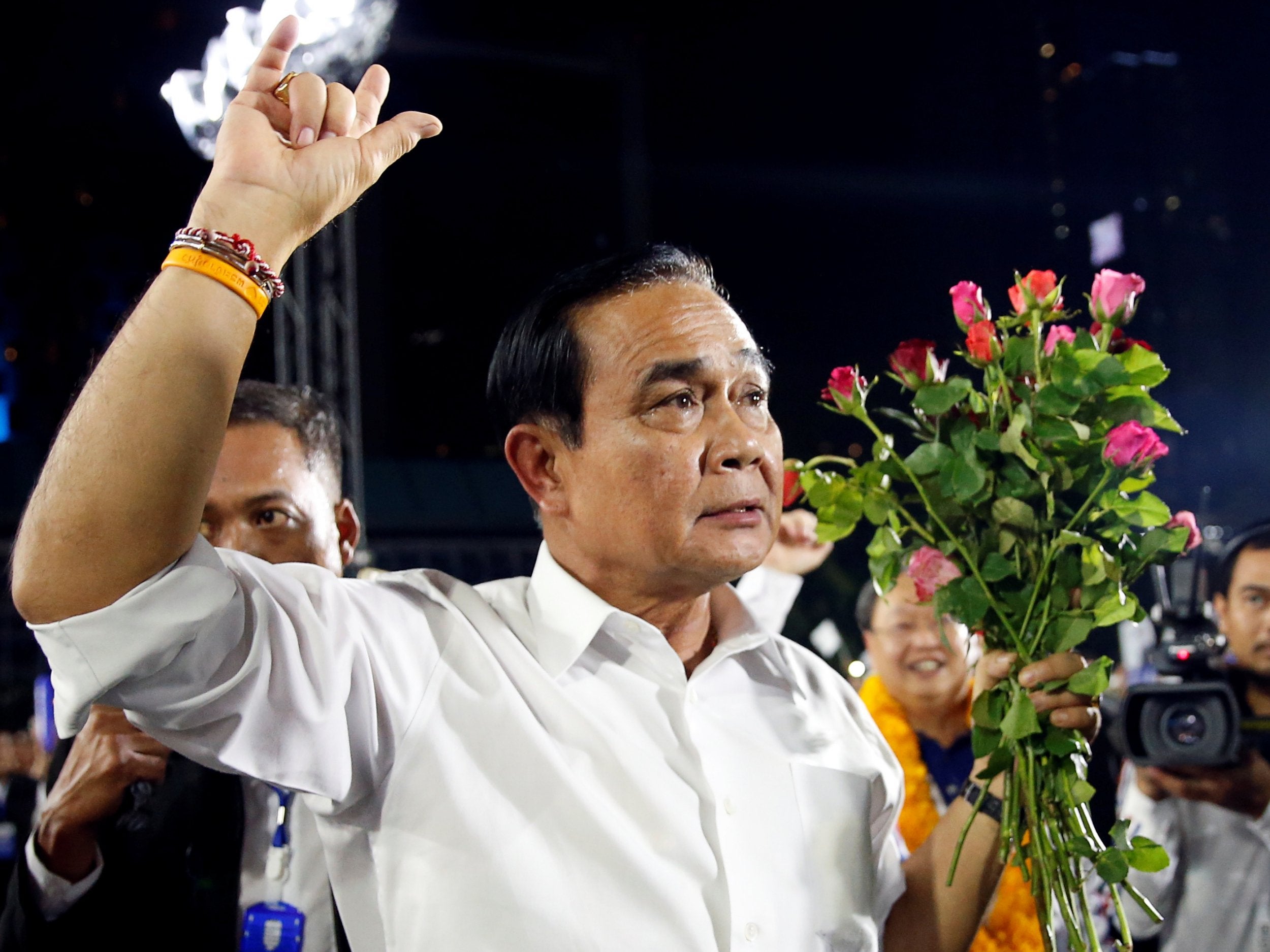 Thailand's major political parties held their final rallies on Friday ahead of a general election where critics say the odds are heavily stacked in favour of the incumbent military junta.
Sunday's vote will see a return to democracy after five years of army rule.
Polls suggest a populist opposition party linked to former prime minister Thaksin Shinawatra will once again be the single largest vote-winner.
But even if Pheu Thai and its allies win more than half of the 500 seats in the lower house of parliament, that may not be enough to take control.
A bizarre constitutional system drawn up by the junta in 2017 means the 250 seats in the upper house are appointed by the military.
Thailand's transgender candidate
Show all 6
In order to win a majority to form a government, a party needs to have more than half of the votes from the 750 seats in both houses – leaving a magic number of 376.
Any of the current opposition parties would therefore need to win 376 seats entirely from the lower house. But the proxy party formed by the military need only win 126 there, to add to its guaranteed 250 senate seats.
The ruling military party Palang Pracharat was established with the aim of continuing the premiership of the 2014 coup leader Prayuth Chan-ocha, a former general.
Pheu Thai party leader Sudarat Keyuraphan said the rules laid out by the junta meant the election was, from the outset, anything but free and fair.
She nonetheless urged the Thai public to turn out in force if they want any chance at removing the junta from office.
"We have to tell the people that it's the only day that we can stop Prayuth extending his power," Sudarat said on Friday, as her party held its largest rally yet in Bangkok before the official close of campaigning. "Therefore we need many people to go vote. I believe the power they have is not any bigger than the power of the people."
Pheu Thai remains affiliated with former prime minister Thaksin, the controversial telecoms tycoon who won a landslide in 2001 before becoming the first prime minister in history to complete a full term in office.
Thaksin was ousted by a coup in 2006 amid accusations of corruption. He denied the charges as politically motivated but was forced into exile.
And while the new army-backed constitution makes external involvement in Thai politics illegal – particularly from an exile such as Thaksin – Pheu Thai insists he remains the "ideological leader".
Sudarat said: "We use his principles. But using Thaksin's ideas doesn't mean he owns the party because Thaksin is not involved with the party's administration any more."
She said the party's supporters remain loyal to him because his policies were able to improve their lives. "They love Thaksin because Thaksin was able to solve their problems," she said.
Supporters of the junta have warned that a return to Pheu Thai leadership would be a return to the political unrest that has dogged the country for more than two decades.
Those who back Prayuth and his Palang Pracharat party also gathered for their largest rally yet on Friday. Asked if another coup was possible in the event of a landslide victory, deputy junta leader Prawit Wongsuwan told Reuters news agency: "No, no, no."
Support free-thinking journalism and attend Independent events
Pheu Thai's long-time rival, the Democrat Party, is the other major player in the election. Though not a military proxy, it does lean towards the establishment and a pro-business approach, and hopes to position itself as a kingmaker in the event of an inconclusive election.
In doing so, it hopes to return its leader, Abhisit Vejjajiva, to the prime minister's office he held unelected from 2008 to 2011 after yet another coup, that time by the judiciary.
Abhisit told Al Jazeera he believed his party could take as many as 150 seats, and that it could be willing to work with Palang Pracharat as long as Prayuth is "removed from the equation".
"We want to be at the core of the next government," he said. "We want to lead the country out of the current economic situation and into a new political era."
Parties are allowed to keep campaigning until 6pm local time on Saturday. At 8am on Sunday, 93,200 polling stations will open and voting runs to 5pm.
The election commission has said unofficial results will be available within three hours of the close of voting on Sunday.
Join our commenting forum
Join thought-provoking conversations, follow other Independent readers and see their replies