The Afghans mourning the George W Bush days: Traders fear the good times are over
For nearly 10 years Kabul's street-sellers have done a roaring trade in US goods. Now they're about to lose their supplies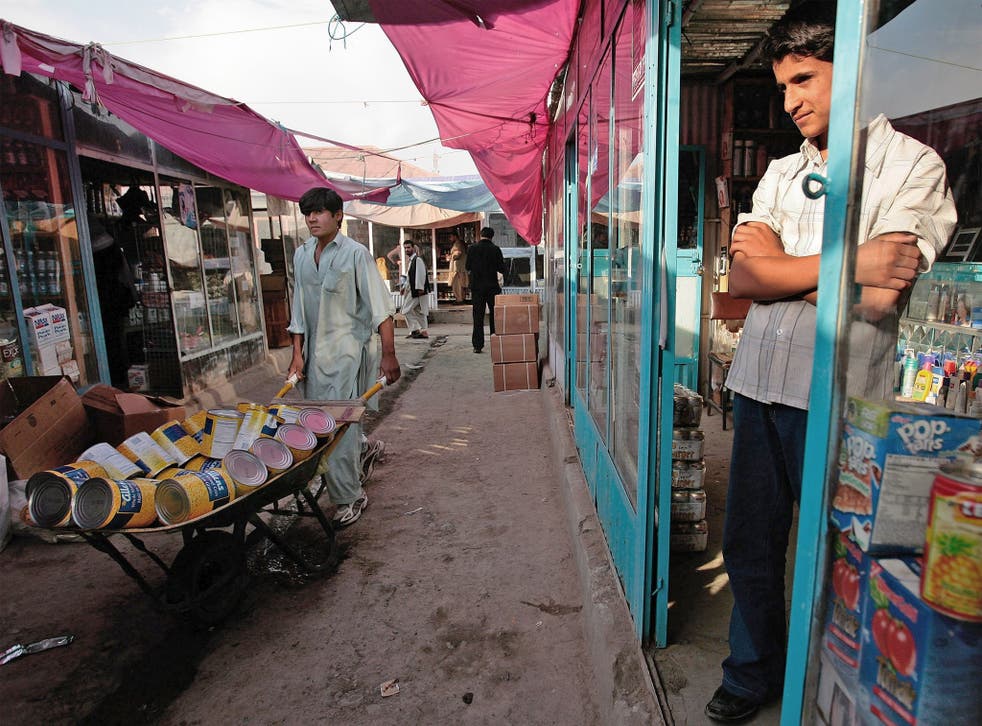 The former US President George W Bush hardly lacks critics for his foreign policy decisions, which took America into war in Afghanistan. But in a corner of Kabul, some Afghans are so grateful to him that they have named a bazaar after him.
The vendors of the Bush Market have enjoyed a flourishing trade for almost a decade after the US-led invasion in 2001. Much of their merchandise is obtained – a lot of it pilfered – from the camps of international forces. But now those camps are disappearing as the West prepares to pull out.
Many of the items that can be bought at bases such as Bastion and Bagram are available for much lower prices from the 630 outlets in this sprawling maze of alleyways, which is also known locally as the Thieves Quarters. On offer are combat boots and camouflage jackets, rucksacks, commando knives, knuckledusters and blast protection glasses, MREs (Meals Ready to Eat) marked "illegal to resale" and, in this Islamic Republic, cans of ham.
"We don't know where we'll get our stock from when Isaf [International Security Assistance Forces] goes," said Jamshed Siddiqi, wearing a T-shirt with an army logo. "My business is already 20 per cent down. George Bush made this place possible by sending the soldiers here; we hope Allah will make it possible for us to carry on. What we have here is very good quality… Look at these," he said, holding up a pair of what looked like standard-issue British military boots.
Everything in his shop, the 33-year-old trader insisted, had been legitimately obtained. "They have a lot of things in these camps which are past the [sell-by] date; they would be thrown away. So we are doing a good thing by selling them," he said.
Last year, tipped off that guns were being sold, Nato and Afghan security forces raided the market. No weapons were found but about £260,000 of military hardware, including "controlled items", were recovered.
Some of the traders acknowledged that stolen goods were on offer in parts of the market. "We have Ali Babas here and they are very good at getting things out; the soldiers are thorough in searching cars and trucks going in, but not when they are going out. If businessmen are offered cheap things they will take them to make a profit," said one stallholder who did not want to be named. "These things are not bought just by Afghans; a lot of foreigners buy them as well… The people here are only making small profits. Look at our politicians, the foreign contractors: they are taking millions of dollars in bribes and nothing happens to them."
Mohammed Khan, 32, another stallholder, was also keen to point out that his supplies were legal: "I used to work in Bagram and saw the opportunities there. I worked for a Turkish contractor and they were quite efficient. But there was a lot of wastage. I opened this shop because I would earn a lot more and I could be with my family. Now we shall have to cope some way."
It is not just business prospects that worry Mr Khan. He has vivid memories of the civil war between the Northern Alliance and the Taliban. "There was fighting all the time, shells falling into houses, people getting killed and injured. We could not get food, even get fresh water," he said. "No one wants war any longer, but we have a neighbouring country which does not want us to have peace and they send us terrorists. I have three children. If my shop goes, I will try something else. But I don't want to lose my children."
Join our new commenting forum
Join thought-provoking conversations, follow other Independent readers and see their replies