'The Qataris are in heaven - we're in the jungle' - Qatar's migrants workers ahead of 2022 World Cup
Qatar, the host country for the 2022 World Cup, is divided into two worlds – that of its cossetted citizens and the other inhabited by migrant workers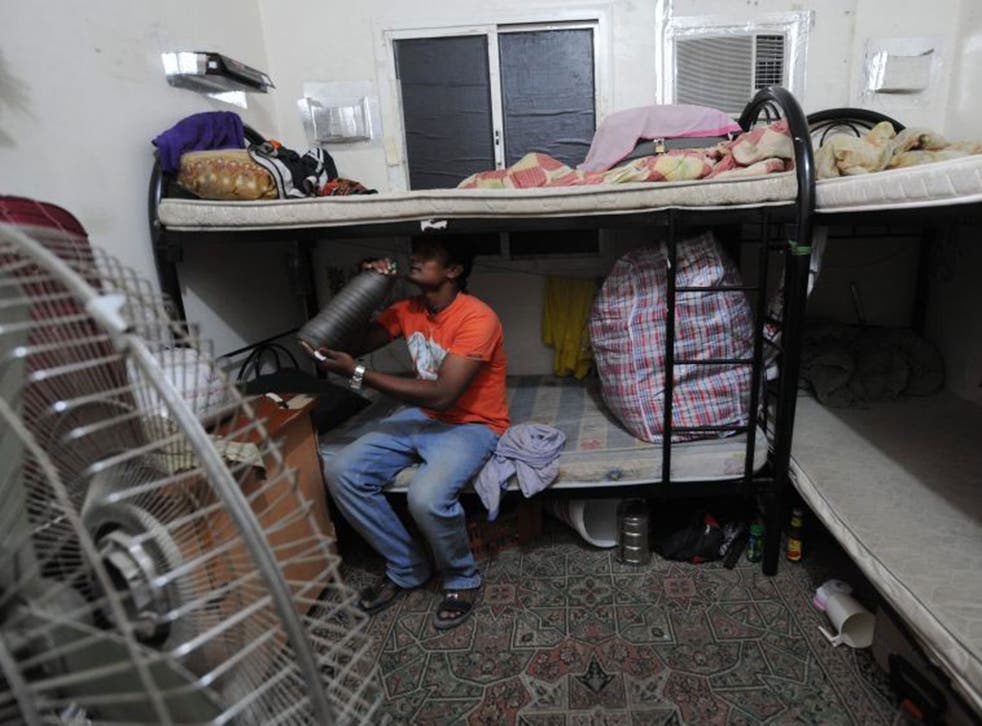 The camps sit at the end of an desert road, past miles of bleak factories and concrete. The earth, walls and sky are pale gray. Dust collects everywhere – in the throat, the nostrils and in the corners of the eyes.
Less than 20 miles from the heart of Qatar's capital, Doha, this is where many of the thousands of migrant workers who built that gleaming city come home to sleep at night.
Qatar, the richest country per capita on the planet, is divided into two worlds. One exemplifies this Persian Gulf monarchy's ambitions – a skyline of majestic new high-rises, sprawling universities and elegant museums; the city on the sea that is set to host the 2022 World Cup.
The other is here, among the bare bunk beds of Qatar's migrant workforce. This is where the movers and builders of the kingdom's magic live, the migrant workers say. And it's a world almost entirely devoid of Qataris.
"What Qatari is going to talk to us?" said a 38-year-old Pakistani who drives migrant workers to and from construction sites. "The foremen don't talk to us. Why would a Qatari?"
In the 14 years that he has lived there, he has never interacted with a Qatari. He has never visited any of the luxury hotels or shopping malls that migrant labour built.
Qatar has the world's highest ratio of migrants to citizens, with its 250,000 nationals accounting for only about 12 per cent of the population. The vast majority of Qatar's workforce came here from south Asia, often paying hundreds or thousands of dollars to secure a job through recruitment agencies: But once they get here, workers said, the companies they work for confiscate their passports; threaten them with fines and salary reductions for equipment damage or sick days; and send them to work 12- to 15-hour days under a searing sun and temperatures that can top 40 degrees.
In interviews, dozens of labourers said they sleep 10 to a room in bleak labour camps. Their average earnings are less than £2,500 a year. Their daily lives mark a stark contrast to that of the average Qatari, who receives free health care, education and electricity, as well as guaranteed access to high-paying jobs in the public sector, subsidised fuel, interest-free housing loans and stipends for education abroad.
Political analysts and some officials have said that the international spotlight brought on by Qatar's successful bid for the World Cup marks a golden opportunity for this tiny monarchy to get its house in order.
Nasser al-Khater, a spokesman for the Qatar 2022 Supreme Committee, called the country's chance to host the international tournament a potential "catalyst for change in Qatar and in the region".
"Q22 takes the human rights of workers very seriously," and the committee is in the final stages of developing a set of worker-welfare standards "aligned with international best practice – with which contractors working on Q22 projects will be contractually obligated to comply," Khater said.
Qatar is building stadiums and a metro line, and it is overhauling large swaths of Doha's basic infrastructure in preparation for the influx of international visitors.
"It is our hope that improvement of the labour conditions in Qatar will be one of the most significant social legacies of the 2022 Fifa World Cup in Qatar," he said.
The spotlight has been harsh. A September investigation by The Guardian revealed that dozens of Nepalese workers had died on the job over the course of several weeks and that thousands of others face abuses amounting to modern-day slavery. On Sunday, Amnesty International called on Fifa to "send a strong public message that it will not tolerate human rights abuses on construction projects related to the World Cup." In its report, Amnesty said the spending on construction projects to expand Qatar's infrastructure ahead of the tournament could reach $220bn, although projects directly related to the event might account for only $4bn.
Another advocacy group, Human Rights Watch, said in its annual report released earlier this year that despite Doha's promises of labour reforms after its successful bid in 2010 for the World Cup, there has been almost no progress.
"If this persists, the tournament threatens to turn Qatar into a crucible of exploitation and misery for the workers who will build it," Jan Egeland, the Europe director for Human Rights Watch, said in the group's 2013 World Report.
According to Justin Gengler, a researcher at Qatar University's Social and Economic Survey Research Institute, most Qataris think the kafala, or sponsorship, system that rights groups highlight as a key factor in labour abuses needs to be more restrictive – not less.
The kafala system locks migrant workers into a contract with their host companies that makes it prohibitively difficult for the workers to travel, lobby for better rights or move to a different job.
"A lot of people benefit directly from it," Gengler said. Because companies assume the living expenses and legal responsibility for their workers, he said, they stand to lose money when a worker tries to leave.
This month, François Crépeau, the United Nations' special rapporteur on the human rights of migrants, called on Qatar to abolish the kafala system, saying the mechanism was a source of labour abuses.
But in interviews, Qataris, migrant labourers and other expatriates also described an ingrained set of local attitudes toward race and class that has made it difficult for Qataris to empathise with the men and women they have hired to build their state.
One businessman dismissed worker complaints as a product of origin rather than labour conditions. "Pakistanis and Indians are hard workers, so they don't complain," he said, speaking anonymously.
But members of certain other nations, he said, "are all politicians. Very easily, they can go to their embassy complaining that something doesn't fit."
At the camps, labourers said, their daily lives are so unbearable that they can't wait to escape. "I hate working here," said one Indian driver who supports a large extended family through the money he sends home. "I'm here because I'm forced to be."
In six years, he said, he has been allowed only two visits to India. "The last time I went, I got married," he said. He spent a month with his new wife before returning to Qatar.
Other workers offered stories of frustration, exhaustion and loneliness. "We've been thrown in a jungle, very far from the city," said one Bangladeshi worker. The Qataris, he said, "are living in heaven".
© The Washington Post
Register for free to continue reading
Registration is a free and easy way to support our truly independent journalism
By registering, you will also enjoy limited access to Premium articles, exclusive newsletters, commenting, and virtual events with our leading journalists
Already have an account? sign in
Register for free to continue reading
Registration is a free and easy way to support our truly independent journalism
By registering, you will also enjoy limited access to Premium articles, exclusive newsletters, commenting, and virtual events with our leading journalists
Already have an account? sign in
Join our new commenting forum
Join thought-provoking conversations, follow other Independent readers and see their replies