The women who clear bombs
A groundbreaking initiative in Laos aims to clear the land of munitions from the Vietnam War – and educate women in the process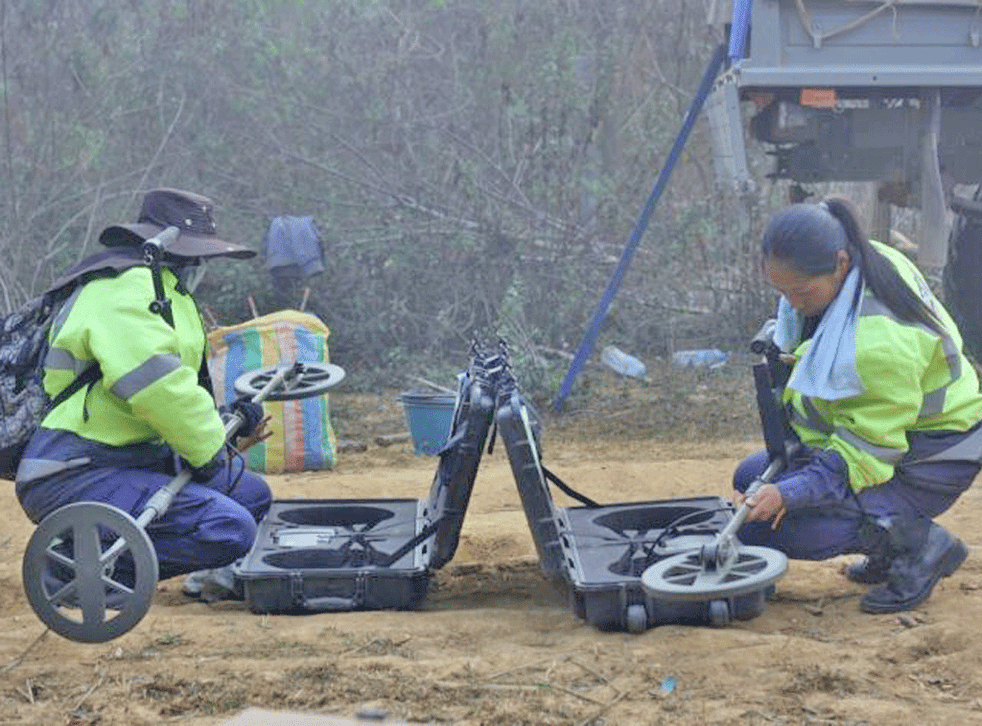 The heavy army truck that swings past the paddy fields and between the towering mountains of Xieng Khouang province in northern Laos attracts attention. A family of four squeezed on to a moped give a wave. A lone man herding cattle on the side of the road looks up and smiles.
In the back of the truck sit 12 women. Squeals of laughter rise above the roar of the engine as 23-year-old Souksavanh Thongtimahaxay jokes that she needs reinforced bra straps to cope with the bumpy dirt road.
The mood among the group might be light-hearted, but their work is not. Kitted out in heavy boots and oversized overalls emblazoned with skull and crossbones stencils, with shovels and metal detectors across their laps, there can be no mistaking who they are: one of the two all-female unexploded ordnance (UXO) clearance teams operating in Laos.
When Hillary Clinton visited Laos last month, becoming the first US Secretary of State to do so since 1955, the media spotlight fell – fleetingly – on the deadly legacy of America's bombing campaigns of 1964-1973. Two million tons of ordnance was dropped on Laos in 580,000 bombing missions, part of a secret operation to cut off supply routes for North Vietnamese forces. That equates to one ton of bombs for everyone in Laos at that time, or one planeload every eight minutes, 24 hours a day, for nine years.
An estimated 30 per cent did not explode, and their continuing impact on the communities who have to live and work around them each day is a lot harder to quantify.
Like 80 per cent of Laos' population, most people living in Xieng Khouang are farmers. Even without the presence of UXO, this is difficult and laborious work. The soil is acidic, making it hard to grow crops. During the winter months, the ground is covered with frost.
Most farmers cannot afford machinery and work the land by hand, a painstakingly slow and dangerous process. One spade or hoe in the wrong place, a fire lit to give warmth during a night working in the fields, or the clearing of vegetation to make way for a new field can result in injury or death.
Mona Girgis, an assistant country director for the aid agency Care International, says it is not uncommon for people to farm even where they know it is not safe. "People are scared of UXO, but even when they see one on the trail on their way to the fields they will still walk in that area because they feel they have no choice," she says.
As much as possible, the Mines Advisory Group (MAG) try to select women from the local farming communities to demine the fields. The literacy rate among women is 54 per cent, compared with 77 per cent for men. Working for MAG means valuable training as a technician or medic, and also raises the status of women while giving them skills they can pass on to their daughters.
Until the monsoon rains render their work impossible they have the hazardous and demanding task of clearing the land of some 46 million bomblets from US cluster bombs – known in Laos as bombies – estimated to lie scattered across Xieng Khouang.
"Traditionally women are not encouraged to speak out," says Boualaphanh Inthaxay, a community liaison officer with MAG. "They are told to stand behind their husbands and support them. We are showing them they can stand beside them. They can dig, drive trucks, operate metal detectors and take on responsibility – anything men can do, women can do as well."
Sidavone Sipaseuth, 30, is the leader of the Xieng Khouang clearance team. Like most of her colleagues, she has experienced for herself the trauma wrought on farming communities by the continuing presence of UXO. When she was 15, her sister lost an eye and the use of one arm as she and her family were working in a rice paddy. For Ms Sipaseuth, working for MAG means a salary, training and job security. But on a personal level, it is helping to rectify a 40-year-old legacy that has blighted her community.
Since 1964, about 50,000 people have been killed or injured as a result of UXO. The training involved in becoming a technician in a clearance squad is rigorous to avoid accidents. Safety is paramount, and Ms Sipaseuth is determined to maintain her team's spotless record.
The rice paddy the team is currently clearing belongs to 52-year-old Sao Lee, who has worked on the family's farm since she was 15. "Since the war I have found four or five UXO here each year. I am scared, and scared for my children," she says.
Extending from the dry earth of Sao Lee's fields, clusters of red poles mark 36 UXO the team have uncovered. "We used to mark where the bombies were and detonate them all in one go at the end of the week," explains Ms Sipaseuth. "But people from the village would come to extract the gunpowder and use the scrap metal – so now we have to detonate them at the end of each day."
This scrap metal trade is one of the main causes of UXO-related injuries and fatalities in Laos. A kilogram of steel can be sold to scrap collectors for as little as 2,000 kip (16p) – a tiny amount but a tempting earner in areas with few other options for making a living.
Clearing all the UXO will be a long battle. So far only 1 per cent of the 80 million unexploded bombies have been removed. It has been estimated that at current clearance rates it could take 150 years to remove them all.
It certainly won't be in Sao Lee's lifetime. As she sits on the wooden steps of her home, a pillar of smoke rises from a controlled detonation in her field. For the first time in almost 40 years she will be able to farm without fear. "Now my land is cleared I am confident my family will be safe" she says.
Join our new commenting forum
Join thought-provoking conversations, follow other Independent readers and see their replies