Thousands cheer return of exiled opposition leader
Cambodian ex-finance minister expected to spearhead election fight against prime minister
Poppy McPherson
Friday 19 July 2013 19:46 Comments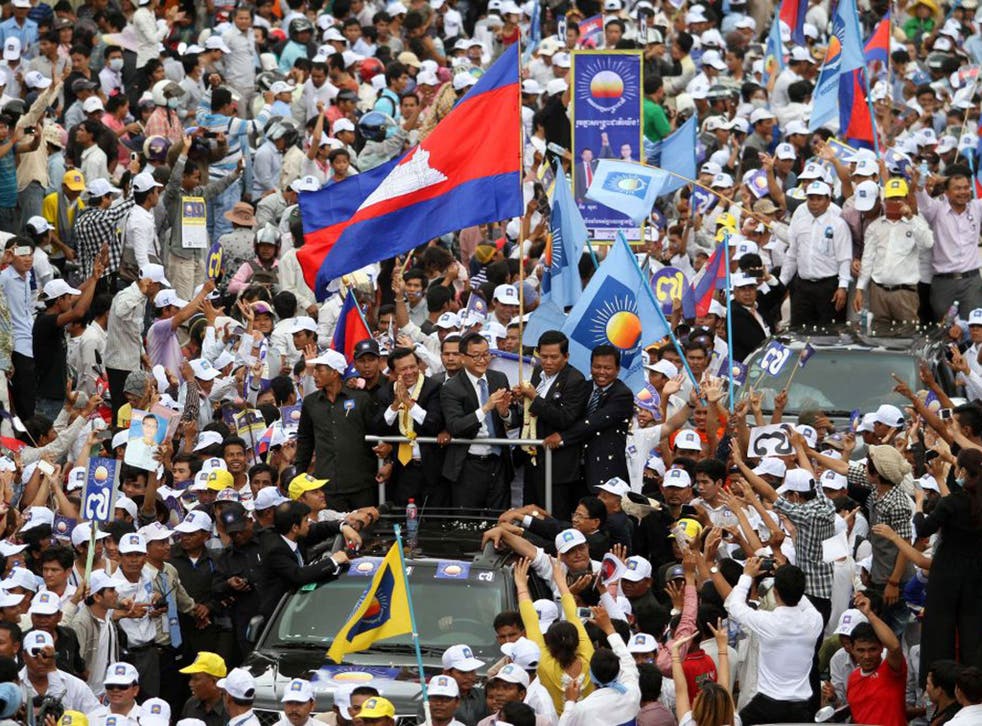 Thousands poured on to the streets of Phnom Penh today to welcome Cambodia's opposition leader home after four years of self-imposed exile.
Sam Rainsy, a former finance minister, left the country in 2009 rather than face trial on what many characterised as politically motivated charges stemming from accusations that he falsified maps, defamed a senior official, and uprooted border posts with Vietnam.
In a surprising turnaround last week, Mr Rainsy was given a royal pardon that removed the threat of imprisonment and allowed him to return to join the campaign trail ahead of the elections in just over a week in a boost to his party's challenge to the 28-year rule of autocratic Prime Minister Hun Sen. The pardon came after the US and others had said his exclusion from the campaign would call into question the polls' legitimacy.
Among the dignitaries from the opposition Cambodian National Rescue Party (CNRP) was recent star recruit, Prince Sisowath Thomico, the nephew of the late King Father Norodom Sihanouk, who joined the party in April and is running in the election.
"This is the very first time you see so many people in the streets of Phnom Penh," Thomico said. The only other example in recent memory was the crowds that gathered when Sihanouk's body was flown in from Beijing last October.
The crowd was estimated to have been at least 100,000 by mid-morning, making it one of the largest ever political gatherings in the country's history. "I think it sends a strong message to the ruling party: it shows them that the people are not happy," Thomico said.
Addressing the throngs in Phnom Penh's Democracy Square, Mr Rainsy said he would use his freedom "to defend the freedom of all Cambodians."
In the crowd, the age range spanned the full spectrum. There were the very young – toddlers dancing with their parents – university students standing on their motorbikes to get a better view, professionals, and pensioners.
That Mr Rainsy has energised his party's campaign was in no doubt today. But the question hanging over his triumphant return was whether that energy could be transformed into electoral success.
Hun Sen has ruled for 28 years, and his party has 90 of the 123 seats in the National Assembly. The 60-year-old prime minister recently said that he intends to stay in office until he is 74 – cutting back from an earlier vow to stay in control until he's 90.
Register for free to continue reading
Registration is a free and easy way to support our truly independent journalism
By registering, you will also enjoy limited access to Premium articles, exclusive newsletters, commenting, and virtual events with our leading journalists
Already have an account? sign in
Join our new commenting forum
Join thought-provoking conversations, follow other Independent readers and see their replies