Tianjin explosion: Drone footage shows the scale of the devastation at Chinese port city
Rows and rows of charred cars; empty shells of offices, apartments and houses; pockets of fire dotted around the dusty, debris strewn streets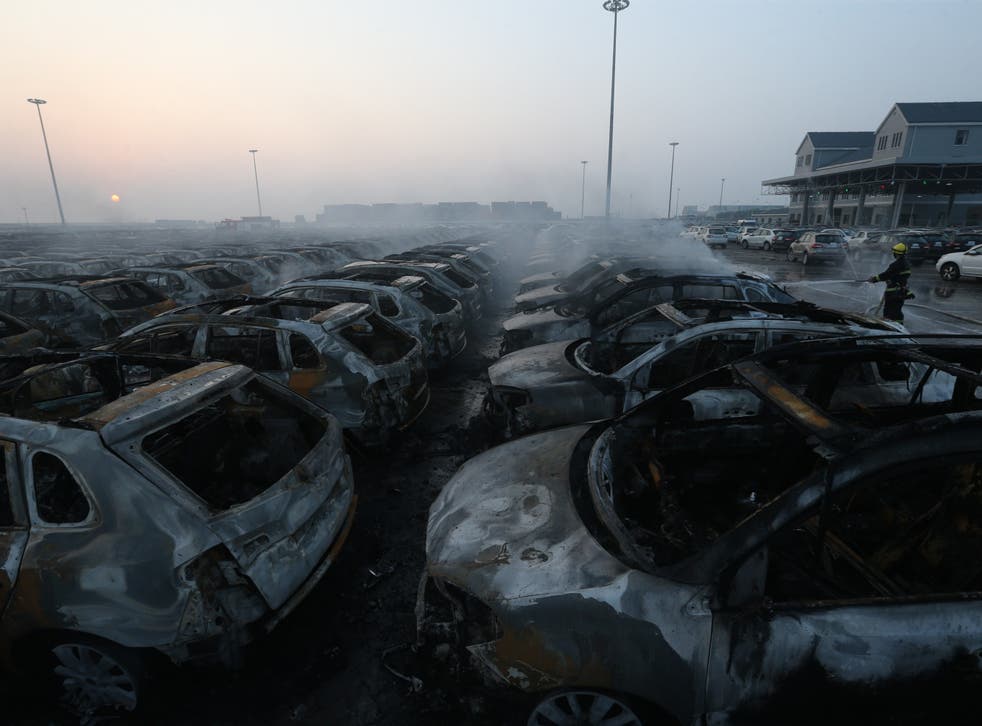 70 years after the nuclear explosions that devastated humanity in Hiroshima and Nagasaki, a whole swath of the Chinese city of Tianjin bears a disturbing resemblance to those two infamous Japanese towns.
Rows and rows of charred cars; empty shells of offices, apartments and houses; pockets of fire dotted around the dusty, debris strewn streets: with at least 44 dead and more than 500 injured, Tianjin looks like a movie scene that has borrowed imagery from every disaster imaginable.
Two huge explosions (which were recorded by several panicked members of the public) shook the industrial area of the port city on Wednesday night. The incident occurred where toxic chemicals and gas were being stored, with the blasts so large they were seen by satellites in space.
The second explosion, captured on film, was the equivalent of 21 tonnes of TNT and was seven times more powerful than the first (3 tonnes of TNT). Drone footage from the area of the blast shows shipping containers tossed on their sides alongside buildings and cars stripped bare. The blast shattered windows and knocked down walls in a 2km radius of the blast site.
Tianjin Explosion - In Pictures

Show all 14
"It was like what we were told a nuclear bomb would be like," said truck driver Zhao Zhencheng. "I've never even thought I'd see such a thing. It was terrifying, but also beautiful."
Song Jianyong, who works in the industrial area, feared the worst. "Our office was just located next door to the blast site and all my colleagues who are missing were working at that time," Song told Reuters. "We've gone to all the hospitals in downtown Tianjin and I'm really anxious."
"I thought it was an earthquake, so I rushed downstairs without my shoes on," said Zhang Siyu, whose home is near to the blast site. "Only once I was outside did I realize it was an explosion. There was the huge fireball in the sky with thick clouds. Everybody could see it."
Tianjin is the tenth largest port in the world and home to 15 million people.
Additional reporting by Reuters.
Join our new commenting forum
Join thought-provoking conversations, follow other Independent readers and see their replies