North Korea: Tourists share bizarre experiences of visit to secretive state led by Kim Jong-Un
Justin and Anna Williams spent most of their trip to the secretive state in the company of government chaperones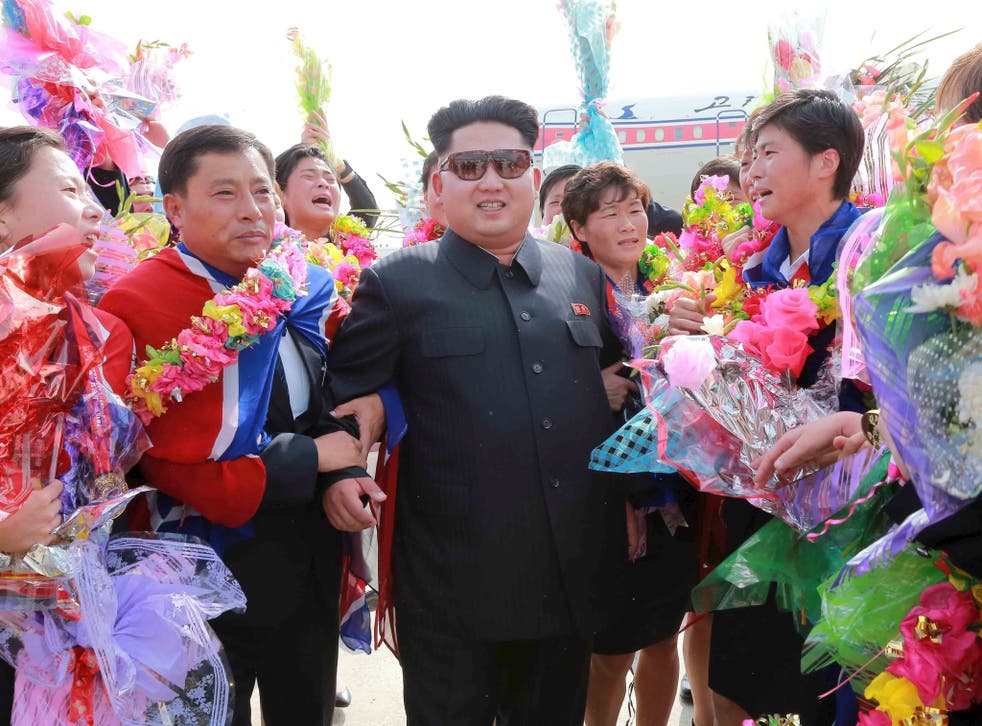 A couple who travelled to North Korea have shared their experiences of the world's most secretive state – from having their passports confiscated shortly after landing to being chaperoned by government minders who had never heard of pizza.
Justin and Anna Williams spent a week in North Korea in 2012 after arranging it through a travel operator with links to the state-owned Korean International Tourist Company.
The Canadian couple have visited more than 100 countries, but told Business Insider their memorable trip to the isolated nation was like "travelling to a different world".
Before arriving in North Korea, the couple said they were required to attend a mandatory briefing in China, in which they were told what they would and would not be allowed to do there.
Outlawed behaviour included not taking photographs of statues of Kim Jong Il – unless his whole body was in the shot.
En route, the Williamses enjoyed in-flight entertainment in their Soviet-era plane, which featured videos of North Korean soldiers defeating those from the US during the Korean War.
The couple told Business Insider that one of the most frightening aspects of the trip was having to surrender their passports for the duration of their stay after landing in Pyongyang.
They said their cameras and mobile phones were also assessed for their GPS capability.
"The scariest part of the trip was knowing that no matter what, it was simply impossible at that point to get out of the country," Mrs Williams said.
The pair were to be chaperoned for their entire visit by government minders – who surprised the couple by never having heard of pizza.
Huge monuments paying tribute to North Korea's leaders past and present – Kim Il Sung, Kim Jong Il and Kim Jong Un – could be found throughout the city, along with a military presence, the couple said.
On a trip to see towering statues of the Dear Leader and Great Leader, the pair had to bow down and lay a bouquet of flowers.
Another colossal Monument to the Party Founding in Pyongyang commemorates the creation of the Workers' Party of Korea in 1946. A Party Foundation Day also takes place every year on 10 October involving elaborate celebrations in the city.
The couple described the atmosphere at the country's demilitarised border with South Korea as "extremely tense".
Everyday life in North Korea - in pictures

Show all 10
But on a lighter note, they were able to enjoy a funfair with rollercoasters, bumper cars and target practice competition – usually limited to elites – with their government minders.
Loyalty to North Korea's founding family was seemingly paramount, with the couple told that every North Korean adult was required to wear a badge bearing Kim Jong Il's face.
And the Williams's trip certainly showed how seriously North Korea takes tourism. An entire school was shut down so the couple could pay a visit, with students putting on a dance recital for the Canadians.
The same family has ruled North Korea since it was established as the Democratic People's Republic of North Korea by Kim Il Sung.
Kim Il Sung ruled until his death in 1994, when his role was inherited by his son, Kim Jong Il, who was the regime's leader until he died in 2011.
Join our new commenting forum
Join thought-provoking conversations, follow other Independent readers and see their replies