Trophy hunter who shot rare snow leopard prompts fury over photo of killed big cat
More than 100,000 people have signed a petition calling for Hossein Golabchi to be brought to justice – although the incident took place 30 years ago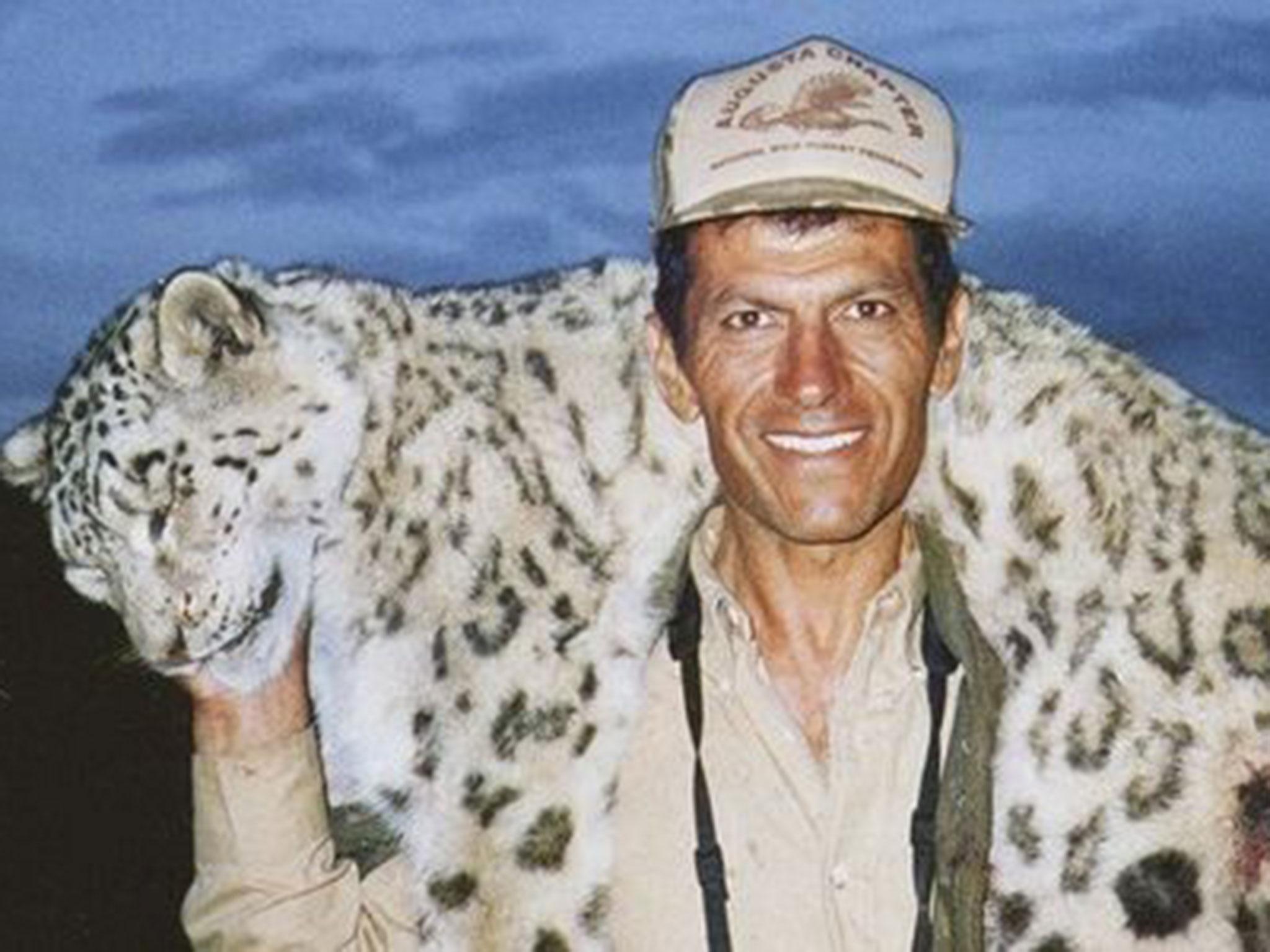 A petition has been launched to bring a US trophy hunter "to justice" 30 years after he shot a rare snow leopard and was pictured grinning with the body.
The picture shows Hossein Golabchi, who is also known by his nickname "Soudy", smiling with the big cat draped over his shoulders.
The animal appears to have been shot at least twice in hind leg.
The American hunter, originally from Iran, is believed to have killed the animal in central Asia.
More than 100,000 people have signed a petition calling for Mr Golabchi to be "brought to justice". It has a goal of 110,000 supporters.
Baby snow leopards explore new surroundings
The Care2 petition was launched by Amanda, from Tera International (Tiger Exotic Animal Ranger Awareness), on 23 October, International Snow Leopard Day.
"There's nowhere in the entire Western hemisphere (and the rest of the world) that allows anyone to go into Central Asia to 'trophy hunt' a snow leopard," the petition reads.
"It is illegal to own their body parts or their beautiful fur and importing their remains into the United States is a federal offence.
"This long-time and prolific trophy hunter of rare cats must be made an example of or these magnificent cats will vanish forever."
Where not to visit if you love animals
Show all 9
In an update, Amanda wrote: "I want to personally thank everyone around the world for helping this go viral.
"Snow leopards have never been numerous. The thought of a wealthy American specifically seeking one out to destroy its life is unfathomable. It also damages the communities around the snow leopard.
There are thought to be between 3,500 and 7,000 snow leopards left in the wild, with 600 to 700 in zoos around the world, according to Defenders of Wildlife.
Exact numbers are hard to determine due to the leopard's shy nature, it also noted.
Update: After publication of this report The Independent was contacted by Mr Golabchi's representative, who confirmed that his client had indeed shot a snow leopard but pointed out that the hunt took place 30 years ago. He further informed us that the hunt was permitted at the time by the Mongolian government and that the animal he killed was – pursuant to a further permit – shipped legitimately to Mexico, where it was subsequently displayed. As such, there was no legal wrongdoing by his client. We have updated our article in light of this information. 10/11/17
Join our commenting forum
Join thought-provoking conversations, follow other Independent readers and see their replies