India again rejects Trump offer of help with Pakistan on Kashmir as tensions rise at border
Troop movements alarming Kashmir residents as one Indian soldiers dies in clashes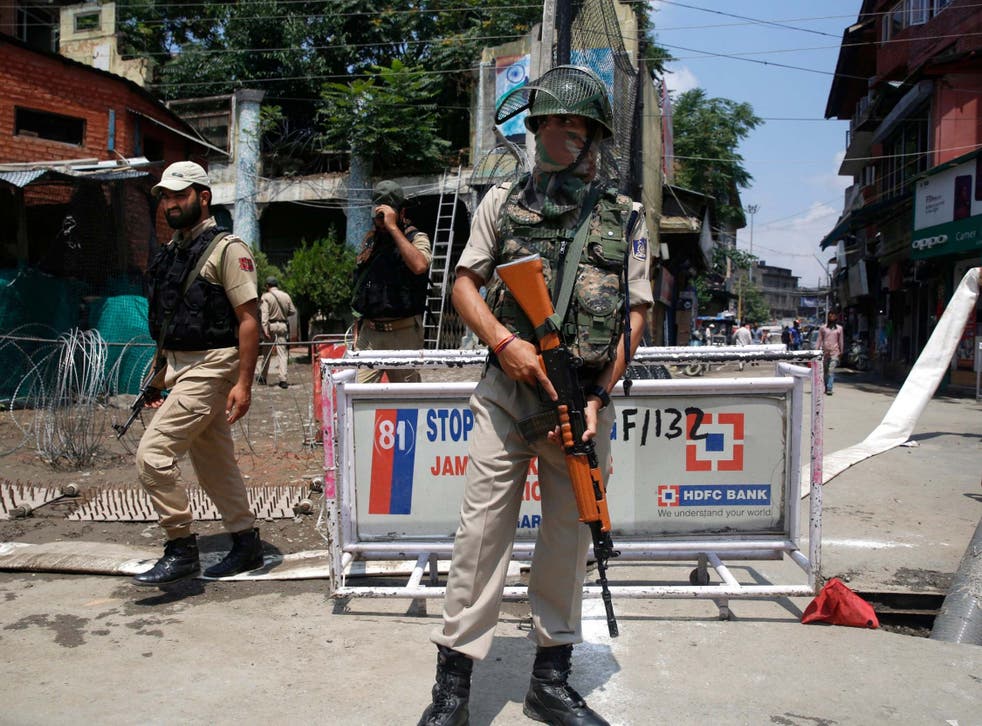 India has been forced to reject Donald Trump's offer of mediation in the Kashmir crisis with Pakistan for the second time in just 10 days, amid rising tensions in the region.
Late last month, the US president claimed that India's Narendra Modi had asked him to be an arbitrator between the two sides in the disputed Himalayan region - a development that seemed highly unlikely to observers and which officials in Delhi denied.
On Thursday he did not go so far as to seemingly fabricate an exchange. But Mr Trump did tell reporters that he would be willing to mediate if both Mr Modi and Pakistan's Imran Khan asked him. "If I can, if they wanted me to, I would certainly intervene," he said.
It comes as delegates from India and the US met on the sidelines of the ASEAN summit of foreign ministers in Bangkok. S Jaishankar, the minister for external affairs from India, told his counterpart Mike Pompeo that "any discussion on Kashmir, if at all warranted, will only be with Pakistan and only bilaterally".
Away from Mr Trump's attempts at diplomacy, there are no signs of an improving situation between Pakistan and India at the border.
Islamabad has only recently reopened its airspace to India-bound aircraft, after it shut down all international air transit through its territory in response to a flare-up of violence between the two neighbours that saw an Indian fighter jet shot down and one of its pilots captured.
On Friday, an Indian soldier was killed during a gun battle with separatist rebels in the India-administered portion of Kashmir.
Acting on a tip-off that militants were hiding in a village in the southern Shopian area, soldiers executed what's known here as a "cordon and search" operation - surrounding and cutting off the entire village in a bid to prevent the militants escaping.
An exchange of gunfire followed, in which at least one soldier was killed and another wounded, and three civilians were injured as the operation sparked clashes between government forces and protesters supporting the armed separatists.
The clashes will only worsen a situation that is already highly strung after India last week announced the deployment of another 10,000 soldiers to Kashmir, already the most highly militarised region in the world.
The troop buildup has sparked fears that Mr Modi's government is planning to scrap a constitutional provision protecting Jammu and Kashmir's unique demographic make-up as the only Muslim-majority state in the country - by disallowing Indians of other states from buying land in the region.
The law, Article 35A, is unpopular among Mr Modi's right-wing Hindu nationalist support base, and the ruling Bharatiya Janata Party (BJP) promised to scrap it in its manifesto as it swept to a landslide victory in May's general election.
Adding to the speculation, an unnamed top security official was quoted by the Associated Press news agency as saying that the entire security grid in Kashmir has been directed to be "alert as [a] major policy revamp is in the offing".
Indian media have generally played down the troop movements, with the Indian Express quoting government sources as saying it was to provide extra cover so that Kashmiri village councils could raise the Indian flag on 15 August, India's Independence Day, without fear of a violent backlash.
Other sources were quoted as saying it was simply a routine movement to relieve other troops for rest and training.
But ordinary Kashmiris have little trust in Indian media or the government itself. Javaid Ahmed, a resident in Srinagar, said everyone was "dead worried" about what might be coming.
"The uncertainty makes the situation simply horrific and as frightening as it can be," he said.
Register for free to continue reading
Registration is a free and easy way to support our truly independent journalism
By registering, you will also enjoy limited access to Premium articles, exclusive newsletters, commenting, and virtual events with our leading journalists
Already have an account? sign in
Register for free to continue reading
Registration is a free and easy way to support our truly independent journalism
By registering, you will also enjoy limited access to Premium articles, exclusive newsletters, commenting, and virtual events with our leading journalists
Already have an account? sign in
Join our new commenting forum
Join thought-provoking conversations, follow other Independent readers and see their replies