US-North Korea summit: A timeline of the tumultuous relations between the two nations
The cancelled summit between US President Donald Trump and North Korean leader Kim Jong-un is merely the latest issue after decades of difficulties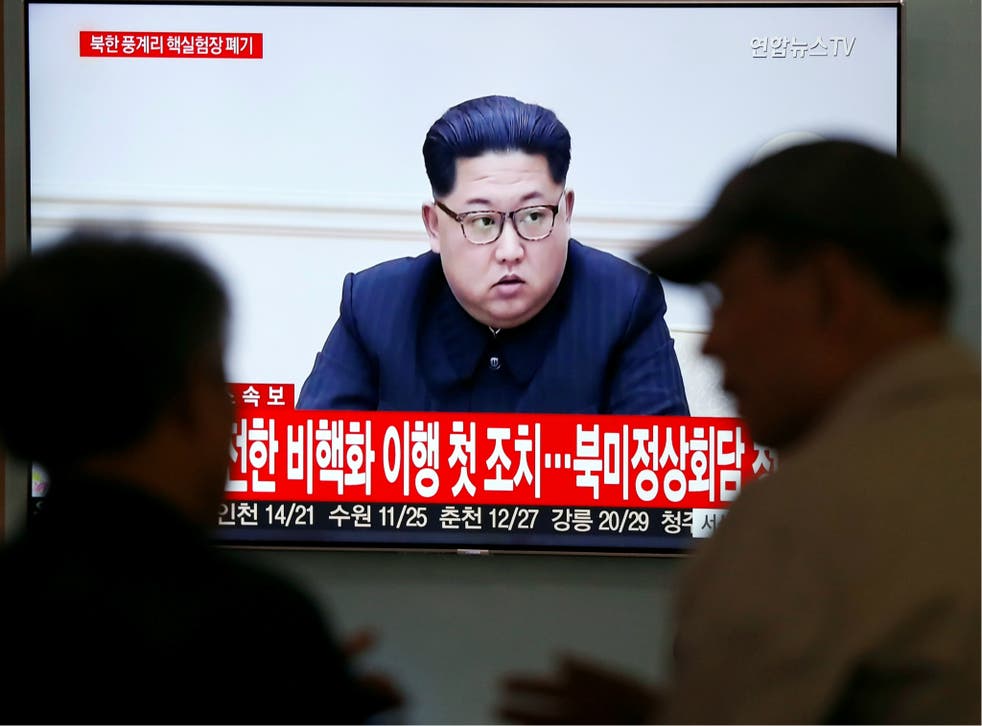 US President Donald Trump has cancelled his much-anticipated first meeting with North Korean leader Kim Jong-un, another sore point in a history of tense relations.
The summit was set to take place on 12 June in Singapore but Mr Trump said he pulled out due to North Korea's "tremendous anger and open hostility". He said that the withdrawal was "for the good of both parties, but to the detriment of the world".
The state-run Korean Central News Agency said in its latest report that North Korea would not "beg" for the summit to happen and would not unilaterally denuclearise. Vice President Mike Pence had said that the situation with Pyongyang "may end like Libya" if Mr Kim doesn't make a deal. The example of Libya has long been cited by North Korea as one of the reasons for it to keep nuclear weapons, with leader Muammar Gaddafi ousted and killed after renouncing nuclear weapons. North Korea called Mr Pence's remarks "ignorant and stupid".
Here is how the world came to this point after decades of difficult diplomacy Pyongyang and Washington - with the last 18-months being particularly tension-filled.
1953 An armistice halts the three-year Korean War , South Korea has been assisted by the US, with the North aided by China and to a lesser extent the then-Soviet Union.
2000-2002 After years of rapid industrial growth in the South, the first Inter-Korean summit took place. Leaders of both countries met and the South granted amnesty to thousands of prisoners from North Korea. US President George W Bush labelled North Korea, Iran, and Iraq as the "axis of evil", saying they continue to build "weapons of mass destruction".
January 2017 Decades of failed attempts to get Pyongyang to denuclearise result in continued testing of its weapons systems, In 2015, President Barack Obama successfully brought Iran to the table to sign a six-party nuclear weapons agreement in exchange for eased sanctions, possibly setting the stage for a similar deal with North Korea, but Mr Trump comes into office and tensions are once again brought to the forefront.
February 2017 Mr Kim's estranged half-brother Kim Jong-nam is killed by a toxic nerve agent at the Kuala Lumpur, Malaysia, airport. This angers China, as he had been living there under protection. North Korea relies on China, one its handful of allies, for trade and essential goods and services.
The first North Korean missile launch of 2017 took place on 12 February, one of more than 20 that take place across the year - a marked increase in activity.
June 2017 Mr Trump said in a speech, after meeting with South Korean President Moon Jae-in, that the "era of strategic patience with the North Korean regime has failed".
July 2017 Pyongyang tests a new missile, this time over the Sea of Japan. Not only does it cause panic in Tokyo but US military and intelligence officials claimed that such a missile could possibly reach Alaska. Launched on July 4, US Independence Day, it marked the first time Pyongyang had fired an intercontinental ballistic missile (ICBM).
August 2017 Mr Trump and Mr Kim continue to trade personal barbs through comments in the media as North Korea threatens to fire missiles at Guam, a US territory in the Pacific ocean that also houses American military installations.
The president said he would unleash "fire, fury and frankly power, the likes of which this world has never seen before." He continues to tweet and speak in terms suggesting that military action is the only resolution. Defence Secretary James Mattis and former Secretary of State Rex Tillerson assure the public that diplomacy is still the preferred method.
The United Nations passes strict sanctions on North Korea including oil and gas, textiles, seafood, and financial transactions. Unlike a number of previous efforts at sanctions, China said it would implement them.
September 2017 North Korea conducts its first nuclear test of 2017, its sixth overall, and the most powerful weapon it has ever tested. Later in the month, Mr Trump calls Mr Kim "Rocket Man" at the US leader's first speech in front of the United Nations General Assembly. In the speech he promised to "totally destroy North Korea" should it test US limits and said Mr Kim was on a suicide mission.
The US state of Hawaii tells residents how to prepare for a possible nuclear ballistic missile attack.
North Korea – South Korea relations: in pictures

Show all 21
November 2017 On November 29, North Korea claims to have successfully tested a new type of ICBM, topped with a "super-large heavy warhead," capable of striking the US mainland.
February 2018 Mr Kim started the year by reaching out to the South in his New Year's Day address. After weeks of negotiation the US and South Korea agree to halt joint military exercises in the region after North Korea aggrees to participate in the Winter Olympics held in Pyeongchang, South Korea. Athletes from both sides marched together under a united flag at the opening ceremony - a sign of the "sunshine policy" of better relations advocated by Mr Moon.
Mr Kim sent his sister Kim Yo Jong as his emissary and the US sent White House advisor Ivanka Trump and Mr Pence.
March 2018 The US and North Korea announced the first meeting between its leaders, in an apparent sign of a thaw.
April 2018 In a historic and opulent ceremony, Mr Kim and Mr Moon met in the Demilitarised Zone (DMZ) to sign the Panmunjom Declaration for Peace, Prosperity and Unification of the Korean Peninsula during the Inter-Korean Summit and officially ended the war that began when the north and south split in a battle over communism and democracy that began on 25 June 1950.
At some point, Mr Kim has also met with Chinese president Xi Jinping as well.
May 2018 North Korea said it felt the planned US-South Korea military exercises taking place were a "provocation" and a slap in the face after signing an agreement with South Korea. The Pentagon said the drills were only "defensive". Pyongyang reacted by cancelling scheduled follow-up peace negotiations with Mr Moon.
Secretary of State Mike Pompeo meets with Mr Kim in order to kick-start negotiations to discuss the foundations for the June 12 summit and possible denuclearisation.
Mr Trump then blames North Korea's "hostility" for cancelling the summit.
Join our new commenting forum
Join thought-provoking conversations, follow other Independent readers and see their replies