Turkey Twitter ban: White House condemns ban as '21st century book burning'
Intervention comes as Turkish government continues to defend block citing 'defiance' of country's laws
Tomas Jivanda
Sunday 23 March 2014 11:23 Comments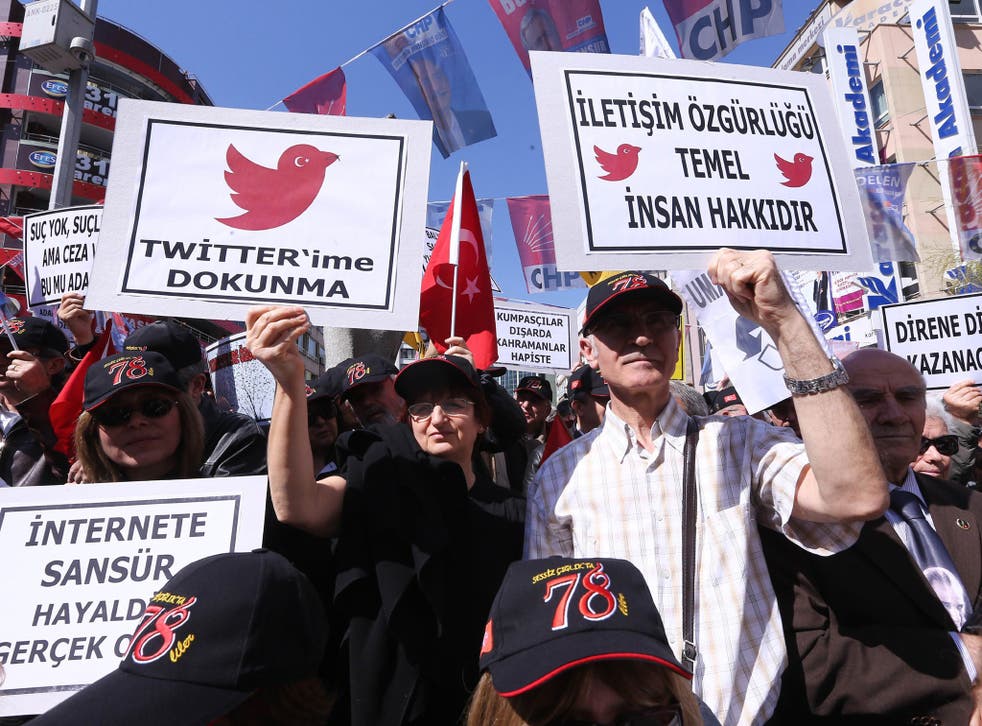 The US state department has likened Turkey's ban on Twitter to 'book burning' as protests against the blocking of the site continue in the capital Ankara.
The Turkish government attempted to clamp down on the access to Twitter after links to wiretapped recordings suggesting corruption were posted on the site, causing Mr Erdogan's government major embarrassment ahead of local elections.
The effort to shut down the service on Friday backfired however, with many finding ways to continue to tweet and mock the government for what they said was a futile attempt at censorship.
Even President Abdullah Gul worked around the ban, tweeting that shutting down social media networks cannot "be approved".
The Turkish government has since further defended the block, accusing the social media company of allowing "systematic character assassinations" against Prime Minister Recep Tayyip Erdogan and members of his inner circle.
Ministers accused the company of refusing to comply with Turkish laws and court orders, claiming this is the reason for the ban.
The country's communications minister, Lutfi Elvan said: "Whether it's Twitter, Yahoo or Google, all social media companies have to obey the laws of the Turkish Republic and they will."
The ban has sparked a wave of international criticism.
A blog post on the US State Department's website reads: "Every day, governments around the world devote precious resources to Internet censorship. It is 21st Century book-burning - and it doesn't make anyone stronger.
"Sometimes even our friends make this mistake. A friend like Turkey has nothing to fear in the free-flow of ideas and even criticism represented by Twitter. Its attempt to block its citizens' access to social media tools should be reversed."
Swedish Foreign Minister Carl Bildt meanwhile used Twitter to tell Turkey its efforts to block access to the social media network were "stupid". He said the blockade "isn't working and also backfiring heavily".
Prime Minister Erdogan's office said in a statement the ban had come in response to Twitter's "defiance" in failing to comply with hundreds of court rulings.
"Twitter has been used as a means to carry out systematic character assassinations by circulating illegally acquired recordings, fake and fabricated records of wiretapping," it said.
"It is difficult to comprehend Twitter's indifference and its biased and prejudiced stance. We believe that this attitude is damaging to the brand image of the company in question and creates an unfair and inaccurate impression of our country."
According to Mr Elvan, Turkey had made 643 content removal requests to Twitter since last January.
Speaking to the BBC, the country's finance minister further defend the ban: "The Turkish telecommunications watchdog has made a number of statements saying that they have asked Twitter on a number of occasions to remove some content on the back of court orders and Twitter has been refusing to comply."
"I don't think any global company, whether it's a media company, whether it's an industrial company, it shouldn't see itself [as being] above the law."
The minister did however add that it was looking like Twitter was working with Turkish authorities to have the ban lifted.
A senior Turkish government official told Reuters that talks with the social media company on resolving problem were going "positively".
Register for free to continue reading
Registration is a free and easy way to support our truly independent journalism
By registering, you will also enjoy limited access to Premium articles, exclusive newsletters, commenting, and virtual events with our leading journalists
Already have an account? sign in
Join our new commenting forum
Join thought-provoking conversations, follow other Independent readers and see their replies