Chinese state media says UK Ministry of Defence trying to 'validate its existence and grab attention' by sending warship through South China Sea
'It appears a difficult mission for the Royal Navy to come all this way to provoke China', says Global Times editorial, taunting the UK over budget cuts
Jon Sharman
Wednesday 14 February 2018 14:17 Comments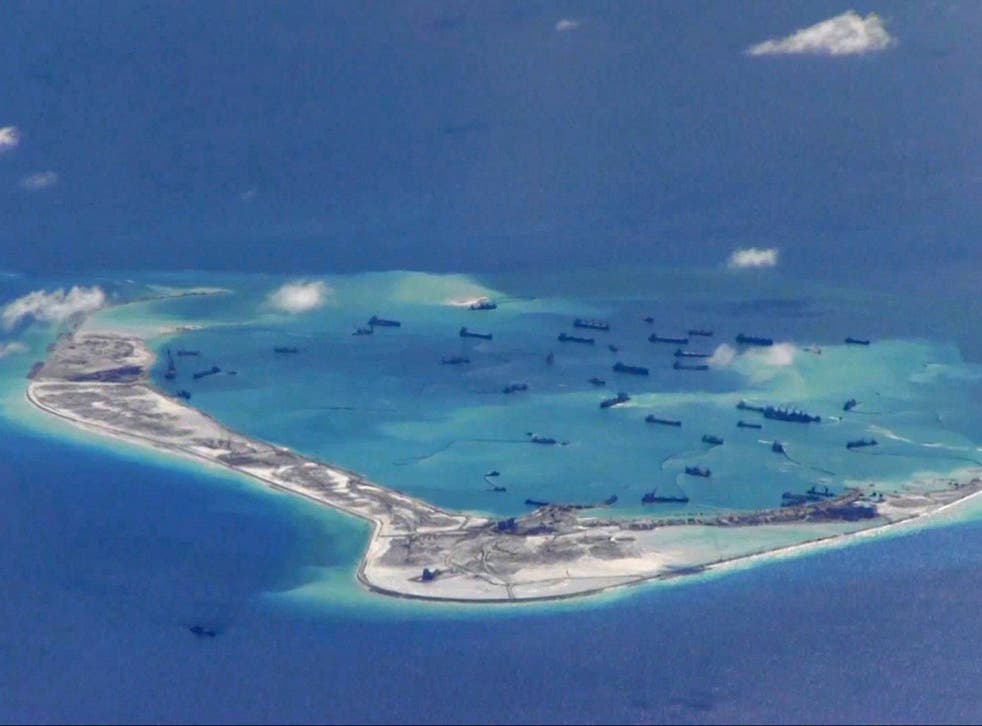 China's state media has hit back at the UK Defence Secretary after he announced a Royal Navy warship would sail through the disputed South China Sea, accusing Britain of merely seeking attention.
HMS Sutherland will make the passage on her return from Australia later this year to assert freedom of navigation rights and challenge Beijing's increasing dominance in the region, Gavin Williamson announced on Tuesday.
Speaking in Australia Mr Williamson warned "we shouldn't be blind to the ambition that China has and we've got to defend our national security interests".
Over the last several years China has claimed and built up into artificial islands a series of atolls and reefs in disputed parts of the South China Sea, a vital trading lane, and it has installed military hardware there.
The widely read state-run tabloid Global Times said Mr Williamson needed to state clearly the purpose of the mission.
"If not provocation, the Royal Navy should behave modestly when passing through the South China Sea", it said in editorials published in its English and Chinese-language editions.
"By acting tough against China, Britain's Ministry of Defence is trying to validate its existence and grab attention.
"As the Royal Navy has been hit by news such as a leaky aircraft carrier and the UK government has a tight budget, it appears a difficult mission for the Royal Navy to come all this way to provoke China," it wrote.
Speaking of Britain's plan, China's Foreign Ministry said on Tuesday it hoped "relevant sides don't try to create trouble out of nothing".
Mr Williamson did not say whether Sutherland, a Type 23 frigate, would sail within 12 nautical miles of any of the islands claimed by China.
But he signalled support for the US' approach, which has seen that country's navy send destroyers within the 12-mile marker of territorial waters. After one such freedom of navigation operation last summer China said it was a "serious political and military provocation".
Mr Williamson added in an interview with broadcaster ABC on Tuesday: "It's very important that we demonstrate that these are seas anyone can pass through and we'll be making sure that the Royal Navy will protect those rights for international shipping.
"We've got to ensure that any form of malign intent is countered and we see increasing challenges – it's not just from China, it's from Russia, it's from Iran – and we've got to be constantly making sure that our security measures, our critical national infrastructure is protected."
"The US is asking other countries to do more" in this area, he told The Australian.
Professor Steve Tsang, director of the China Institute at London's School of Oriental and African Studies, told The Independent he believed Mr Williamson's announcement of the Sutherland's planned mission was indicated the UK backed the US' approach, and it was "reasonable to assume" the Defence Secretary had Britain's special relation in mind when he made it.
"The Chinese monitor this important waterway very closely and would have noticed the British frigate sailing through it without having to be told in the media. The effect would have been the same in so far as the exercising of the freedom of navigation right is concerned," he added.
World news in pictures

Show all 50
Donald Trump has been outspoken in his past criticism of China, and earlier this month nominated Admiral Harry Harris, the head of US Pacific Command, as ambassador to Australia.
Adm Harris has previously warned of China's "increasingly assertive" moves in the South China Sea and in 2016 signed a deal with Canberra to bolster the US' military presence in Australia.
Also in 2016, the UK said it would deploy the aircraft carrier HMS Queen Elizabeth to the Pacific and conduct overflights with fighter aircraft. Britain's ambassador to the US, Sir Kim Darroch, said the Government "absolutely shared" the freedom of navigation objectives of the Obama and Trump administrations.
Of Beijing's increased efforts at militarising the region, Prof Tsang added: "China's assertiveness over the maritime disputes in South China Sea is part of a more general assertiveness ... particularly since Xi Jinping came to power five years ago, but this did not start only after Xi came to power.
"In the past China did not have the naval and air capacity to assert control over South China Sea. Now it does.
"This assertiveness reflects more of China's intention to assert control over areas of strategic importance to China when it can do so and not meet with effective and strong responses."
Additional reporting by agencies
Register for free to continue reading
Registration is a free and easy way to support our truly independent journalism
By registering, you will also enjoy limited access to Premium articles, exclusive newsletters, commenting, and virtual events with our leading journalists
Already have an account? sign in
Join our new commenting forum
Join thought-provoking conversations, follow other Independent readers and see their replies