Unified Korean athletes cheered by thousands as they parade together at Asian Games opening ceremony
Historic rivals to field joint teams as they look to ease decades of tensions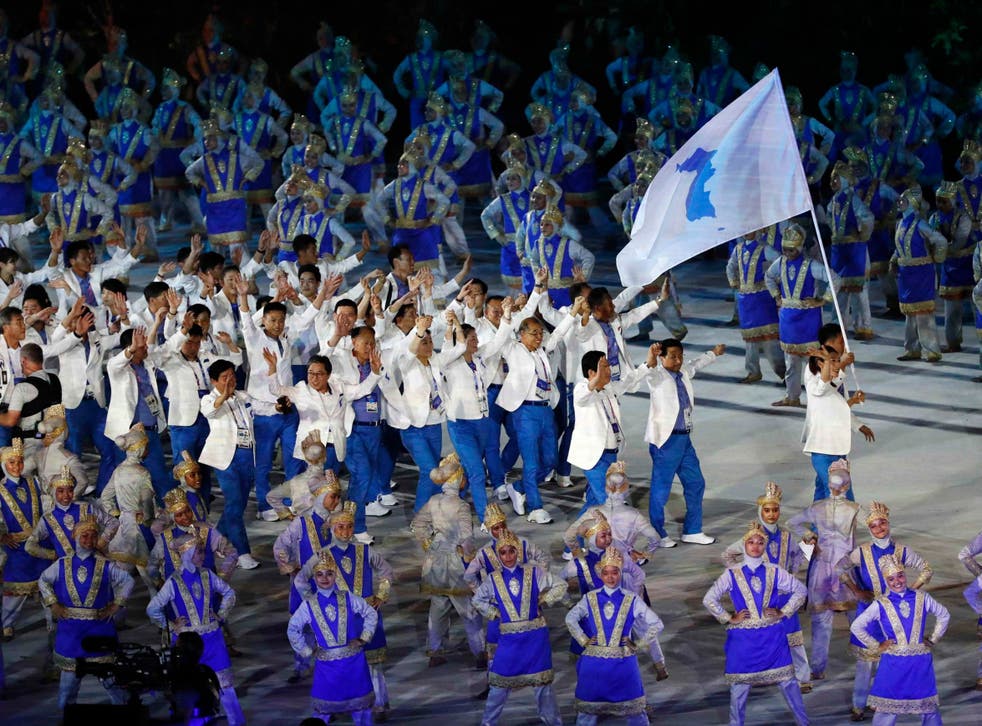 Athletes from North and South Korea were cheered by thousands of spectators as they paraded side-by-side behind a unified flag in the opening ceremony for the Asian Games.
The two countries, still technically at war since their 1950s conflict, are fielding 60 athletes in combined squads during the tournament in sports including women's basketball and rowing. They are competing separately in other sports.
Some 42,000 people packed out Bung Karno stadium in the Indonesian capital Jakarta on Saturday evening for a spectacular ceremony showcasing the country's diverse culture.
The Korean athletes received a rapturous reception from the crowds, as did squads representing Palestine, Syria, Taiwan and Indonesia.
South Korean prime minister Lee Nak-yon and several North Korean ministers watched as their athletes, many holding hands, paraded in blue and white outfits.
They were led by South Korean basketball player Lim Yung-hui and North Korean footballer Ju Kyong-chol, who carried the unified flag together.
Three North Korean players, including top-scorer Ro Suk Yong, and nine South Koreans combined for a 108-40 win over host Indonesia on the opening night of the women's basketball preliminaries on Wednesday.
The Koreans have also entered combined teams in rowing, canoeing and dragon boat racing.
"I hope our Korean people can have a big achievement at the Asia Games," said North Korea Olympic committee vice chairman Won Kul-u earlier this week. "I think we should have more unified teams in other sports."
The two countries agreed in June that their athletes would form unified teams in certain sports at this year's games as Seoul and Pyongyang look to solidify recent diplomatic gains.
During their historic summit in April, North Korean leader Kim Jong-un and his South Korean counterpart Moon Jae-in agreed international sports events could help them building closer ties.
Athletes from the two nations marched together under a single unified flag at the Winter Olympics in South Korea in February.
The two countries also formed a historic shared women's ice hockey team in a historic moment for the peninsula.
It was the first time a united squad from the two Koreas had competed in the Olympics and became the feel-good story of the games in Pyeongchang, despite the team losing all five games.
North Korea – South Korea relations: in pictures

Show all 21
Korean spectator Hwang Miri said the sight of the athletes marching together at the Asian Games made her feel unification of the two countries was possible in her lifetime.
"Looking at all of these people working together and playing together, even walking all together in this unified uniform and the unified flag, it is such an enormous feeling," she added.
Much of the stadium was filled with a rainforest-covered volcano that formed the backdrop for a show based on air, earth, wind and fire themes and featuring thousands of performers representing the dozens of ethnic groups in Indonesia, a country of more than 260 million people.
Organising chairman Eric Thohir said the games would highlight Indonesia, the world's most populous Muslim nation, as a model of harmony and emphasise the diversity of Asia.
"We are all here to celebrate our diversity, to celebrate our differences, to celebrate our humanity," he told the crowd.
Register for free to continue reading
Registration is a free and easy way to support our truly independent journalism
By registering, you will also enjoy limited access to Premium articles, exclusive newsletters, commenting, and virtual events with our leading journalists
Already have an account? sign in
Register for free to continue reading
Registration is a free and easy way to support our truly independent journalism
By registering, you will also enjoy limited access to Premium articles, exclusive newsletters, commenting, and virtual events with our leading journalists
Already have an account? sign in
Join our new commenting forum
Join thought-provoking conversations, follow other Independent readers and see their replies