US sends aircraft carrier strike group to Korean peninsula amid mounting fears over Kim Jong-un nuclear threat
USS Carl Vinson sails for western Pacific following exercises with Japanese and South Korean forces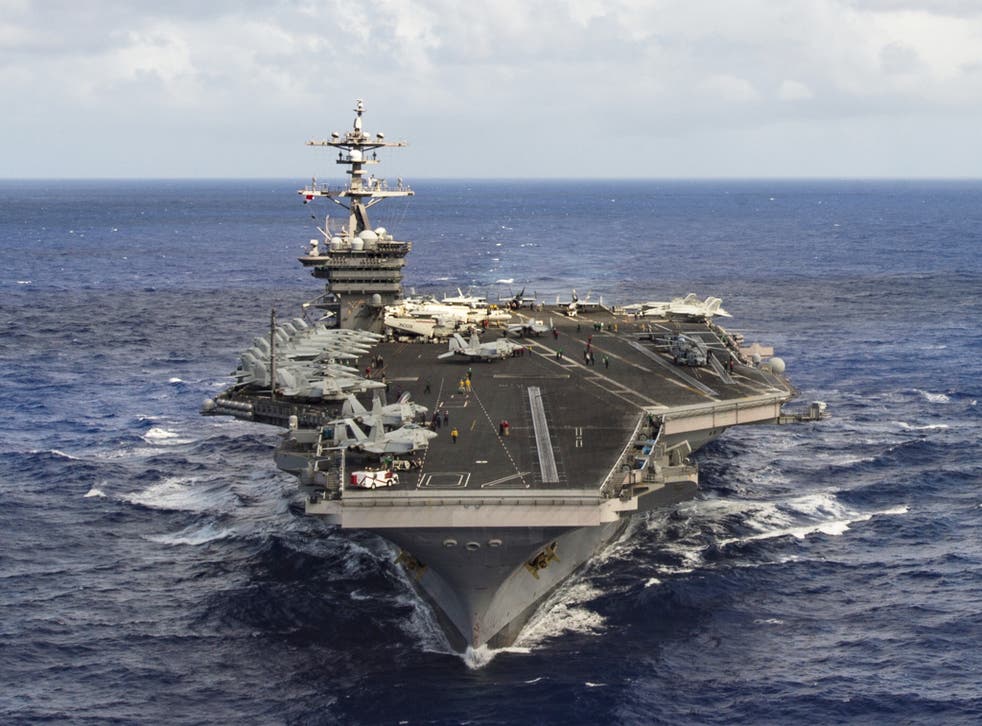 A US Navy aircraft carrier is being sent towards the Korean peninsula, amid growing concerns over North Korea's nuclear weapons programme.
The 100,000-ton USS Carl Vinson and its support ships will sail to the western Pacific Ocean, a US official said. It comes after North Korea tested a liquid-fuelled Scud missile which only travelled a fraction of its range earlier this month.
On Saturday, President Donald Trump and South Korea's leader, acting President Hwang Kyo-ahn, spoke by phone. The White House said the two agreed to stay in close contact about North Korea and other issues.
The strike group will make its way from Singapore toward the Korean peninsula, according to the official, who was not authorised to speak to the media and requested anonymity. "We feel the increased presence is necessary," they said, citing North Korea's worrisome behaviour.
In a statement late on Saturday, the US Navy's Third Fleet said the strike group had been directed to sail north, but it did not specify the destination. The military vessels will operate in the western Pacific rather than making previously planned port visits to Australia, it added.
This year North Korean officials, including dictator Kim Jong-un, have repeatedly indicated an intercontinental ballistic missile test or something similar could be coming, possibly as soon as 15 April, the 105th birthday of North Korea's founding president and celebrated annually as "the Day of the Sun".
Earlier this week President Trump and Chinese President Xi Jinping met in Florida, where Trump pressed his counterpart to do more to curb North Korea's nuclear programme.
Mr Trump's national security aides have completed a review of US options on that front. These include economic and military measures but lean more toward sanctions and increased pressure on Beijing to rein in its reclusive neighbour.
Although the option of pre-emptive military strikes on North Korea is not off the table, the review prioritises less-risky steps and de-emphasises direct military action.
Deployed from San Diego to the western Pacific since 5 January, the strike group has participated in numerous exercises with the Japan Maritime Self Defence Force and Republic of Korea Navy, various maritime security initiatives, and routine patrol operations in the South China Sea.
World news in pictures

Show all 50
After the US bombed Syrian military targets earlier this week, in response to an alleged chemical weapons attack in Idlib province, North Korea said the strike "proves our decision to strengthen our military power to stand against force with force was the right choice a million times over."
Last month the repressive state declared it was ready for war with the US.
Its foreign ministry said: "The nuclear force of [North Korea] is the treasured sword of justice and the most reliable war deterrence to defend the socialist motherland and the life of its people.
"We have the will and capability to fully respond to any war which the US wants. If the businessmen-turned-US-officials thought that they would frighten us, they would soon recognise that their method would not work."
AP/Reuters
Register for free to continue reading
Registration is a free and easy way to support our truly independent journalism
By registering, you will also enjoy limited access to Premium articles, exclusive newsletters, commenting, and virtual events with our leading journalists
Already have an account? sign in
Register for free to continue reading
Registration is a free and easy way to support our truly independent journalism
By registering, you will also enjoy limited access to Premium articles, exclusive newsletters, commenting, and virtual events with our leading journalists
Already have an account? sign in
Join our new commenting forum
Join thought-provoking conversations, follow other Independent readers and see their replies