US Navy commander warns of looming arms race in disputed South China Sea
China is one of six countries claiming territory in the South China Sea in a dispute drawing in countries around the world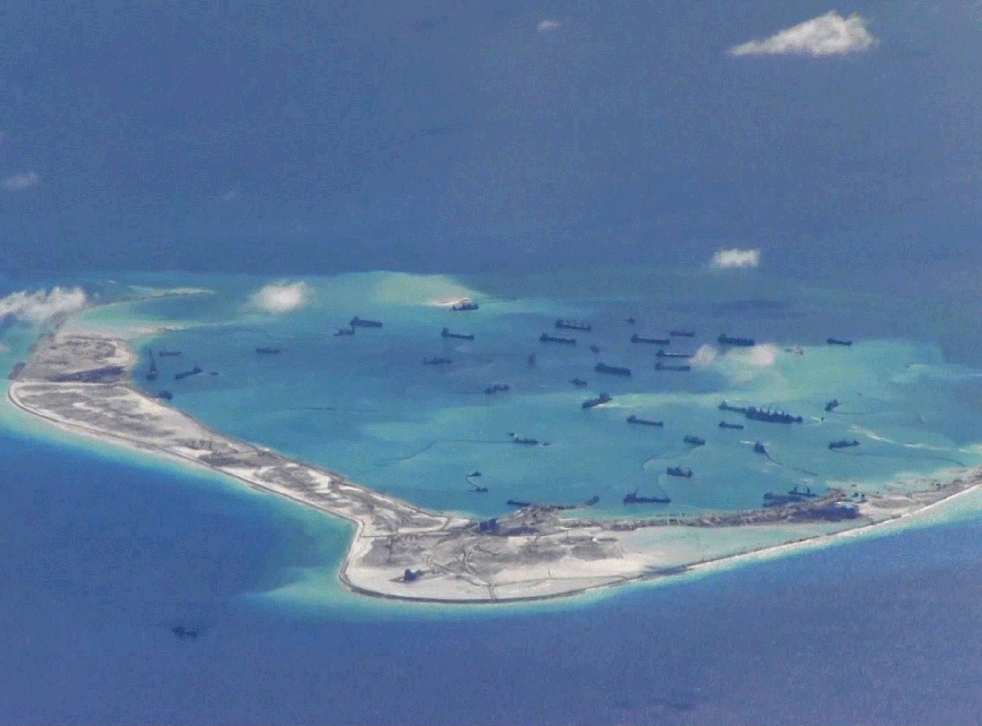 A US naval commander has warned of a new arms race in the South China Sea as military construction on disputed islands continues to worsen tensions.
China, Vietnam, the Philippines, Malaysia, Taiwan and Brunei all lay claim to overlapping part of the waters and the atolls and reefs they house, dotted among some of the world's busiest and most lucrative trade routes.
Nations including the US and Australia have been sending planes and ships into the area to demonstrate "freedom of navigation" in international waters and airspace, according to UN conventions.
US v China dispute in South China Sea
One state-controlled Chinese paper has already warned that Washington should "prepare for the worst" and claimed China is "not frightened to start a war" over the deployment of a warship near the disputed Spratly Islands.
Admiral Scott Swift, Commander of the American Pacific Fleet, urged involved nations to seek arbitration to settle maritime disputes.
"My concern is that after many decades of peace and prosperity, we may be seeing the leading edge of a return of 'might makes it right' to the region," he said on Monday.
"Claimants and non-claimants alike are transferring larger shares of national wealth to develop more capable naval forces beyond what is needed merely for self-defence."
He said planes and ships in waters and airspace outside of Chinese control had been threatened with "superfluous warnings".
The comments came after a plane carrying a BBC journalist was threatened by the Chinese Navy as it flew near the Spratly Islands attempting to photograph construction work.
On the same day, intercepted communications showed an Australian aircraft flying in the area while broadcasting messages saying it was exercising "freedom of navigation rights in international airspace".
Australia's Defence Department confirmed one of its aircraft was involved in "a routine maritime patrol" over the South China Sea from 25 November to 4 December.
China's territorial disputes

Show all 5
Hong Lei, a spokesperson for the Chinese Foreign Ministry, said: "Certain countries are exaggerating tensions in the South China Sea region, which is in reality to create confusion and meddle…China is resolutely opposed to this."
When asked about the Australian flight, he said countries outside the region should "respect other nations' sovereignty and not deliberately complicate the issue", adding: "There is no problem with freedom of navigation and overflight in the South China Sea."
China is building seven man-made islands on reefs in the Spratly Islands, including a 10,000-foot airstrip on one of the sites, according to satellite imagery of the area.
The weekend saw the opening of the first school there, on Woody Island in the Paracels, state media said.
Meanwhile, the Hague's Permanent Court of Arbitration continues to examine the case between the Philippines and China as Manila attempts to have its sovereign right to a maximum 200-mile "exclusive economic zone" from its coast enforced.
Additional reporting by Reuters
Join our new commenting forum
Join thought-provoking conversations, follow other Independent readers and see their replies