US and South Korea fly advanced bombers over Korean peninsula amid growing tensions with Pyongyang
The show of defiance comes after Kim Jong Un sent a missile over Japan
Rachael Revesz
Monday 18 September 2017 16:34 Comments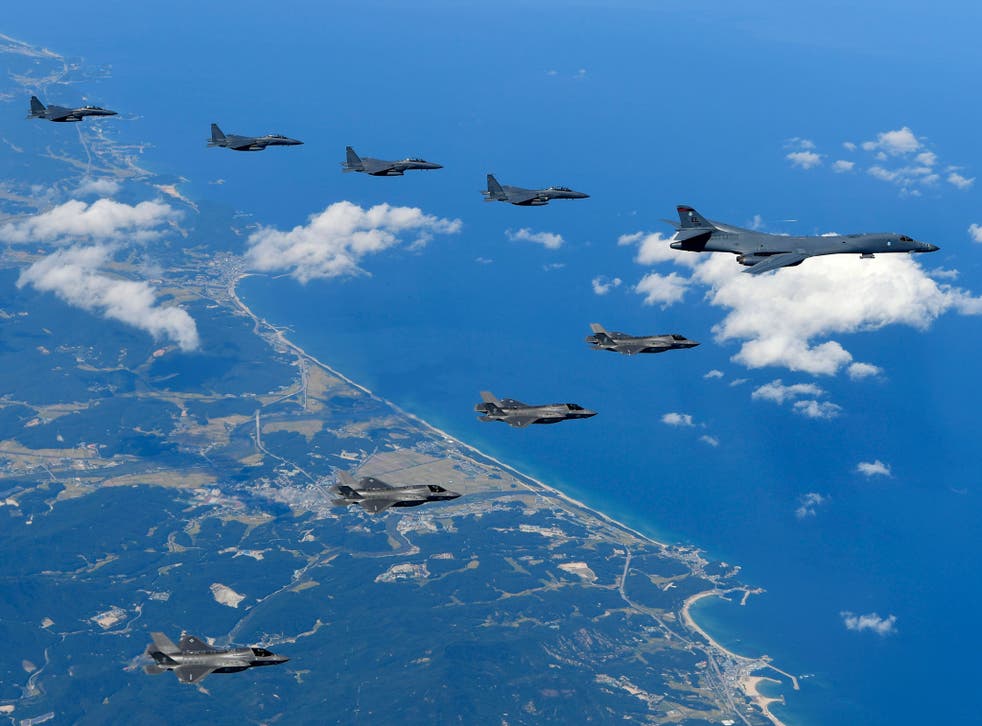 The US military has staged bombing drills with South Korea over the Korean peninsula and near Japan in retaliation for North Korea's latest missile test.
The US flew advanced bombers and stealth jets over the border, practising attacks by releasing live weapons at a firing range in South Korea.
Seoul's Defence Ministry said that the two B-1Bs and four F-35Bs from the US conducted drills with four South Korean F-15K fighter jets.
US and Japanese fighter jets also practised formation training over the southern island of Kyushu, according to authorities.
The show of defiance comes after Kim Jong Un flew a missile over Japan.
The regime wanted to display its displeasure at the latest round of UN sanctions, which were imposed following North Korea's sixth nuclear test on 3 September, its most powerful to date.
Since Jong Un came to power in 2011, he has rapidly advanced the country's nuclear capabilities, including two tests in July alone.
North Korea: US joins South Korea in bombing exercise
The regime is working towards launching an intercontinental nuclear missile that could reach the US, and many experts say achieving this goal is only a matter of time.
So far, South Korean President Moon Jae-in said he had no plan to ask the US to bring back tactical nuclear weapons to the country, despite growing pressure from conservatives.
North Korea: Our goal is to become military equals with the US
US President Donald Trump has targeted China, which accounts for the vast majority of North Korea's trade, in his tweets, saying the country is "trying" and "failing" to resolve the situation. He also called Jong Un "Rocket Man".
His criticism has not been taken well by China's Communist Party newspaper, which said pressure from the US to rein in North Korea's weapons programs was "essentially moral kidnapping".
China's foreign ministry also said the pressures were counterproductive and that sanctions should be imposed by the international community as a whole.
"Some related parties keep sending threatening messages both in words and deeds that include warnings of military actions to each other," said ministry spokesman Lu Kang.
"But actually, these kinds of actions didn't help solving the problem but further complicate the situation, which do no good to the resolution of the peninsular issue."
Agencies contributed to this report.
Register for free to continue reading
Registration is a free and easy way to support our truly independent journalism
By registering, you will also enjoy limited access to Premium articles, exclusive newsletters, commenting, and virtual events with our leading journalists
Already have an account? sign in
Register for free to continue reading
Registration is a free and easy way to support our truly independent journalism
By registering, you will also enjoy limited access to Premium articles, exclusive newsletters, commenting, and virtual events with our leading journalists
Already have an account? sign in
Join our new commenting forum
Join thought-provoking conversations, follow other Independent readers and see their replies