America could lose a war against North Korea, former US commander says in leaked letter
US troops 'are vastly outnumbered by North Korean forces', says Jan-Marc Jouas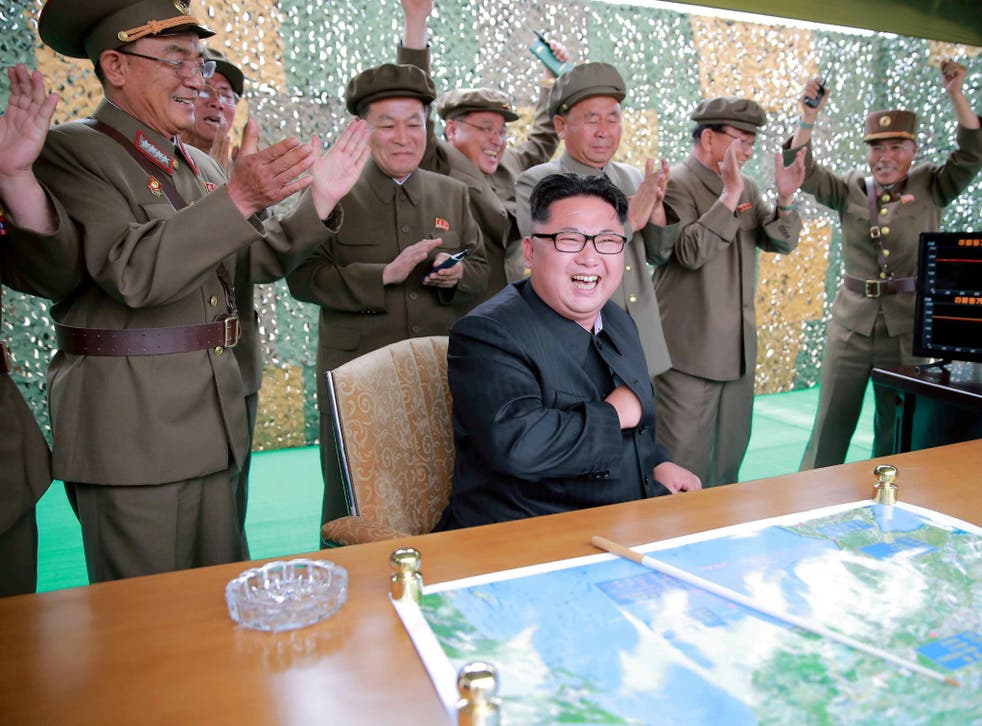 The US military would find itself outnumbered and under-supplied if war broke out with North Korea, a former top commander in the region has reportedly claimed.
American troops "are vastly outnumbered by North Korean forces, as well as [allied] forces that will conduct the overwhelming majority of the fighting", according to retired Lt Gen Jan-Marc Jouas.
They would also face problems in getting reinforcements or new supplies, he claimed, saying fresh troops "may well find their bases subject to attack by conventional or chemical weapons, which will further delay their entry into the war".
In a letter to members of Congress, obtained by Newsweek, Lt Gen Jouas said even limited military action against Kim Jong-un's regime would be likely to precipitate a full-scale war, yet would probably not destroy Pyongyang's nuclear capability totally.
He added: "An enormous casualty and evacuee crisis will develop and include over 100,000 non-combatant Americans, many of who will turn to US forces to get them off the peninsula."
The use of nuclear weapons by Pyongyang could not be ruled out, he said. Lt Gen Jouas was deputy commander of US Forces Korea from January 2012 until his retirement in early 201.
US personnel in South Korea number about 28,500, Lt Gen Jouas said, though news reports place recent figures both higher and lower.
H R McMaster calls North Korea a threat 'to the entire world'
An all-out war with North Korea would be bloody in the extreme, experts believe, as the country has huge amounts of ordnance aimed at Seoul, the South's capital, which is just a few dozen miles from the demilitarised zone.
US Defence Secretary James Mattis has said the results of conflict would be "catastrophic".
According to the Council on Foreign Relations (CFR), a US think-tank, Pyongyang has some 1.1 million personnel in its armed forces.
The CFR added in a recent analysis: "Although Pyongyang is outspent by its neighbours and adversaries in dollar-to-dollar comparisons and defence experts say it operates with ageing equipment and technology, the regime's forward-deployed military position and missiles aimed at Seoul ensure that Pyongyang's conventional capabilities remain a constant threat to its southern neighbour."
Kim Jong-un inspects weapon North Korea says is powerful hydrogen bomb

Show all 6
Lt Gen Jouas' letter comes at a time of heightened tension between the US and North Korea, and as US President Donald Trump is in the middle of a tour of the Asia-Pacific.
However, Mr Trump appears to have introduced a hint of a softer tone to his statements on North Korea. In Seoul earlier this week he said: "It makes sense for North Korea to come to the table and make a deal that is good for the people of North Korea and for the world."
Previously, he has threatened "fire and fury" if the North does not end its threats to neighbouring countries.
Register for free to continue reading
Registration is a free and easy way to support our truly independent journalism
By registering, you will also enjoy limited access to Premium articles, exclusive newsletters, commenting, and virtual events with our leading journalists
Already have an account? sign in
Register for free to continue reading
Registration is a free and easy way to support our truly independent journalism
By registering, you will also enjoy limited access to Premium articles, exclusive newsletters, commenting, and virtual events with our leading journalists
Already have an account? sign in
Join our new commenting forum
Join thought-provoking conversations, follow other Independent readers and see their replies