Vast swathes of southern Afghanistan already in Taliban hands only weeks after British troops depart
Acts of terrorism are increasing across Helmand province, while its infrastructure falls apart
Bilal Sarwary
Sunday 14 December 2014 01:00 Comments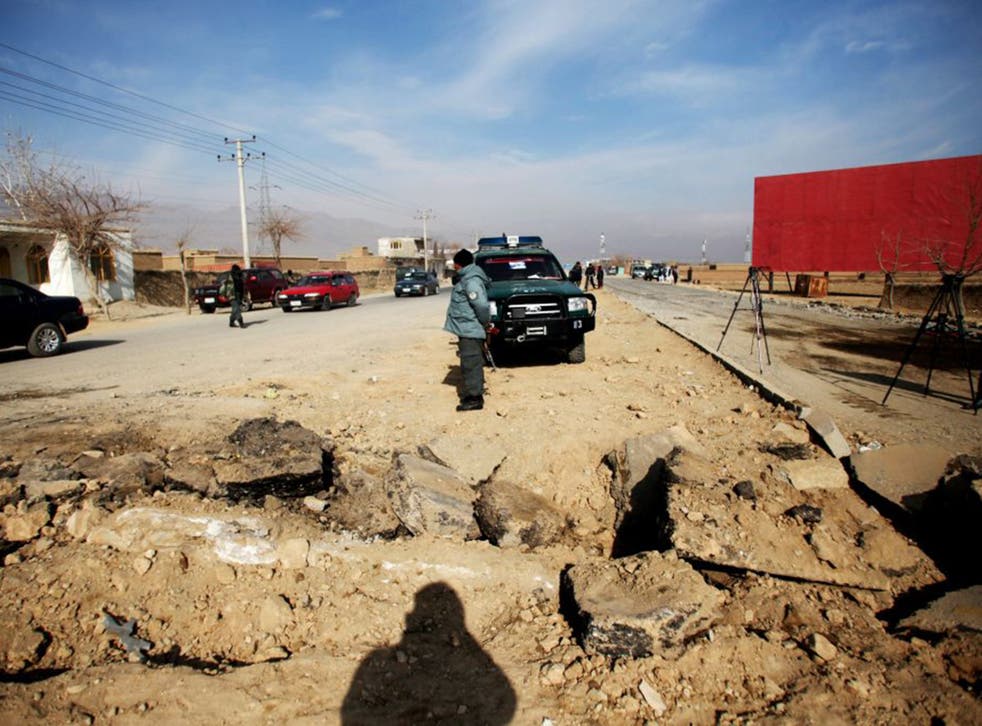 A dust storm is beginning to gather over the airstrip as the shared taxi leaves the Bost Lashkar Gah airport for Marjah. About 20 minutes and six miles into the ride, driver Haji Gul breaks the silence by suddenly halting his battered Toyota. He pulls out a prayer mat from the boot, spreads it by the side of the road and kneels down.
"The authority of the Afghan government ends here," Mr Gul says, retaking his seat and turning on the ignition. "We are in God's care now."
There is no government whatsoever as soon as you travel around 12 miles away from any district centre in Helmand province, southern Afghanistan. The British and the US forces left the southern area at the end of October, and in just over a month, vast swathes of the countryside have seemingly been lost to the Taliban.
Mr Gul's comment appears to be no exaggeration. A few miles further along the road that connects the economic hubs of Lashkar Gah and Marjah, there are the burnt remains of cars, armoured vehicles and trucks belonging to Afghan security forces.
Attacks by the Taliban have also increased recently, with the international forces due to complete their pull-out from the country in less than three weeks, although UN forces will remain to train Afghan security forces. In the past 48 hours, 12 landmine clearance workers were killed by the Taliban in Helmand province, and at least 12 others were wounded. Officials said that at least four gunmen were later killed. In Kabul, gunmen shot dead a senior Supreme Court official Atiqullah Raoufi as he left his home yesterday, and a suicide bomber killed a number of soldiers on a bus. On Friday night, just outside the city and close to the US-run Bagram airfield, the Taliban detonated a roadside bomb, hitting a convoy of foreign troops and killing two American soldiers.
Improvised explosive devices, or IEDs, remain the biggest threat to travellers on Afghanistan's highways. Officials in Helmand say a resurgent Taliban is using newer techniques to deploy these homemade bombs. In another recent attack, the Taliban dug a tunnel under a police post in Nawzad district, filled it with explosives and triggered the blast by using a command wire. More than a dozen policemen were said to have been killed in the attack.
"[The] Taliban has become more and more daring in its attacks," Awaz Gul, a local police commander in Marjah, said. "Roads, houses, mosques, fields, even trees – they are placing IEDs everywhere."
With the pull-out, Afghan security forces have lost their air power. Air intelligence is now close to zero and there is constant uncertainty over resupply of weapons and ammunition. All this has emboldened the Taliban. "Government forces are losing ground," admits Hazrat Bedal Khan, police chief in Marjah. "The frontline is now just 15km from Marjah district headquarters."
Like most of Afghanistan's highways, the road to Marjah has seen much damage inflicted by war. A bumpy dirt track until a few years ago, this road was paved and converted into a two-lane highway with help from British soldiers. But the 21-mile track is now increasingly displaying the scars of daily battles and lack of maintenance. The asphalted road is pock-marked with craters left by IEDs and, at several points, potholes have emerged due to lack of maintenance.
Helmand's other limited and decrepit infrastructure is also falling apart. Most houses have no water supply or electricity, schools have no buildings or teachers, and clinics have no doctors or medicines.
"We get 250 patients every day, most of them casualties of clashes and roadside bombs," Dr Nisar Ahmad, the director of the 50-bed Boost hospital in Lashgar Gah, said. "We lack doctors, paramedics and medicines. Helmand is bleeding by the day."
Médecins Sans Frontières (MSF) recently conducted a survey in Helmand, which showed that many people with a malnourished child presented for medical care more than one month after symptoms first began, and insecurity was the main reason behind that.
"Conflict also indirectly wounds and kills by impeding access to healthcare," Mathilde Vu, the field communication officer for MSF in Kabul, said. "Because the roads are unsafe to travel; families wait until the health conditions of the patients get really serious to travel. They arrive at Boost hospital at a very late stage of their sickness with complications very difficult to treat."
Although an electricity-surplus province, most parts of Helmand face long power outages several times a day.
In 2012, the US army's Corps of Engineers helped national power utility, Da Afghanistan Breshna Sherkat, carry out repairs and replacement of ageing electricity transformers of the Kajaki hydropower plant on the Helmand river. This doubled the plant's output, helping Helmand not only meet its power demand but also supply to the neighbouring, electricity-starved province of Kandahar.
But over the past few years, the Taliban has taken control of the road leading up to Kajaki and several of Breshna's transmission towers. They now collect the monthly electricity bills from residents in areas controlled by them and also charge Breshna "protection money" to allow its engineers access to the plant.
"It is purely a business deal," a Breshna executive said. "The Taliban controls areas from where our electricity lines go. If we don't pay, there will be no electricity."
The mainly desert region of Helmand offers little work for the local population. Until a few years ago, people here used to grow a variety of crops – including wheat, maize, nuts, apricot and grapes.
But intense fighting, IEDs and Taliban control over roads made movement of trucks carrying produce difficult. Fighting also caused disruption in water and power supplies. This led to a swift spread of poppy cultivation; being a drought-resistant crop, the poppy requires little water to flourish, it is tough and can withstand wide temperature variations and, above all, the crop has Taliban protection.
The province is now the top opium-producing region in Afghanistan. "A new disturbing trend has come to light," says Colonel Mohamed Abdali, who heads a 60-member counter-narcotics team of the interior ministry in Helmand. "Farmers are now growing poppy three times a year on the same piece of land. Moreover, areas where previously other crops were grown, have also come under poppy this year."
Col Abdali admits that the poppy eradication drive has been largely ineffective. "Of the 100,000 hectares of poppy crop, only 800 hectares were eradicated last year. It's a drop in the ocean," he said.
Register for free to continue reading
Registration is a free and easy way to support our truly independent journalism
By registering, you will also enjoy limited access to Premium articles, exclusive newsletters, commenting, and virtual events with our leading journalists
Already have an account? sign in
Join our new commenting forum
Join thought-provoking conversations, follow other Independent readers and see their replies