Village elders 'order gang-rape of young woman as punishment for relationship with outsider'
The 20-year-old woman was in a critical condition after the attack
Andrew Buncombe
Thursday 23 January 2014 12:53 Comments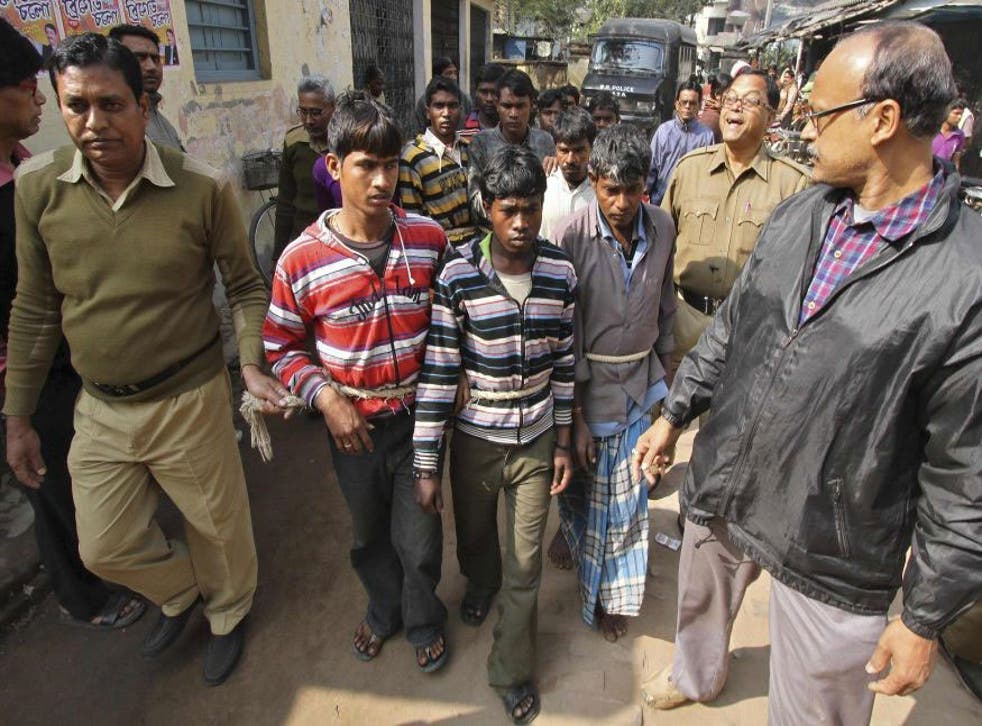 A young Indian woman is in critical condition after allegedly being gang-raped by more than ten men as a punishment ordered by a kangaroo court for having a relationship with a man from a different community.
Officials in the town of Suri said the 20 year-old was being treated in hospital after being raped in an assault that lasted through the night. The next morning, the woman and her family were threatened not to leave their home and were unable to contact the authorities for a further 24 hours.
The woman, a member of a tribal community, was reportedly attacked as a result of a relationship she was having with a Muslim man. Reports said that men from the woman's village found with her the man on Monday and tied her to a tree before hastily convening a village council.
The elders said the man and woman should pay a fine of the equivalent of up to £485. When the couple and the woman's family said they could not pay such a sum, the headman ordered that the woman be gang-raped as a punishment.
"We were dragged to a gathering where our community-headman was present. They told me to pay Rs50,000. When I said I couldn't, they brutalised me," the woman told The Times of India newspaper, from hospital.
The woman's mother said: "The crime was committed by our own people. They tortured my daughter and dumped her home late at night. We were threatened not to go to police. We tried to go to Bolpur hospital but they stopped us."
Reports said that following the overnight attack in Birbhum on Monday, the young woman and her family were threatened by those who ordered the assault. On Wednesday they were able to reach a local clinic, which sent them to a another facility, which in turn sent the woman to a hospital in Suri, the district headquarters.
This is not the first time that the area, located 120 miles north west of Kolkata, has been at the centre of such a controversy. Four years ago, a teenage woman from a tribal community was stripped and forced to walk naked through four villages after she was accused of having a relationship that village elders did not approve of. The teenager was later given a bravery award by Prime Minister Manmohan Singh.
The incident also echoes what happened to Pakistani woman Mukhtaran Mai, who was gang-raped on the orders of a Pakistani village council in 2002 to settle an issue of so-called honour.
Across India, village councils often hold huge power over people in rural communities and have often been guilty of carrying out their own courts and punishment.
In the states of Punjab and Haryana, so-called khap panchayats have been involved in the "honour killing" of couples from the same clan having a relationship.
Politicians who rely on such community elders for votes have been accused of failing to speak out on the matter. Meanwhile, those who flout the councils risk being ostracised.
"The West Bengal police must thoroughly investigate this alleged gang rape, and bring to justice those responsible," said Divya Iyer, of Amnesty International India. "Khap panchayats notoriously issue extra-legal decrees ordering inhuman and sexually violent punishments against women, including "honour" killings."
In West Bengal, police said a total of 13 people had been arrested and were being questioned. They were later brought before a court which ordered them to remanded in custody.
A series of rapes in India over the past year has sparked widespread concern about sexual violence and government failures to protect women. The gang-rape and murder of a Delhi student in December 2012 sparked protests across the country which pushed the government to introduce tougher penalties for sexual offenders.
Register for free to continue reading
Registration is a free and easy way to support our truly independent journalism
By registering, you will also enjoy limited access to Premium articles, exclusive newsletters, commenting, and virtual events with our leading journalists
Already have an account? sign in
Join our new commenting forum
Join thought-provoking conversations, follow other Independent readers and see their replies