Wary over North Korea threat, Japan flexes military muscle despite Olympic reconciliation
Special report: Kim Jong-un's regime presents a grave and current danger which cannot be masked, in Tokyo's view, with theatrics at PyeongChang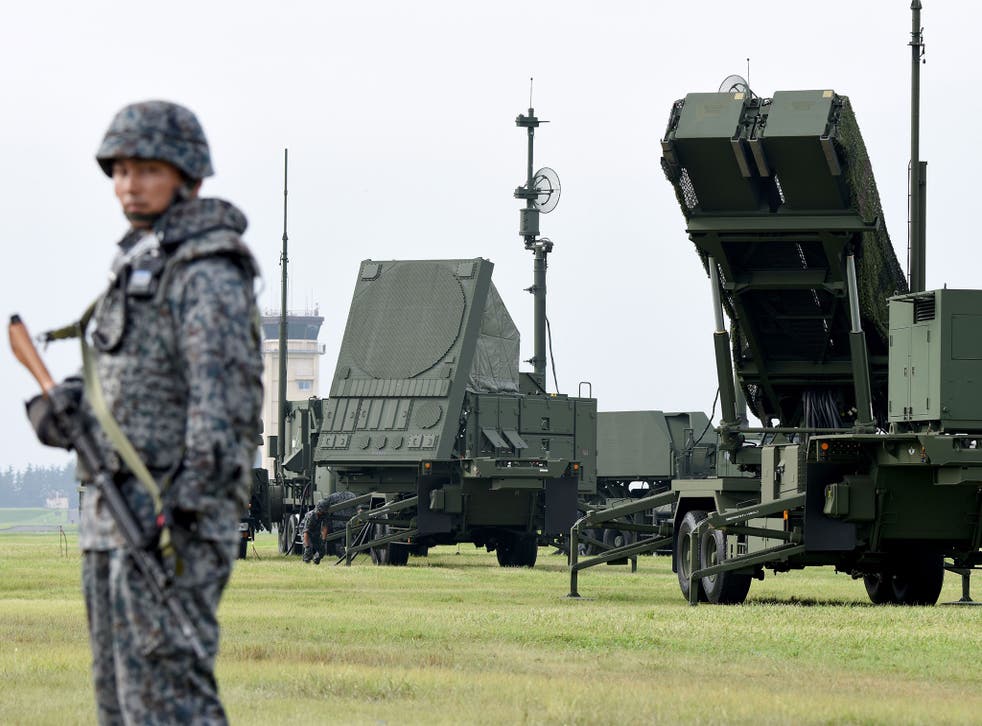 As North Korea's troupe of female cheerleaders carried out their synchronised clapping and flag waving at the Winter Olympics in the South, pairs of US F-22 Raptors and F-35 Lightning fighters were taking off across the sea from the airbase at Kadena in Okinawa to carry out their own choreographed moves to test Kim Jong-un's air defences.
There is international focus on whether the diplomacy accompanying the sports in PyeongChang will lead to a defusing of the escalating confrontation over North Korea's nuclear and missile programme. Kim Jong-un, who has dispatched his sister Kim Yo-jung to the Games, has called for a "further livening up" of the "warm climate of reconciliation" and invited Moon Jae-in for talks. South Korea's President, in turn, is keen to promote diplomatic initiatives.
But for Japan, with dozens of North Korean missiles targeting its territory, and with the appalling experience of being the only country to have suffered devastating nuclear attacks, the Pyongyang regime presents a grave and current danger which cannot be masked, in Tokyo's view, with theatrics at the Olympics.
After speaking to Donald Trump this week, Shinzo Abe declared that there would be "no meaningful dialogue" with Pyongyang unless it agreed on "complete, verifiable and irreversible denuclearisation". The Japanese premier wanted to stress that "dialogue for the sake of dialogue would be meaningless". Foreign Minister Taro Kono, meanwhile, called on the international community not to be blinded by Pyongyang's "charm offensive" at the Games and the need to confront aggression.
The probing flights being carried out by the US and allied countries are designed to not just explore North Korean defences, say those familiar with the mission, but to have a psychological effect as well, seeking to show up the regime's vulnerabilities and sow divisions in the country's hierarchy.
"We are testing North Korea's ability to respond. We are collecting information as to the intentions and capabilities of North Korea armed forces" said Professor Narushige Michishita, of the National Graduate Institute for Policy Studies in Tokyo. "By conducting different military actions, one of the objectives of the US is to drive a wedge between political leaders and military leaders inside North Korea.
"We in Japan know the North Korean threat only too well. The range of their Nodong missiles is 1,300km. Once launched it will reach Japan in about 10 minutes: so we are sitting here well within range. To put things in perspective, the Hiroshima bomb was 15 kilotons. Last year the size of North Korea's nuclear test was more than ten times that, 160 kilotons.
"People now have a choice to make. Japan isn't a pacifist society, it is an isolationist society and it was very comfortable to outsource security to the Americans. People are worried about what happened in the 1930s when Japan essentially went out of control and stupid, dangerous people took over. But there is a way to have credible self-defence without returning to those days."
World news in pictures

Show all 50
The US administration is said to be now considering moving Marine Corps Expeditionary Units, some from the Middle East, to Japan and South Korea. In a recent visit to the region to reassure allies, General Joseph Dunford, the chairman of the US Joint Chiefs of Staff, commented: "There is no stronger way to demonstrate our commitment to our allies than actually being physically present."
In Washington, Pentagon spokesman Lieutenant Colonel Christopher Logan said: "We always maintain a high state of readiness and we have the capabilities to counter any threat to include those from North Korea." There is an intelligence drive alongside the military one, with the security services advertising for Korean speakers and analysts. The CIA has set up a Korea Mission Centre which, director Mike Pompeo has confirmed, is receiving priority. CIA spokesman Jonathan Liu said: "The administration has made North Korea a top priority and the CIA will harness the full resources, capabilities and authorities of the agency to address the threat posed by Kim Jong-un and his regime. We shift resources as appropriate to tackle our most pressing challenges."
However the ratcheting up of US military posture, to be in a position to give Pyongyang a "bloody nose", the supposed White House wish much talked about in Washington at the moment, has had to be carried out in hurried response to bellicose statements of Mr Trump, according to military sources.
The Pentagon was caught by surprise when the US President tweeted last August that a military mission was "locked and loaded". He had previously declared that the aircraft carrier USS Carl Vinson was heading for North Korea when, in fact, it was thousands of miles away in the Indian Ocean at the time.
In Japan, Mr Abe's government is seeking to reform the country's post-Second World War constitution with a mandate claimed by the ruling LDP's recent election victory. The supposed threat posed by North Korea and China is being used for a range of possible measures, from forming more marine units and turning the country's two helicopter carriers to full aircraft carriers, to acquiring ballistic missiles.
The latest planned acquisition is of the Aegis Ashore system with Cruise missiles – a move which has drawn objections from China and Russia who both have territorial disputes with Japan. "The adoption of a decision to purchase and deploy these systems should be viewed as disproportionate to the real missile threats in the region," declared foreign ministry spokeswoman Maria Zakharova in Moscow. "This may undermine strategic stability in this part of the Pacific."
There is also internal opposition in Japan to militarisation. The government is planning to deploy anti-aircraft and anti-ship missiles and around 600 troops to Ishigaki, near the Senkaku islands which China claims, and which have become a scene of confrontation between the two countries.
The presence of Chinese coastguards and warships prevent Japanese fishermen working the waters off Senkaku. But, nevertheless, there are objections among some of them to the introduction of soldiers and weapons. Hiroyuki Tanaka, the director of the Fishermen's Cooperative in Ishigaki, said: "I am against the missiles and so, I know, are a lot of other people. We do not want to become targets. I am speaking for myself rather than as an official of the co-operative, but we will be worried about our families, our children if this happens."
There are 50,000 American troops in Okinawa and there is long-established opposition to their presence. The island was the scene of a bloody battle at the end of the Second World War and a place which remained under American occupation until 1972. Since then there have been 710 accidents involving US military aircraft as well as a large number of cases of crime by service personnel including a shocking gang rape two decades ago which is still mentioned by local people.
Kadena, the largest and most active US airbase in South East Asia, with 20,000 service personnel and staff working and living there, has had its share of accidents. Tatsuiya Kodama, an official with Kadena city council, acknowledged: "We have had problems with things falling out of aircraft, violent incidents and traffic accidents in connection with the base. There are local concerns over this and we hold regular meetings with the Americans about these issues. As you know, US bases are a sensitive topic here."
Kim Jong-un holds huge military parade in Pyongyang on eve of Winter Olympics in South Korea
Aina Watanabe, a 58-year-old teacher, had marched against both the American presence in Okinawa and what she viewed with alarm as the rebirth of militarism in Japan. But now, she says, she is rethinking where she stands.
"I am no longer certain because we are surrounded by so much uncertainty," she mused. "Are the people who run North Korea rational?
"We don't know. We watch the Olympics on TV and of course there are lots of shots of the North Koreans. I am glad they are there if that helps to calm things down, but, more and more, I think we need to keep bases like Kadena, at least for the time being; we need to have the ability to defend ourselves."
Join our new commenting forum
Join thought-provoking conversations, follow other Independent readers and see their replies