Thailand's former Prime Minister 'joins brother in exile in Dubai' to avoid trial verdict
Yingluck Shinawatra was facing up to ten years in prison if convicted for charges of negligence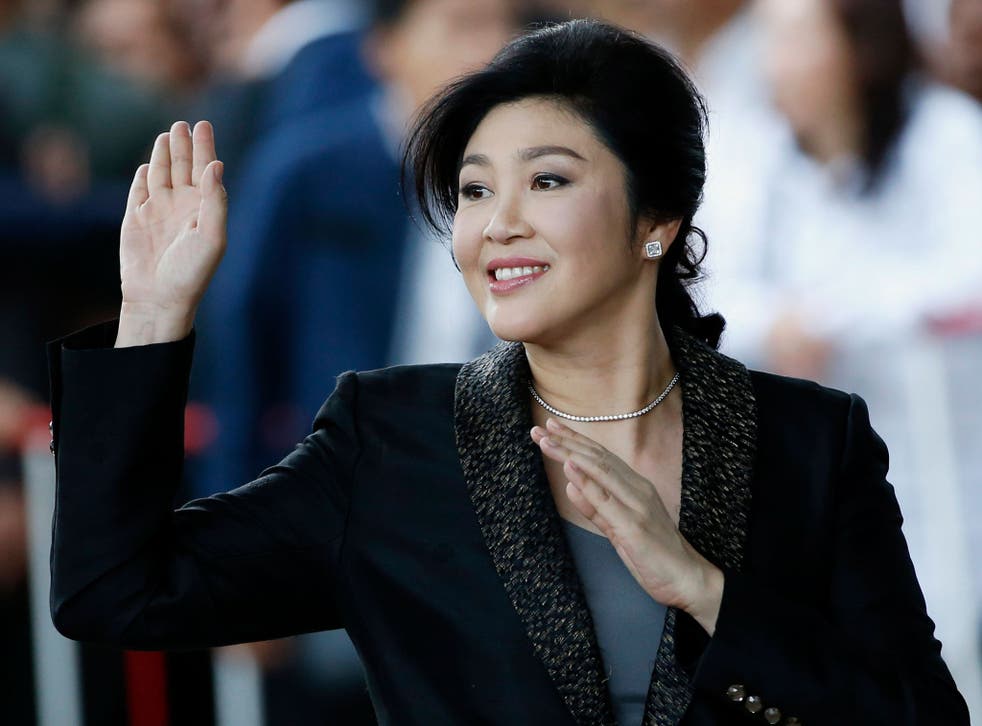 Thailand's former Prime Minister Yingluck Shinawatra, who was facing up to ten years in prison if convicted for charges of negligence, has fled to Dubai, according to senior members of her party.
The politician reportedly flew to Dubai where her brother, another former Prime Minister Thaksin Shinawatra, lives in self-imposed exile to avoid a prison sentence for corruption.
She had pleaded not guilty to the charge, which relates to a rice-buying policy she implemented after becoming the country's first female Prime Minister in 2011.
"We heard that she went to Cambodia and then Singapore from where she flew to Dubai. She has arrived safely and is there now," said a senior member of the Puea Thai Pary speaking anonymously to Reuters.
Up to 3,000 supporters gathered outside the court in Bangkok on Friday where Ms Yingluck was due to hear a verdict in the negligence trial against her.
After the 50-year-old failed to show up at the appointed hour, the court issued a statement saying she had cited a health problem as the reason for the no-show.
The court did not accept her excuse as a valid reason and moved the verdict to 27 September before issuing a warrant for the arrest of the former Prime Minister. Her bail money was also confiscated.
Deputy national police chief General Srivara Rangsibrahmanakul said police had no record of Ms Yingluck, 50, leaving the country and were following developments closely.
Immigration police have said they will arrest her on the spot if they find her in the country.
National police spokesman Dechnarong Suticharnbancha said police are still investigating reports that Ms Yingluck had fled Thailand - a country with a long border.
Deputy Prime Minister Wissanu Krea-ngam said the government "should not comment" on Ms Yingluck's case and her whereabouts.
"It's a matter for police to proceed with the arrest warrant," Mr Wissanu told reporters, adding that her whereabouts "will be clear soon".
UK news in pictures

Show all 50
Overthrown by a military coup in 2014 after just three years as Prime Minister, Ms Yingluck was facing up to ten years in prison if found guilty.
The rice subsidy programme, introduced in 2011, pledged to pay farmers far in excess of the market rate for their crop, but ended up costing the country billions.
Critics said that while it pleased rural voters, it wasted £8 billion of public funds while damaging exports and leaving the government with huge stockpiles of rice it was unable to sell without making a loss.
Ms Yingluck's former commerce minister was jailed for 42 years this week in a related case.
The Shinawatra family have dominated Thai politics for years, with parties led or backed by them winning every general election since 2001.
The wealthy family enjoys strong support among poorer voters in rural areas but has been accused of nepotism and corruption by the Bangkok-based establishment.
Thaksin was Prime Minister from 2001-2006, when he was overthrown in a military coup.
He fled to Dubai before he was convicted in his absence of having used his position to increase his personal wealth.
Ms Yingluck is the youngest of the nine children with a background in business and campaigned on a populist platform of poverty eradication and corporate income tax reduction, winning by a landslide in 2011.
She was forced from office by the Constitutional Court of Thailand following mass protests against her government and months of political unrest.
In 2016, she pledged to see her trial through and said she had never considered leaving the country.
Ms Yingluck's no-show was a "big surprise" to most people in Thailand, Thitinan Pongsudhirak, a political scientist at Chulalongkorn University, told CNN.
"The way that she had fought, it had looked like she was willing to go through with (the trial).
Mr Thitinan added that Ms Yingluck's decision to skip the verdict hearing will have "emboldened" the military government.
"They would not have wanted to put her in jail, in this scenario, (but her failure to turn up for the verdict) puts her on the back foot and gives them an edge."
Additional reporting by Reuters
Register for free to continue reading
Registration is a free and easy way to support our truly independent journalism
By registering, you will also enjoy limited access to Premium articles, exclusive newsletters, commenting, and virtual events with our leading journalists
Already have an account? sign in
Register for free to continue reading
Registration is a free and easy way to support our truly independent journalism
By registering, you will also enjoy limited access to Premium articles, exclusive newsletters, commenting, and virtual events with our leading journalists
Already have an account? sign in
Join our new commenting forum
Join thought-provoking conversations, follow other Independent readers and see their replies