Ancient underwater volcanic range may explain why Australia and New Zealand separated
Cluster of extinct volcanoes will push frontiers of deep-sea exploration, say scientists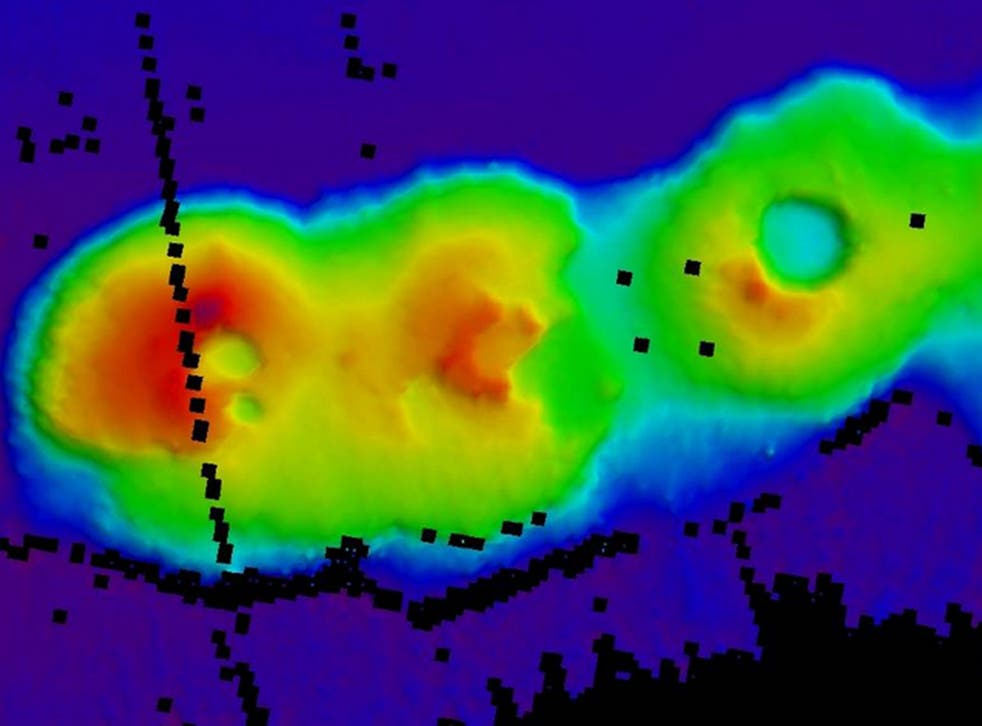 A chance discovery by an Australian scientific vessel searching for lobster larvae has uncovered a range of underwater volcanoes that have remained inactive, and unknown, for an estimated 50 million years.
While scanning the seabed more than 150 miles off the coast of Sydney, scientists were stunned to find a cluster of volcanoes sitting three miles beneath the ocean's surface. In all there were four extinct volcanoes, the largest nearly a mile wide and rising some 2,000ft above the sea floor.
The volcanoes, now calderas which form after the eruption when the land around them collapses, may reveal why Australia and New Zealand separated between 40 and 80 million years ago. The chief scientist aboard the government research vessel, Investigator, described the discovery as being "like something off the front cover of a geology text book".
"If you could drain the ocean it would be magnificent to see for a few seconds – it's a remarkable structure," Professor Iain Suthers told the Australian Broadcasting Corporation.
The cluster of volcanoes measures 12 miles by four. But for a lucky sighting on the final night of the crew's 15-day voyage, it would have gone unnoticed.
The 28 scientists on board were looking for the nursery grounds of larval lobsters before they stumbled across the submarine phenomenon. It is believed that the volcanoes were created by a series of shifts in geological plates that caused Australia to split from New Zealand.
Professor Suthers said the area was thought to be "billiard-table flat" before the discovery.
Professor Richard Arculus, of the Australian National University and a world expert on volcanoes, said: "[We are] learning more about the past of Australia and New Zealand and the nature of the stuff below the crust of the earth.
"It proves yet again that we know more about the topography of Mars than we do the seabed in our own backyard. It could provide information about why the east of Australia stands high, and about mineral deposits, which always drives curiosity."
Part of the success of the voyage was due to the Investigator's advanced sonar mapping facilities.
The government's previous research vessel could only map the sea floor to a depth of about 9,000ft, which left half of Australia's ocean territory beyond reach.
But the far superior sonar scanner available on the new ship can map the seabed to any depth, which puts all of Australia's vast ocean territory within reach.
Professor Arculus was at pains to make it clear that the four volcanoes were extinct and had no chance of erupting again.
"These guys have been dead for a long time," he emphasised. "Volcanic activity in the Tasman Sea is extinct."
Join our new commenting forum
Join thought-provoking conversations, follow other Independent readers and see their replies