Hundreds of criminals arrested worldwide after unknowingly using app run by FBI
Police seize firearms, drugs and cash and save family of five from murder plot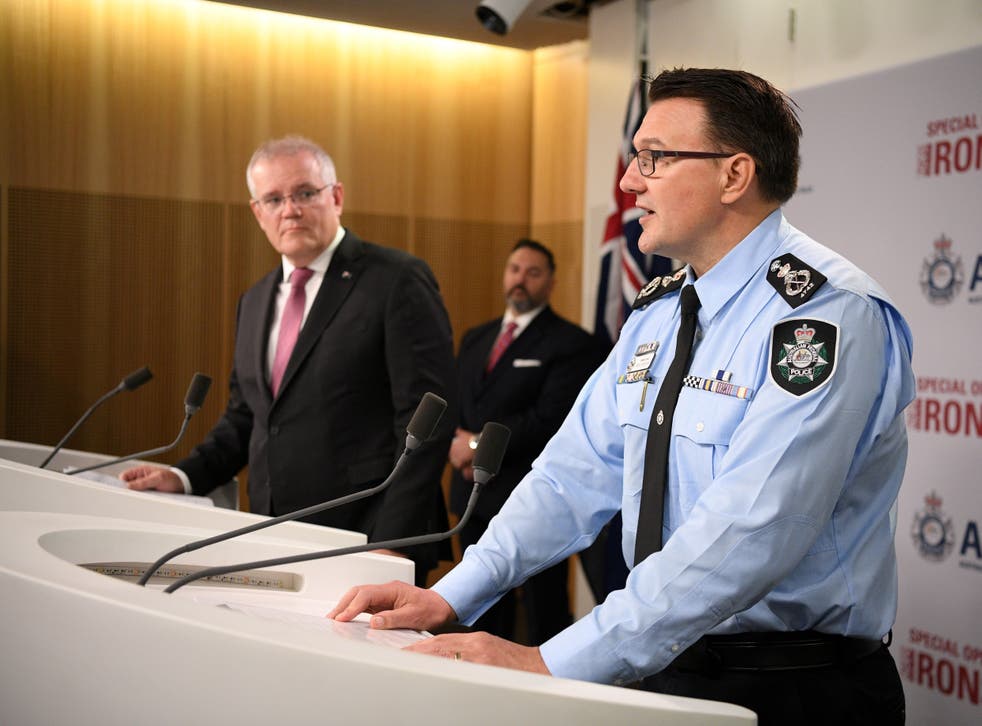 Leer en Español
Hundreds of criminals have been arrested around the world after they were tricked into using a messaging app secretly run by the FBI.
Australian police said criminal gangs thought the encrypted app called ANOM was safe from snooping when, in fact, authorities had for months been monitoring millions of messages about drug smuggling, money laundering and even murder plots.
The operation, by Australian police and the FBI, led to arrests in 18 countries across Australia, Asia, South America and the Middle East.
Drug dealers in the UK were also among the criminals duped into using the app.
Australia said it had arrested 224 people, including members of outlawed motorcycle gangs, and seized 104 firearms, more than four tonnes of drugs and 35 million US dollars (£25m) in an ongoing operation that dates back to 2018.
Federal Police commissioner Reece Kershaw said the sting, called Operation Ironside in Australia, also shut down six clandestine laboratories and stopped 21 death threats.
One foiled murder plot involved plans to attack a cafe with a machine gun, while a family of five was also saved.
New Zealand police, who called their sting Operation Trojan Shield, said they had arrested 35 people and seized drugs and assets worth millions of dollars.
Australian prime minister Scott Morrison described the operation as a "watershed moment".
"Today, the Australian government, as part of a global operation, has struck a heavy blow against organised crime," he said.
"Not just in this country, but one that will echo around organised crime around the world."
Mr Kershaw added: "We have arrested the alleged kingmakers behind these crimes, prevented mass shootings in suburbs and frustrated serious and organised crime by seizing their ill-gotten wealth."
Detective Superintendent Greg Williams, who leads a New Zealand police group fighting organised crime, said the sting was conceived in 2018 after the FBI took down a previous secure app favoured by criminals, Phantom Secure.
Mr Williams said that left a void in the market that authorities helped fill with the ANOM app.
The app was installed on stripped-back mobile phones and its popularity grew organically in criminal circles after it was vouched for by some high-profile underworld figures, described as "criminal influencers".
World news in pictures

Show all 50
The gangs believed the system was secure because the phones did not have any other capabilities — no voice or camera functions were loaded — and the app was encrypted.
Mr Kershaw said the messages were brazen and there was no attempt to hide behind any code.
"All they talk about is drugs, violence, hits on each other, innocent people who are going to be murdered," he told a press conference.
Australian police have laid a total of 525 charges, with more expected in the coming weeks, while New Zealand police have laid over 900 charges in relation to the 35 people arrested.
Europol and the FBI were expected to hold news conferences later on Tuesday.
Additional reporting by agencies
Register for free to continue reading
Registration is a free and easy way to support our truly independent journalism
By registering, you will also enjoy limited access to Premium articles, exclusive newsletters, commenting, and virtual events with our leading journalists
Already have an account? sign in