Anzac Day terror plot: Five teenagers arrested in Australia for 'planning Isis-inspired attack'
Sevdet Besim, 18, is one of the suspects who allegedly armed themselves with knives and swords to target police and remembrance ceremonies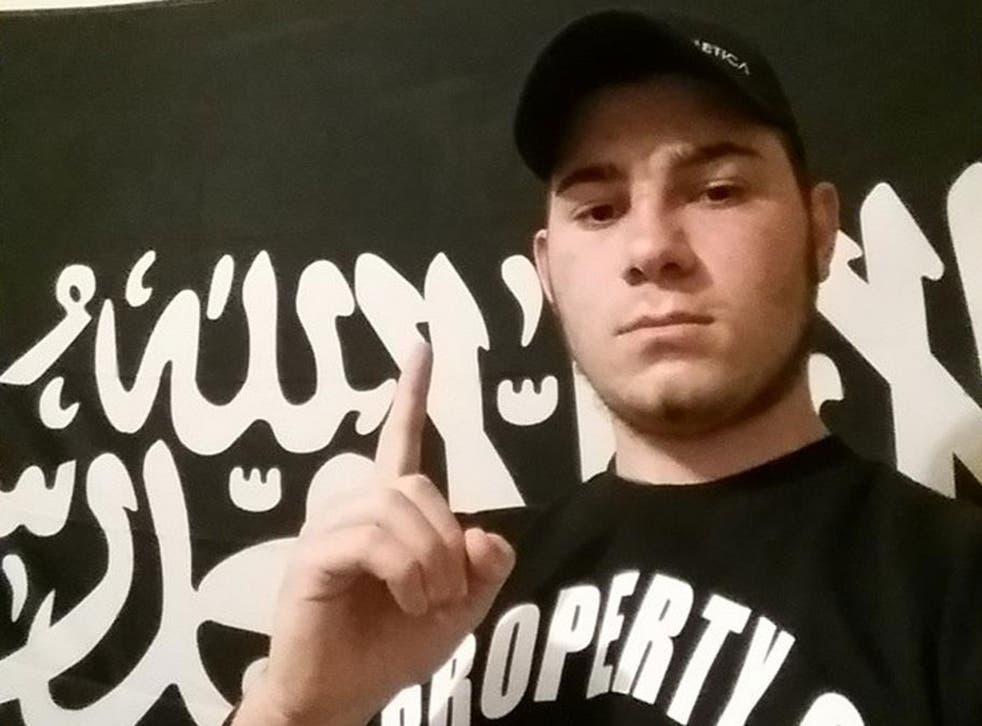 Australian police have foiled an Isis-inspired terrorist attack allegedly orchestrated to target a war remembrance ceremony and police officers.
Five teenagers have been arrested in connection with the plot that officials said would have been carried out at the Anzac Day ceremony in Melbourne on 25 April.
Originally marked to honour the Australian and New Zealand Army Corps who fought at Gallipoli during the First World War, it now commemorates those killed in all conflicts.
Two 18-year-old men have been arrested on suspicion of planning and preparing for "terrorist acts" and another 18-year-old was detained in relation to alleged weapons offences.
Two other men, aged 18 and 19, are being held for questioning. All the suspects are from Melbourne.
One of the suspects, 18-year-old Sevdet Besim, appeared at a brief court hearing on Saturday charged with preparing for or planning a terrorist act. He is being remanded in custody until another hearing next week.
An Instagram account appearing to belong to the teenager contains a plethora of jihadist and Islamist slogans, posts praising the "lions" of Isis and condemning the US and Israel.
Besim also seems to have posted a photo of an anti-extremism poster urging people to contact authorities if they fear their friends are becoming radicalised with the caption "lol" (laugh out loud).
He is seen posing in camouflage gear and in front of an Islamist-style black flag, raising his index finger in a gesture commonly associated with Isis.
The men were arrested during a series of counter-terrorism raids in the early hours of Saturday morning dubbed "Operation Rising" and searches continue.
Police said they believe the plot was inspired by the so-called Islamic State and involved "edged weapons", believed to be knives and swords seized from searched properties.
Australian Federal Police Acting Deputy Commissioner Neil Gaughan said officers have prevented a "violent and unprovoked attack" and would continue working with community leaders to fight extremism.
"At this stage we have no information that it was a planned beheading," he added. "But there was reference to an attack on police.
"Some evidence that we have collected at a couple of the scenes, and some other information we have, leads us to believe that this particular matter was Isis-inspired."
The Premier of Victoria, Daniel Andrews, urged people not to let the plot cause divisions in the community and hatred towards Muslims.
"These people are not people of faith, they don't represent any culture," he said.
"This is not an issue of how you pray or where you were born. This is not about those issues.
"This is simply evil."
Australia is part of the US-led coalition fighting Isis militants in Iraq and has been named as a target by the group's leaders in propaganda videos.
In September last year, Abu Mohammed al-Adnani issued a message urging foreign jihadists to carry out attacks abroad in their home countries, including Australia.
Michael Phelan, the Federal Police Deputy Commissioner, said the suspects had links to Numan Haider, an 18-year-old man who stabbed two police officers in Melbourne and was shot dead in September.
He had been under surveillance for months after drawing police attention over what they considered suspicious behaviour, including waving what appeared to be an Isis black flag at a shopping centre.
Mr Phelan said the men arrested on Saturday had been known to security agencies for several months but that the investigation ramped up when intelligence suggested they were planning a specific attack.
"This is a new paradigm for police," he added.
"These types of attacks that are planned are very rudimentary and simple.
"All you need these days is a knife, a flag and a camera and one can commit a terrorist act."
Prime Minister Tony Abbott has warned that the terror threat in Australia has escalated quickly in the last year, with one-third of all related arrests since 2001 occurring in the last six months.
At least 110 Australians are believed to have travelled to Iraq and Syria to fight alongside extremists, and the nation's security agency is juggling more than 400 high-priority counter-terrorism investigations — more than double the number a year ago.
In February, two men were charged with planning to launch an imminent Isis-inspired attack after appearing in a video threatening to stab their victims, and in September, a man was charged with conspiring with an Isis leader in Syria to behead a person at random in Sydney.
The city was the site of a siege in December, where Iranian-born extremist Man Haron Monis took 18 people hostage inside a café and forced them to hold up Isis symbols. He and two hostages died.
In pictures: Sydney siege

Show all 32
Australians were today being urged to "go about their daily business" by police and Mr Abbott said he hoped the public still to participate in Anzac Day events.
"The best sign of defiance we can give to those who would do us harm is to go about a normal, peaceful, free and fair Australian life," the Prime Minister said.
"And I say to everyone who is thinking of going to an Anzac Day event, please don't be deterred. Turn up in the largest possible numbers to support our country."
Additional reporting by AP
Register for free to continue reading
Registration is a free and easy way to support our truly independent journalism
By registering, you will also enjoy limited access to Premium articles, exclusive newsletters, commenting, and virtual events with our leading journalists
Already have an account? sign in
Register for free to continue reading
Registration is a free and easy way to support our truly independent journalism
By registering, you will also enjoy limited access to Premium articles, exclusive newsletters, commenting, and virtual events with our leading journalists
Already have an account? sign in
Join our new commenting forum
Join thought-provoking conversations, follow other Independent readers and see their replies