Australia to send urgent vaccine support to Papua New Guinea as its healthcare system faces collapse
About half of Papua New Guinea's Covid-19 cases were recorded in the last four weeks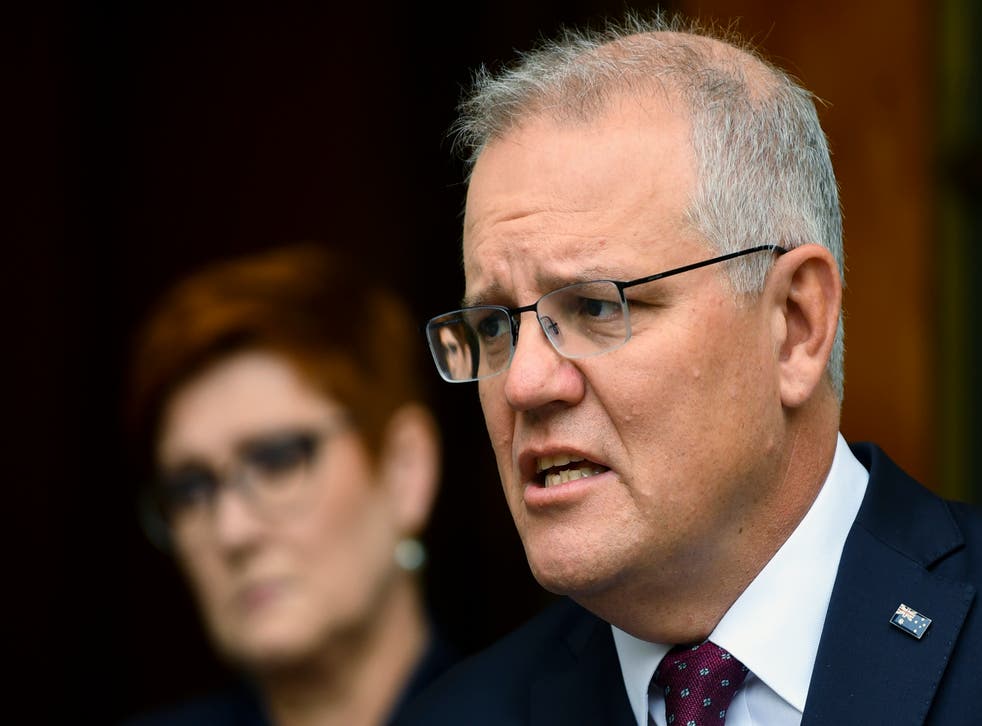 Australia will send 8,000 Covid-19 vaccines to Papua New Guinea to control the dangerous outbreak of the pandemic and will also ask the European Union to release a million more doses.
The Pacific Island nation, which is just a short boat ride away from Australia, is facing a fresh wave of Covid-19 infections, and Australia fears it could further spread to other nations.
"We've contracted them. We've paid for them and we want to see those vaccines come here so we can support our nearest neighbour, PNG, to deal with their urgent needs in our region," said  Australia's prime minister Scott Morrison.
"They're our family, they're our friends. They're our neighbours. They're our partners... This is in Australia's interests, and is in our region's interests," he said, while at the same time announcing that all travel to and from Papua New Guinea will be suspended from midnight on Wednesday.
Mr Morrison said in addition to the 8,000 locally produced doses of Covid-19 vaccine it is giving to Papua New Guinea, it would make a million doses available as soon as they arrive from Europe.
He warned that an uncontrolled outbreak in the neighbouring country could produce a new variant of Covid-19 and that "would be not only a major problem for PNG but also for us and the region."
Read more:
On Tuesday, the prime minister of Papua New Guinea James Marape had expressed concern over the increasing number of cases and said Covid-19 had "broken loose" in the country.
With a population of about nine million, Papua New Guinea was declared free of Covid-19 in May 2020 but cases have continued to crop up since. So far it has recorded 2,351 infections including 26 deaths, but more than half of these cases were recorded during the last month. Health authorities in Australia believe these numbers are an underestimate.
Australia's chief medical officer Paul Kelly raised concerns about the lack of infrastructure to conduct mass testing and said: "When people are being admitted into hospital in Port Moresby, half of women who are coming in due to pregnancy are positive."
Australia has pledged to spend $407m for regional vaccine access covering nine Pacific island nations but experts note that much more is needed.
Senator Penny Wong, who is the Australian Labour party's spokesperson on foreign affairs, tweeted: "Health Minister Greg Hunt called the Covid outbreak in Papua New Guinea a "clear and present danger" for Australia. But he's offering a pretty vague and slow response."
Human Rights Watch welcomed the Australian government announcement as a first step but noted that "for a population of close to 9 million, with a severely under-resourced and under-funded health care system, more is needed quickly."
"Australia should also end its obstruction of attempts by much of the developing world to secure a temporary waiver of intellectual property rights at the WTO. If adopted, the waiver would help scale up vaccines production worldwide," tweeted HRW's Stephanie McLennan.
Amnesty International called the efforts of both Australia and New Zealand to support Papua New Guinea "woefully inadequate", with the country's healthcare system "ailing" and hospitals "full or threatening to close to new admissions".
"Basic health infrastructure is urgently needed in Papua New Guinea to help immediately on the diagnostic and treatment level, as well as for the distribution of vaccines once they are approved by the national authorities," said Amnesty International's Pacific researcher Kate Schuetze. "Australia and New Zealand, together with other key donors, need to urgently step up and provide the assistance their neighbour needs now."
Additional reporting by agencies
Join our new commenting forum
Join thought-provoking conversations, follow other Independent readers and see their replies