Australia's Scott Morrison under fire for bizarre suggestion that children be allowed to operate forklifts
Senators say suggestion to let minors operate such industrial equipment is 'dangerous, stupid'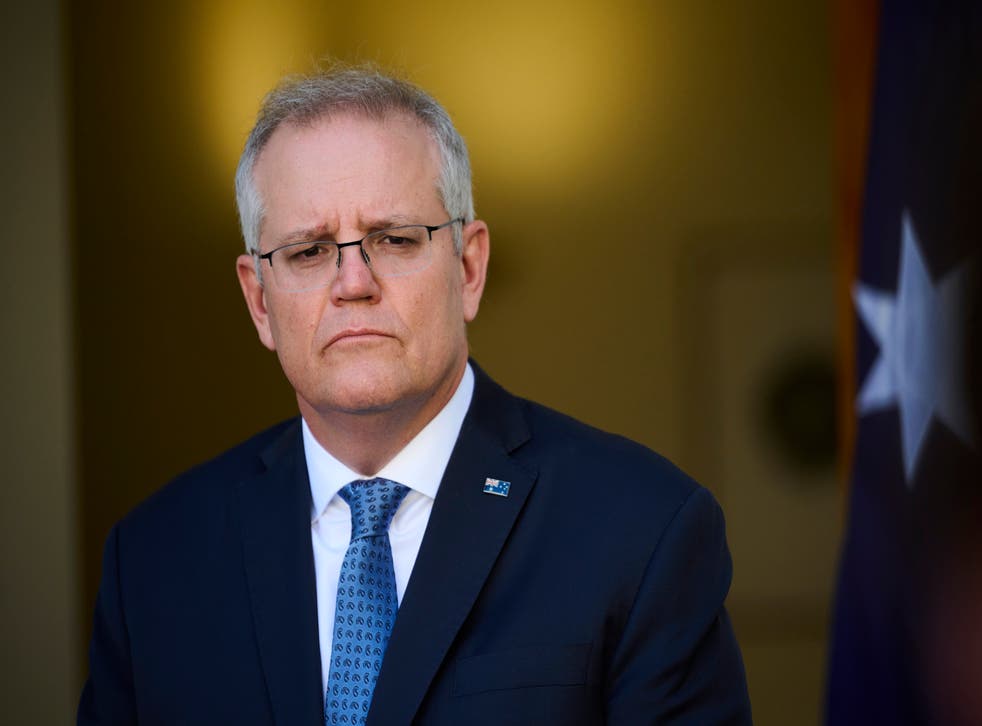 Australian prime minister Scott Morrison's proposal to let children operate forklifts amid a shortage of workers in Covid-hit supply chains has drawn intense criticism, forcing the administration into an immediate climbdown.
On Wednesday, Mr Morrison floated a proposal to bring down the minimum age to drive forklifts from 18 to 16. But hours later, on Thursday, he said the administration will not go forward with the proposal.
Most states classify forklift operations to be high-risk work, requiring a licence available only to 18-year-olds and over.
"We had a good discussion about today and it is not something that we believe, collectively, that is something we should be pursuing at this time," the prime minister said after the national cabinet meeting.
The plan was unanimously rejected by all states, according to Australian Capital Territory chief minister Andrew Barr.
Australian senator Helen Polley slammed the suggestion and said it was a dangerous idea.
"You couldn't make this stuff up. Morrison losing the plot. What a dangerous stupid idea. He was 9 months late ordering vaccines, the crisis we face now is of Scott Morrison's making. The buck stops with Scott Morrison," the Tasmanian senator said.
Queensland senator Murray Watt also criticised the prime minister's suggestion and linked it to a lack of tests in the country.
"Scott Morrison wants to let children drive dangerous factory equipment, because he didn't order enough rapid antigen tests," the senator said.
CFMEU union official Jade Ingham claimed that Mr Morrison wanted to use "child labour to fill gaps on the frontline", according to The Guardian.
"What next? A return to children leading pit ponies into coalmines and sweeping chimneys?" he said. "If ever there was any doubt that the Morrison Liberals view workers as nothing more than an expendable commodity to be used and discarded, this desperate brain fart should make clear their utter contempt for workers' health and safety."
Social media users also criticised the Australian government's proposal and warned that the "baffling" announcement could risk children's lives.
Mr Morrison's suggestion came at a time his administration is trying to ease supply chain and workforce problems, as a result of which supermarkets and stores are running empty.
Caught in the middle of rising Covid cases and hospital admissions hitting a peak, Australia is struggling to produce millions of home testing kits to keep businesses functioning.
The shortage of rapid antigen tests has compounded the domestic crisis as fewer workers are testing themselves — a key concern for voters on the Liberal-National coalition government's handling of the pandemic ahead of the elections likely this summer.
Mr Morrison has promised to secure up to 52 million kits this month, making them available to workers for daily tests.
Australia on Thursday logged a grim tally of 2 million cases since the pandemic began, with infections being driven by three most populous states — New South Wales, Victoria and Queensland.
The three states reported 69,600 fresh infections on Thursday, with more than 4,800 infected people in the hospitals.
Register for free to continue reading
Registration is a free and easy way to support our truly independent journalism
By registering, you will also enjoy limited access to Premium articles, exclusive newsletters, commenting, and virtual events with our leading journalists
Already have an account? sign in
Join our new commenting forum
Join thought-provoking conversations, follow other Independent readers and see their replies