Australia to close Manus Island refugee processing centre after Papua New Guinea rules detention illegal
The government says none of the 854 asylum seekers held there will ever be settled in Australia
Lizzie Dearden
Wednesday 17 August 2016 09:47 Comments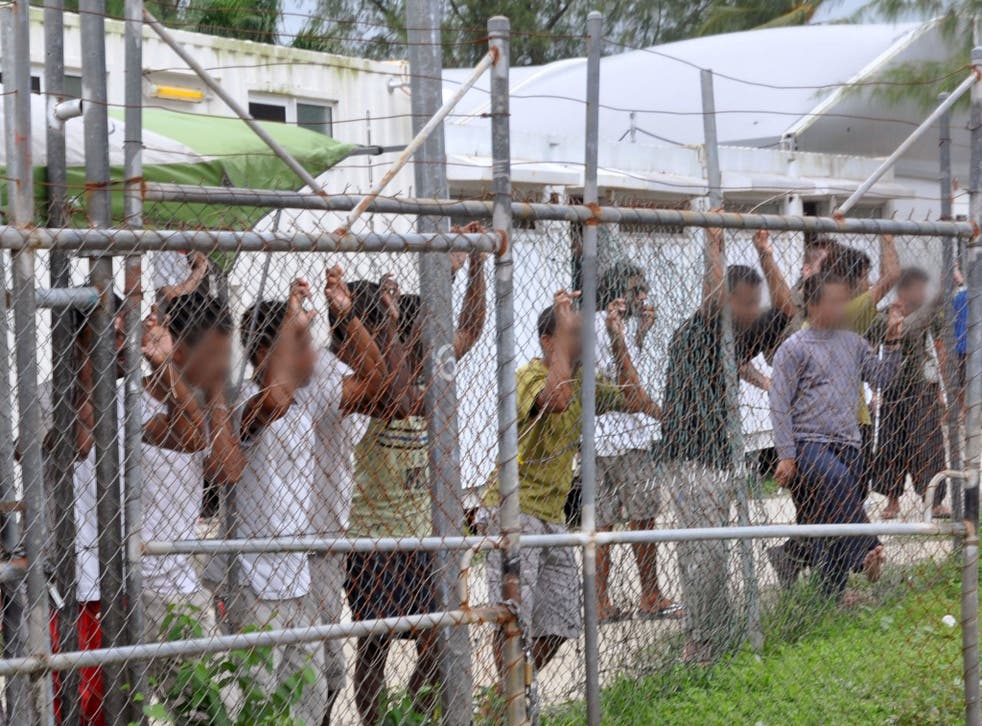 An offshore detention camp for refugees attempting to reach safety in Australia is to be closed following years of reports of "inhumane" conditions and human rights violations.
More than 800 asylum seekers are currently being held on the Pacific island of Manus as part of the controversial policy to "stop the boats" by intercepting and imprisoning anyone attempting to reach Australia.
Following serious concerns raised by the United Nations and human rights groups, Papua New Guinea's Supreme Court ruled that the detention of migrants on the island was illegal and violated the country's constitution in April.
Authorities announced the planned closure of the camp on Wednesday but gave no timescale, and the fate of those held there was unclear.
Peter Dutton, Australia's immigration minister, said his government would continue to work with Papua New Guinea (PNG) to stop people smuggling after two years without a boat reaching Australia.
"It has been the longstanding position of this Government to work with PNG to close Manus and support those people as they transition into PNG or return to their country of origin," he added.
"Our position, confirmed again today with PNG, is that no one from Manus Island Regional Processing Centre will ever be settled in Australia."
The current administration has pledged to remove children from detention centres and close 17 of the facilities.
Peter O'Neill, the Prime Minister of PNG, said his country had entered into an agreement to close the centre on Manus.
"A series of options are being advanced and implemented," he added.
"It is important that this process is not rushed out but carried out in a careful manner.
"This must take into account the interests of the people of Papua New Guinea and the wellbeing of asylum seekers and refugees."
Report: Severe abuse of Australia's asylum seekers in Nauru
The announcement came after documents detailing more than 2,000 incidents of sexual abuse, assault and suicide were leaked from another detention centre on Nauru island, where women and children are held.
The Manus Regional Processing Centre was established in 2001 as part of the Howard government's "Pacific Solution".
It fell into disuse as arrivals were transferred to Nauru and was formally closed in 2008, but reopened four years later under the control of G4S, who were replaced by Broadspectrum when the contract expired.
Australia has paid the PNG government hundreds of millions of dollars for facilities on Manus and to resettle refugees who are banned from entering Australia even when their asylum claims are accepted.
But there have been numerous reported attacks against refugees by Manus islanders, including deadly riots that broke out in February 2014 after locals entered the detention centre.
The following year, migrants barricaded themselves inside a compound and went on hunger strike in protest.
Some asylum seekers have spent years in Manus and Nauru, despite objections from the United Nations and numerous reports of abuse and self-harm amongst detainees, including children.
"Nearly a thousand men on Manus have already lost three or more years of their lives locked up in limbo for no good reason," said Elaine Pearson, Australia Director for Human Rights Watch.
"They've endured dirty, cramped conditions, inadequate medical care and violence. Finally, it is time to let them move on with their lives in safety and dignity."
Refugee crisis - in pictures

Show all 27
Amnesty International has been calling for the closure of the Manus camp, which it said "flies in the face of human rights protections" and international law.
A 2013 report on the island found detainees suffering mental health problems caused by the conditions, including cramped and crowded dormitories, a lack of drinking water, being forced to queue for hours under blistering sun or in pouring rain for food and not having access to sufficient toilets and showers.
"Mandatory offshore detention is not only illegal but harmful to the health and well-being of the hundreds of people stuck in centres like Manus and Nauru," the group's refugee co-ordinator Dr Graham Thom said.
"Many of the men living in the Manus detention centre have fled war, torture, death threats, or dangerous discrimination.
"Over half of those remaining in detention have already been found to be refugees; there is no safe home for them to go back to."
Amnesty accused the Australian government of using offshore processing centres to "shirk its responsibility amid one of history's biggest refugee crises".
But authorities say the policy is needed to stop asylum seekers dying at sea on the dangerous voyage from Indonesia to Australia, where hundreds of people have drowned.

Register for free to continue reading
Registration is a free and easy way to support our truly independent journalism
By registering, you will also enjoy limited access to Premium articles, exclusive newsletters, commenting, and virtual events with our leading journalists
Already have an account? sign in
Join our new commenting forum
Join thought-provoking conversations, follow other Independent readers and see their replies