Australian Government releases cartoon in campaign warning asylum-seekers not to 'waste their money on smuggler boats' into the country
The campaign by the Australian government is accompanied by the slogan: "No way. They will not make Australian home".
Kashmira Gander
Tuesday 11 February 2014 22:30 Comments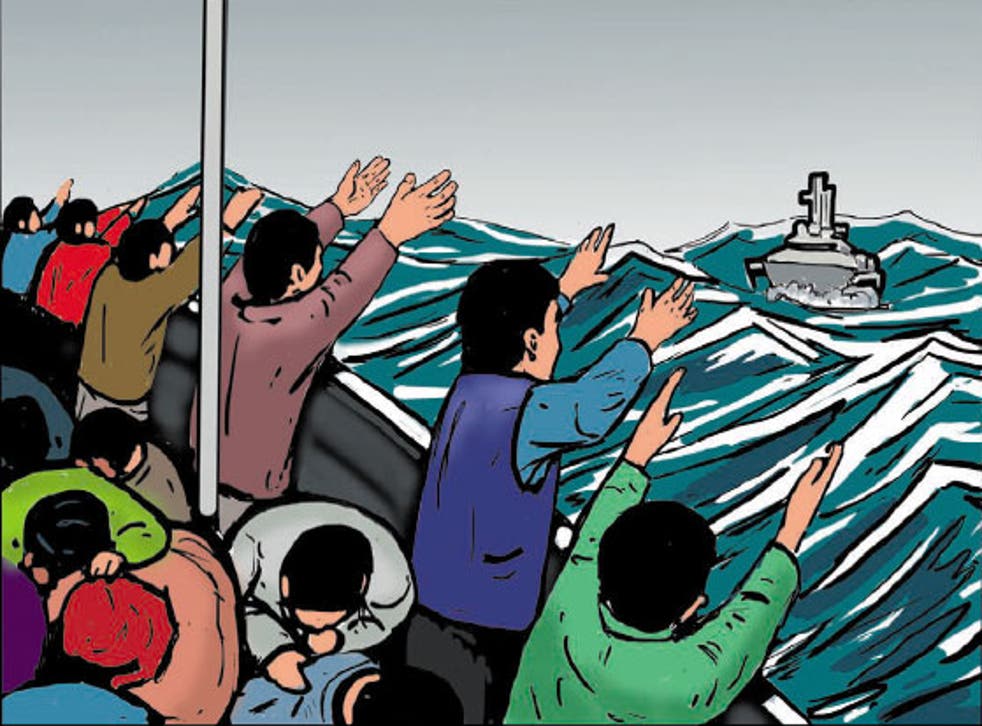 The Australian Department of Immigration and Citizenship has released a cartoon depicting the life of a young Afghani immigrant, as part of a campaign that appears to be aimed at deterring asylum seekers from the country.
The materials in the campaign include an advert with the slogan: "No way. They will not make Australia home", underneath a banner with a map of Australia crossed out, the Guardian reported.
A young man from Afghanistan finds himself detained in an asylum seeker detention centre in the 18-page digital depiction, after he tries to catch a boat into Australia. The storyboard was released on the Customs and Border Protection Service (CBPS) website in November.
The Department for Immigration and Border Protection (DIBP) also released parts of the cartoon on their website, according to the newspaper.
Neither department responded to requests to comment on the material at the time of writing, but the DIBP told the Guardian that it was a matter for the CBPS.
A section of the DIBP website also says: "Don't waste your money – people smugglers are lying. The Australian government has instructed the Australian Defence Force to turn back boats where it is safe to do so," in what appears to be the first admission that the Government has ordered boats of asylum seekers to be turned back.

The campaign has emerged as part of the hard-line approach to refugee policy adopted by the Australian Prime Minister Tony Abbott since he was elected in the autumn of 2013.
His actions include using the Australian navy to tow boats back to Indonesian waters as shown in the campaign, and deporting all refugees who arrive to detention centres to remote Pacific islands. 
Earlier in February the Prime Minister's YouTube account was mistakenly suspended after users flagged a video in which he boasted  his Government's border control policies were working, as containing deceptive content.
Last month leaked documents allegedly written by Immigration Minister Scott Morrisson showed a code of conduct for asylum seekers to sign on arrival.
It revealed that those with temporary visas could potentially be deported if they: "irritate" people, "disturb someone", spit or swear in public, "spread rumours" or "exclude someone from a group or place on purpose".
The office of the immigration minister, Scott Morrison, told The Australian newspaper in December that 35 asylum seekers had been charged with criminal offences since the September election, and the group needed to be made aware of community expectations.
Register for free to continue reading
Registration is a free and easy way to support our truly independent journalism
By registering, you will also enjoy limited access to Premium articles, exclusive newsletters, commenting, and virtual events with our leading journalists
Already have an account? sign in
Join our new commenting forum
Join thought-provoking conversations, follow other Independent readers and see their replies