Cardinal George Pell: Vatican official says Catholic church made 'enormous mistakes' over child sex abuse
Pope Francis' top financial adviser is giving evidence to an Australian inquiry into widespread abuse of children by priests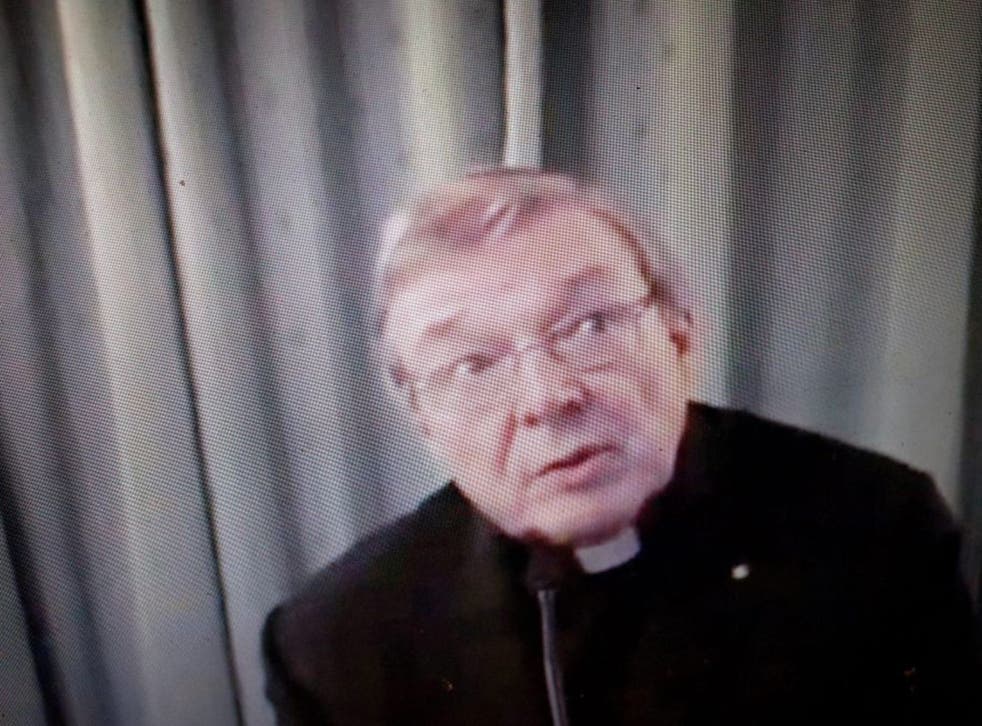 A senior Vatican official has admitted the Catholic Church "has made enormous mistakes" in covering up the widespread sexual abuse of children by priests.
Australian Cardinal George Pell - who is a key financial adviser to Pope Francis - was giving evidence from Rome via videolink to the Royal Commission in Sydney over questions as to whether he knew about paedophile priests operating in the city of Ballarat in the south of the country in the 1970s and 1980s.
Cardinal Pell - who has not been accused of sexual abuse - was a priest in the city during the early 1970s and lived in a seminary with Gerald Ridsdale, who committed at least 130 offences against young boys between the 1960s and 1990s.
He said he had heard an Australian Catholic teacher who serially abused his pupils may have been involved in "paedophilia activity" but said he did not know how widespread the abuse was.
Two dozen Australian abuse survivors and their companions traveled across the globe to witness Cardinal Pell give evidence to the inquiry in a Rome hotel's conference room.
Several protesters held placards outside the inquiry's headquarters calling for Pope Francis to sack Cardinal Pell over the allegations that he turned a blind eye to his fellow priests' crimes.
The Royal Commission into Institutional Response to Child Sex Abuse is currently holding its second round of interviews in its inquiry into child sex abuse in Ballarat.
Cardinal Pell said: "I'm not here to defend the indefensible.
"The Church has made enormous mistakes and is working to remedy those but the Church in many places, certainly in Australia, has mucked things up, has let people down."
The priest criticised former Bishop of Ballarat, Ronald Mulkearns, for his conduct in the Ridsdale case.
Bishop Mulkearns has been accused of moving Ridsdale between parishes for decades every time allegations against him surfaced.
World news in pictures

Show all 50
Cardinal Pell - who was an adviser to Bishop Mulkearns at the time - has denied knowing anything about it and said the bishops's handling of the situation was a "catastrophe for the Church".
In a statement on Sunday, Pell repeated his support for the commission's work, vowed to meet individually with victims who had traveled to Rome and said he hoped the coming days "will eventually lead to healing for everyone."
The cardinal will resume giving evidence to the inquiry on Monday.
Anthony Foster, whose eldest daughter was repeatedly raped by priest Kevin O'Donnell and later killed herself, said it was "astounding and empowering for victims" that the commission was now sitting in judgment of Cardinal Pell on a global stage.
"I feel as though we haven't just brought it to Rome. We've brought it to the world," he said.
Cardinal Pell's evidence, is the closest he has ever come to publicly stating that he had even tangential awareness of the scandal playing out in Ballarat.
The Catholic Church has been reluctant to admit culpability in the widespread abuse by priests in its orders.
The movie Spotlight, which won the Oscar for Best Picture on Sunday, focuses on the investigation by journalists at the Boston Globe in 2002 which exposed a similar cover up by local church authorities.
According to American journalist John L Allen Jr, Cardinal Pell - despite his external reputation as part of the establishment responsible for the cover- up - is regarded as "public enemy number one" among the Vatican "old guard" because he is seen as "the leader of the reform camp that is trying to drag [it], kicking and screaming at times, into the 21st century".
He said: "When you go to the Vatican, you have basically stepped through the looking glass. There is an old guard in the Vatican deeply wedded to pre-modern ways of doing business that, in most respects, would strike reasonable people as corrupt and dysfunctional."
Additional reporting by AP