Australian archbishop becomes most senior Catholic clergyman to be convicted of covering up child sex abuse
Philip Wilson becomes most senior member of the church to be convicted of the offence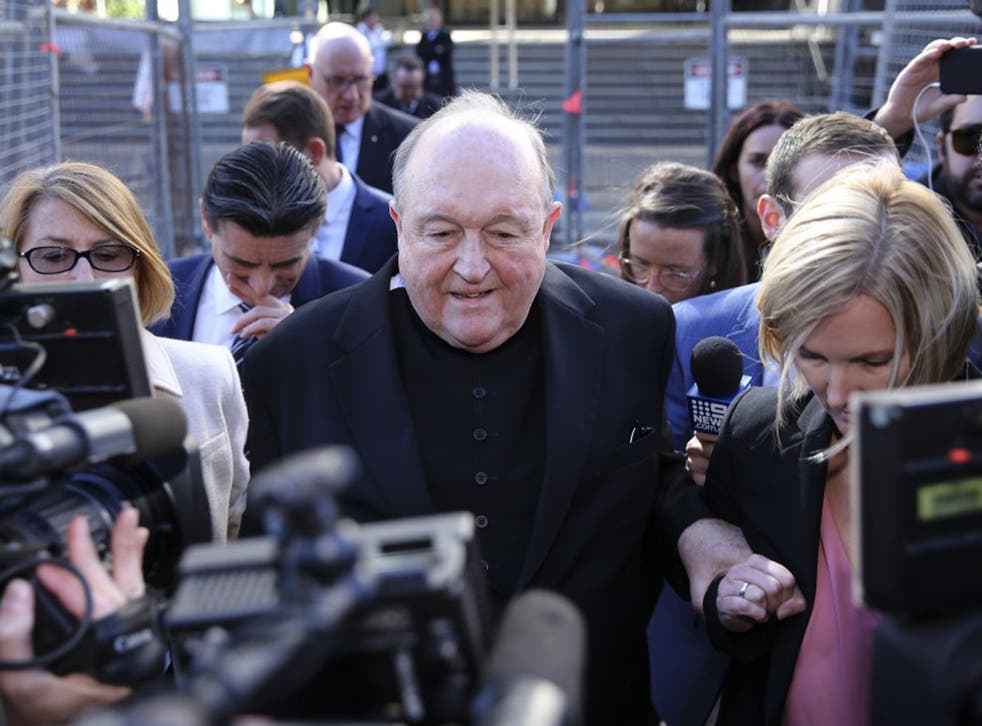 A Catholic archbishop has been found guilty of covering up child sexual abuse in the 1970s in Australia.
Philip Wilson, the archbishop of Adelaide, was found to have concealed a serious crime committed by another person – the sexual abuse of children by paedophile priest James Fletcher in the 1970s.
The judge said he was satisfied that one of the altar boys, Peter Creigh, had been a "truthful and reliable" witness.
The clergyman becomes the most senior member of the Catholic Church to be convicted of the offence.
Wilson was released on bail and the 67-year-old now faces a maximum two years in prison.
In a statement issued by the Catholic Church, Wilson said he was disappointed by the conviction.
"I will now have to consider the reasons and consult closely with my lawyers to determine the next steps," he said.
Wilson, who is suffering from the early stages of Alzheimer's disease but maintains that medication has helped his memory, told the court that he could not remember Mr Creigh and another altar boy telling him in 1976 that they were abused by Fletcher.
The court has ordered that Mr Creigh can be named in media reports on his evidence, but the second accuser cannot be named for legal reasons.
The prosecution argued that Wilson failed to give details to police about a serious crime after Fletcher was arrested in 2004 and went on trial for preying on another boy.
Fletcher was found guilty of nine counts of child sexual abuse and died in prison of a stroke in 2006 while serving an almost eight-year sentence.
Defence lawyers had argued that Wilson could not be found guilty because the case was circumstantial and there was no evidence to prove the archbishop was told about the abuse, believed it was true, or remembered being told about it.
Mr Creigh told the court he had trusted that Wilson, then an assistant priest, would take action after he told him Fletcher had repeatedly abused him in 1971 when he was 10.
World news in pictures

Show all 50
He testified that Wilson had a "look of horror" on his face when told of the abuse, that the clergyman took no action and did not tell police.
The other former altar boy said he was about 11 in 1976 when he went to confession and told Wilson that Fletcher had abused him.
The witness told the court that Wilson refused to believe him because Fletcher "was a good bloke".
Wilson ordered the boy to get out of the confessional box and say 10 Hail Mary prayers as an act of contrition, the court was told.
Wilson gave evidence last month that he had no memory of seeing the second altar boy at all in 1976 and he would never accuse anyone in the confessional of telling lies.
Former police detective chief inspector Peter Fox, who had previously made public allegations that the church had covered up Fletcher's crimes, said outside court that he was "delighted" by the verdict because someone in the church was being held to account.
"It's a major turning point. It's been very difficult for so many of these witnesses; I can't tell you how difficult it's been," he said.
Agencies contributed to this report
Register for free to continue reading
Registration is a free and easy way to support our truly independent journalism
By registering, you will also enjoy limited access to Premium articles, exclusive newsletters, commenting, and virtual events with our leading journalists
Already have an account? sign in
Register for free to continue reading
Registration is a free and easy way to support our truly independent journalism
By registering, you will also enjoy limited access to Premium articles, exclusive newsletters, commenting, and virtual events with our leading journalists
Already have an account? sign in
Join our new commenting forum
Join thought-provoking conversations, follow other Independent readers and see their replies