Cyclone Cook: New Zealand's worst storm 'in generations' makes land
90 mile-an-hour storm which has already killed one islander to bring landslips, flooding and damage to homes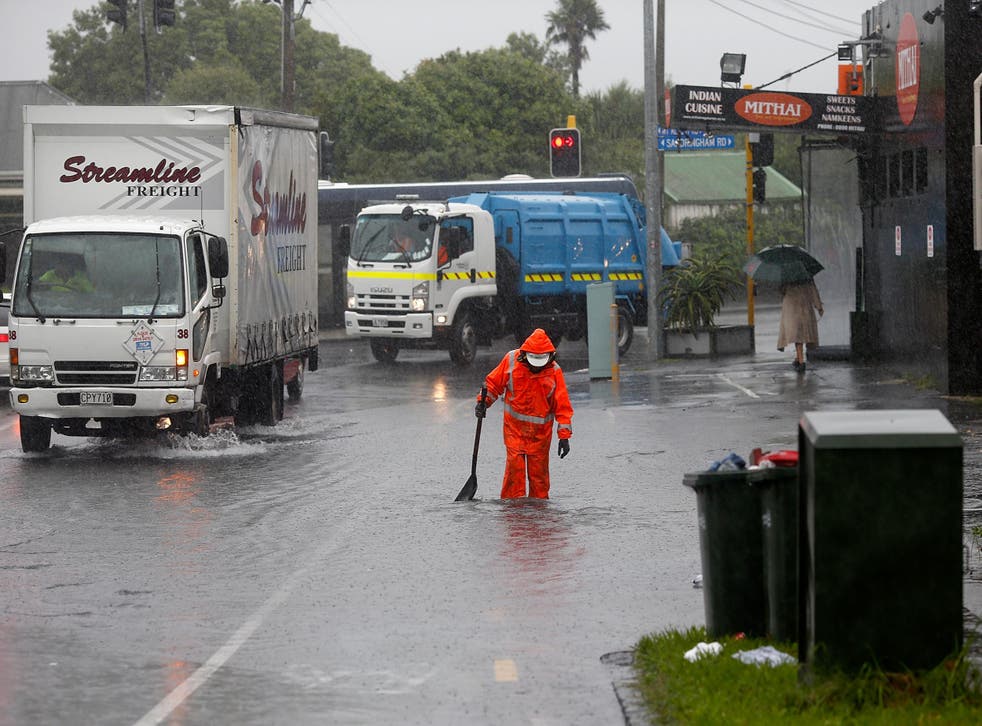 A storm forecast to be the worst "generations" has made landfall in New Zealand, with 90 mph winds felling trees, cutting power, and forcing people to evacuate towns along the east coast of the country's North Island.
As Cyclone Cook arrived around 6pm local time, the country's largest city, Auckland, looked set to narrowly avoid the worst of the storm.
But a state of emergency has been announced across the coastal districts of Bay of Plenty and Thames-Coromandel, where citizens have been asked to leave their homes. The storm has already killed one person on the island of New Caledonia.
Metereologist Arnyo Dyason of the New Zealand Met Service said: "Cyclone Cook's arrival in New Zealand is a very significant event due to the severity of the storm and people are advised to take extreme care.
"People should prepare for the possibility of flooding, landslips, wind damage to powerlines, property and large trees. People should be prepared to change their travel plans if necessary as driving could become hazardous during the severe weather period."
The storm made land at sunset and turned the sky an unusual shade of purple. The 90 mph (150km) gales are expected to bring wave swells of up to five metres, and a power cut has been reported in the town of Whakatane.
It was described as the worst storm "in generations" by the Met Service, whose website crashed as Kiwis searched for emergency information about a storm whose after-effects are expected to continue into the day on Friday.
Heavy rainfall, landslides and strong winds are expected across North Island, while some eastern areas of South Island will also experience limited damage.
The storm comes on the back of a "once in 500-year'" flood which swept through the town of Edgcumbe and other local settlements last week, with over 2,000 people being evacuated at the tail end of Cyclone Debbie.
World news in pictures

Show all 50
On Thursday, the atmospheric pressure sunk as low as it fell during 1968's Cyclone Giselle, which killed 52 people by capsizing a ferry.
To avoid a repeat of the Wahine Ferry tragedy, rescue helicopters and 500 civil defence personnel were on standby, while 137 schools and 133 early learning centres have been closed across the North Island. Those remaining in the area have been advised to stockpile at least three days' worth of food and water.
New Zealand Civil Defence have been warning people not to dismiss the extent of the threat, saying in a statement: "This is an extremely serious weather event. People need to be ready and change their Easter plans if necessary. Put safety first. Don't take any chances."
Register for free to continue reading
Registration is a free and easy way to support our truly independent journalism
By registering, you will also enjoy limited access to Premium articles, exclusive newsletters, commenting, and virtual events with our leading journalists
Already have an account? sign in
Register for free to continue reading
Registration is a free and easy way to support our truly independent journalism
By registering, you will also enjoy limited access to Premium articles, exclusive newsletters, commenting, and virtual events with our leading journalists
Already have an account? sign in
Join our new commenting forum
Join thought-provoking conversations, follow other Independent readers and see their replies