Eagle attacks young boy during birds of prey show in Australia
'Those talons are huge, he was a very lucky boy,' bystander says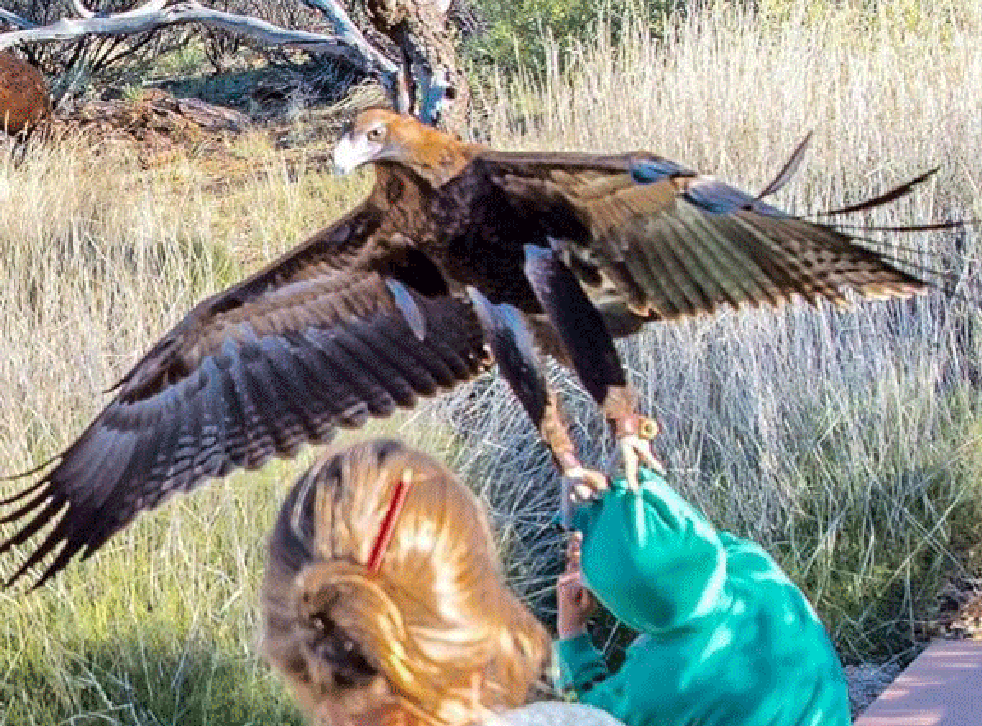 A young boy was attacked by a wedge-tailed eagle at a birds of prey show in Australia, leaving him with a gash to his face.
The seven-year-old was visiting Alice Springs Desert Park with his family in central Australia when the eagle swooped down, apparently aggravated, and took his hood and head in its talons.
He was reportedly pulling the zip on his camouflage jacket up and down repeatedly before the eagle changed course and headed his way in the middle of the show.
Christine O'Connelly, who was standing nearby, described the moment she captured on camera at the nature beauty spot in the Northern Territory.
"For some reason the wedge-tailed eagle did not like [the boy pulling at his zip] and instead of flying over to the log he is meant to, for a photo opportunity, he flew straight at the young boy and attacked him," she said.
"The show was quickly cancelled and the boy taken off to first aid. Those talons are huge, he was a very lucky boy."
It is thought to be the first time the wedge-tailed eagle, whose species have a wingspan of up to 2.84 metres, had ever attacked a member of the public. The boy and his mother were reportedly distraught, according to The Herald Sun.
Tourist Keenan Lucas told the newspaper: "The bird flew over the crowd and tried to grab on to a young boy's head."
The park said the boy's wounds were not serious but that the incident was under investigation.
Comedy Wildlife

Show all 13
The wedge-tailed eagle is Australia's largest bird of prey and is also found in parts of New Guinea, Papua New Guinea and Indonesia.
The birds are known to be adaptable in their search for prey, having been found hunting hare and rabbits as well as driving herds of kangaroo and sheep to identify weaker animals.
It is registered as endangered by the Australian government and there are fewer than 200 pairs left in the wild.
Join our new commenting forum
Join thought-provoking conversations, follow other Independent readers and see their replies