Indonesia execution of two Australian prisoners 'may be delayed by a week'
Myuran Sukumaran and Andrew Chan were convicted of drug smuggling as part of the 'Bali Nine' back in 2005
Jamie Campbell
Friday 06 March 2015 10:49 Comments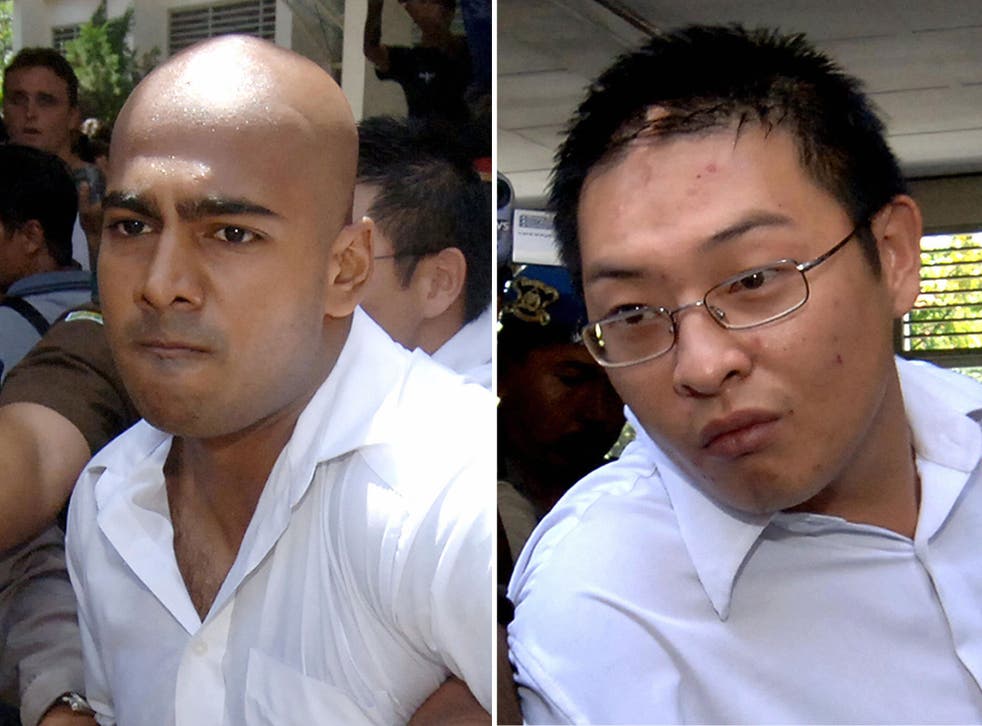 The executions of two Australians sentenced to death for drug smuggling in Indonesia may be delayed and are unlikely to go ahead this week, the country's attorney general has suggested.
Myuran Sukumaran and Andrew Chan, who were convicted of smuggling heroin out of the country in 2005, are now on the island of Nusa Kambagan, the main location for carrying out capital punishment in the country.
However, Indonesia's attorney general HM Prasetyo has signalled that their 72-hour execution notice period has not yet begun.
He said: "About notification, it's a minimum three days before the execution. It could be 10 days."
Australia's foreign minister Julie Bishop said: "We don't yet have a date for the executions.
"We are currently seeking access for the family. We understand that this is unlikely to be access given over the weekend, but we're seeking access as early as possible next week. Consular staff have arrived on the so-called execution island for supporting the family and providing whatever consular assistance we can. "
An 11th-hour prisoner swap arrangement floated by Bishop was reportedly rejected by Indonesian President Joko Widodo, who has insisted that the death penalty is needed to tackle a "drugs emergency" in Indonesia.
The Australian President, Tony Abbott, who has called repeatedly for Jakarta not to go ahead with the executions, said that "there were some suggestions earlier that perhaps at least some people in the Indonesian system were having second thoughts. But I am afraid those signals seem to be dissipating."
He added, "I hope that even at this late hour, the better angels of the Indonesian people's hearts will reassert themselves."
Sukumaran and Chan were reportedly the two ring leaders of the "Bali Nine" who tried to smuggle more than 8 kilogrammes of heroin out of the country in April 2005 from Denpasar on the island of Bali.
Australian politicians have urged Indonesia to grant clemency to the pair and have criticised their treatment since their transfer under heavy security on a plane to Cilicap on Java the previous day.

Photographs emerged on Thursday of a smiling senior Indonesian police official posing with the prisoners aboard the plane and treasurer Joe Hockey described the pictures as "macabre."
In the pictures, published by the Indonesian news outlet Tribun News, senior commissioner Djoko Hari Utomo is shown intereacting with Chan and Sukumaran surrounded by paramilitary officers in balaclavas and helmets.
"It was incredibly insensitive. It was almost macabre, the was this has been handled," Hockey told Channel Seven.
He said that Australians rejected the death penalty outright.
"The outrage of the Australian people on all of this is rightly palpable about all of this. This is just not the way to treat human beings. I think we have done absolutely everything we can. It is certainly frustrating, but just so sad, on so many fronts."
According to fellow inmates Sukumaran and Chan have become model prisoners during their time behind bars. Sukumaran is studying fine arts and has set up a class for fellow inmates whilst Chan counsels inmates with drugs problems.
Also facing execution in the coming days are citizens of France, Brazil, the Philippines, Ghana and Nigeria, as well as Indonesia. A Filipino convict has yet to be transferred to the island due to ongoing legal challenges.
Register for free to continue reading
Registration is a free and easy way to support our truly independent journalism
By registering, you will also enjoy limited access to Premium articles, exclusive newsletters, commenting, and virtual events with our leading journalists
Already have an account? sign in
Join our new commenting forum
Join thought-provoking conversations, follow other Independent readers and see their replies