MH370 latest: Pilot Zaharie Ahmad Shah's wife breaks silence to 'confirm he spoke final words from cockpit'
Claims by New Zealand journalists come as Malaysia Airline's British commercial chief said he believes 'something untoward happened to plane'
Heather Saul
Wednesday 25 June 2014 10:19 Comments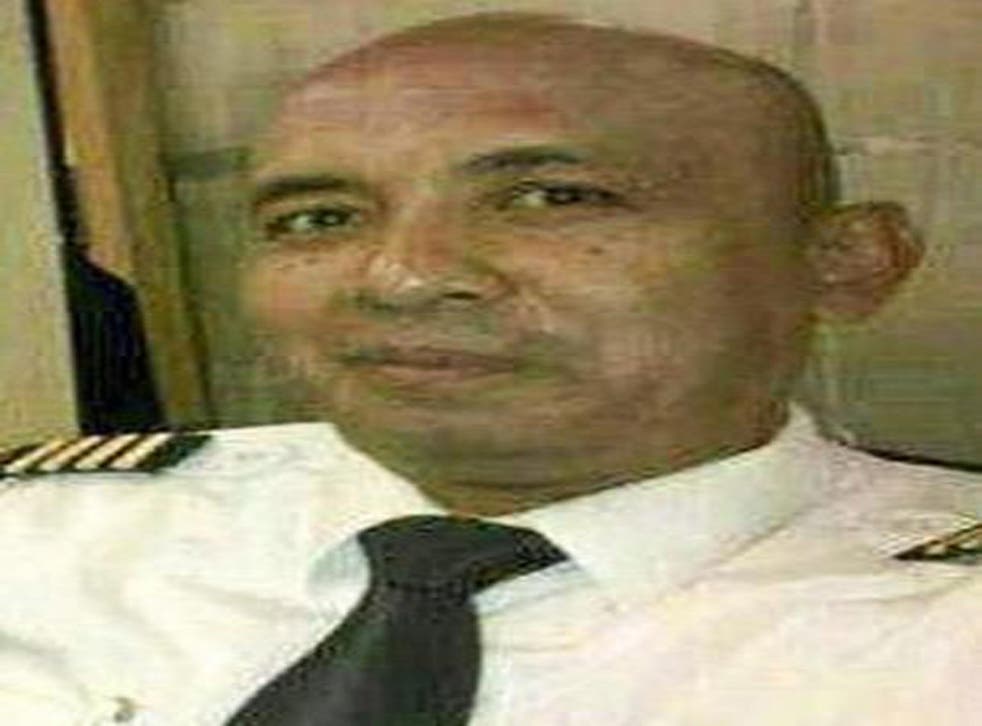 The wife of one of the pilots on board the missing Malaysia Airlines flight MH370 has reportedly confirmed her husband spoke the final words from the cockpit - not his co-pilot, as the airline has previously suggested.
Flight MH370 disappeared with 239 passengers and crew on board after taking off from Kuala Lumpur, bound for Beijing, on 8 March, with the search to locate the plane now focusing on the sea bed.
Two New Zealand-based journalists claim to have spoken with the wife of captain Zaharie Ahmad Shah.
Geoff Taylor, deputy editor of New Zealand's Waikato Times, said he and Ewan Wilson, his co-author on the book they are writing about the missing jetliner, spoke on the phone with Faizah Khanum, who reportedly said the voice from the cock-pit delivering the final sign-off was that of her husband.
This contradicts the initial claim by Malaysian Airlines chief Ahmad Jauhari Yahya, who said the words "good night Malaysian 370" were spoken by Fariq Abdul Hamid, the co-pilot. Weeks later, the airline revealed they were unsure as to who had delivered the words.
In pictures: Missing Malaysia Airlines flight MH370

Show all 30
Mr Taylor told Stuff.co.nz: "In the three months-plus since the flight went down no-one in the media has been able to get close to Zaharie's widow.
"We were lucky to get confirmation from her that it was him who was at the helm. It's a breakthrough, because that was an unknown until now."
Their allegations come as Hugh Dunleavy, Malaysia Airline's British commercial chief, admitted to the Evening Standard he believed "something untoward happened to that plane", and warned finding out exactly what this was could take "decades".
He said: "I think it made a turn to come back, then a sequence of events overtook it, and it was unable to return to base. I believe it's somewhere in the south Indian Ocean. But when [a plane] hits the ocean it's like hitting concrete. The wreckage could be spread over a big area. And there are mountains and canyons in that ocean.
"I think it could take a really long time to find. We're talking decades."
On Sunday, it was reported that Zaharie was being considered as the most likely perpetrator, if deliberate human action is to blame, by detectives who profiled all of the 239 people on the flight.
While the official results of the inquiry are yet to be published, details have been passed on to foreign governments and crash investigators, according to the Sunday Times.
But reports that Zaharie was being considered the prime suspect were rejected on Monday by Hishammuddin Hussein, Malaysia's acting transport minister, who told Malaysia's The Star such reports should not be entertained.
Register for free to continue reading
Registration is a free and easy way to support our truly independent journalism
By registering, you will also enjoy limited access to Premium articles, exclusive newsletters, commenting, and virtual events with our leading journalists
Already have an account? sign in
Join our new commenting forum
Join thought-provoking conversations, follow other Independent readers and see their replies