Missing Malaysia Airlines flight MH370: China tells families that protests could harm 'national interests'
The Australian Prime Minister said on Monday that crews are committed to doing 'whatever [they] reasonably can'
Kashmira Gander
Tuesday 01 April 2014 06:41 Comments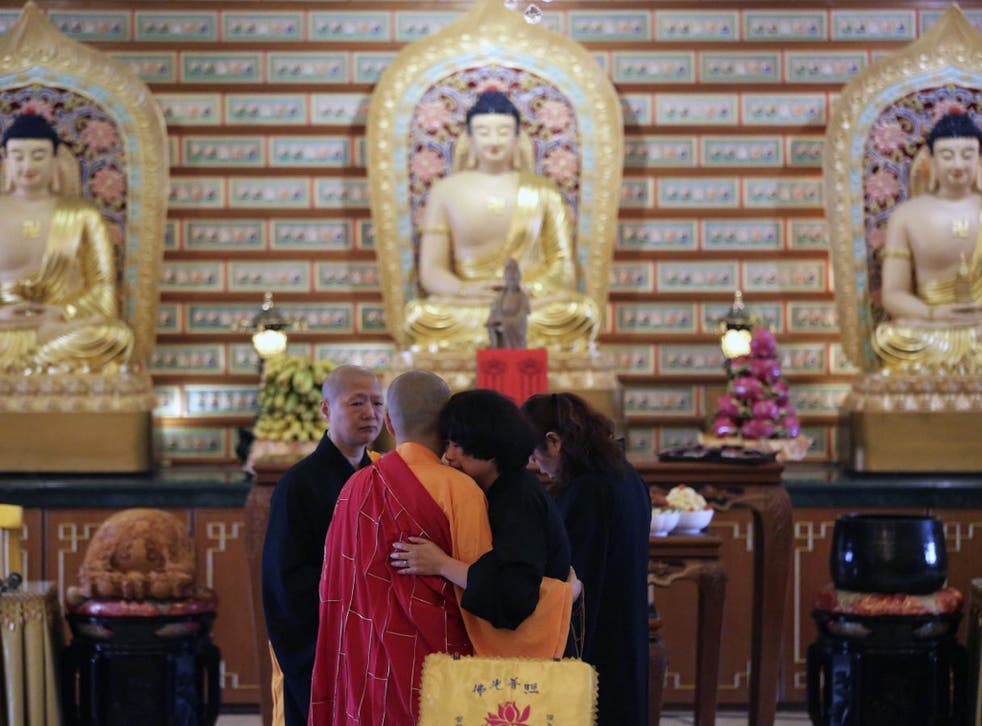 China has urged the families of those aboard missing flight MH370 to accept that their loved ones are dead and called on them to stop directing their anger towards the Malaysian authorities handling the investigation.
Many Chinese have expressed scepticism over accounts by the Malaysian government, claiming it has not revealed everything it knows about the stricken jetl's disappearance on 8 March.
Many have expressed frustration that investigators have concluded the jet went down in the Indian Ocean without any physical evidence.
Yesterday, dozens of relatives travelled to the Malaysian capital where they staged protests in which they held up banners that read: "We want evidence, truth, dignity" in Chinese, and "Hand us the murderer. Tell us the truth. Give us our relatives back."
However, in a lengthy editorial in the state-run China Daily today, they were warned that they should not let anger prevail over facts and rationality by directing "irrational words and behaviour" at the Malaysian government.
It said that such actions could harm China's "national interests, making all Chinese people pay for the tragedy".
The search for missing Malaysia Airlines plane

Show all 115
"No matter how distressed we are and how many details that are not clear, it is certain that flight MH370 crashed in the Indian Ocean and no one on board survived."
"Although the Malaysian government's handling of the crisis has been quite clumsy, we need to understand this is perhaps the most bizarre incident in Asian civil aviation history. And confronted with this unprecedented crisis, it is understandable that as a developing country, the Malaysia government felt completely at a loss," the China Daily added.
Earlier, it emerged that a cluster of orange objects spotted yesterday by a search plane turned out to be nothing more than fishing equipment, the latest disappointing news in a hunt that Australia has promised will continue indefinitely.
Crews searching for Missing Flight MH370 have around two weeks to find the aircraft's pair of black boxes before they stop emitting locator pings.
The boxes, designed to "ping" for at least 30 days, contain sounds recorded in the cockpit and data on the plane's performance and flightpath that could help answer why it diverted sharply west from its overnight flight from Kuala Lumpur, Malaysia, to Beijing on 8 March.
An Australian warship, the Ocean Shield, was carrying a US device that detects "pings" from the flight recorders, and was expected to leave Perth on Monday for the search zone - a trip that will take three to four days.
The Australian Maritime Safety Authority, which is coordinating the search, said it would first conduct sea trials afternoon to test the search equipment on board.
As the deadline approaches, Australia's Prime Minister, Tony Abbott, said on Monday: "This is an extraordinarily difficult exercise.
"We are searching a vast area of ocean and we are working on quite limited information," He added that world-leading experts and all the latest technological were being applied to the task.
He said they would carry on "until we locate some actual wreckage from the aircraft and then do the regression analysis that might tell us where the aircraft went into the ocean. If this mystery is solvable, we will solve it," he said.
"We owe it to everyone to do whatever we reasonably can and we can keep searching for quite some time to come." he added.
On Monday, 10 aircraft were headed to the search area around 1,850 kilometers (1,150 miles) west of Australia, where 10 ships were already scouring for wreckage.
Around 100 personnel in the air and 1,000 sailors were involved in Monday's hunt, but their search may be hindered by low clouds and rain.
After several days of searching in the area, neither ships nor aircraft have found debris that can be linked to the flight, officials say.
Since the aircraft disappeared in early March, experts have sifted through radar and satellite data, and gradually moved the hunt from seas off of Vietnam, to areas west of Malaysia and Indonesia, and then to several areas west of Australia.
Former Australian defence chief Angus Houston heads the new joint agency co-ordination centre, which oversees communications with the international agencies involved in the search. The Perth-based centre will position Australia to shoulder more of Malaysia's co-ordination responsibilities as the search continues.
Mr Houston will also play a prime role when victims' families travel to Australia in the weeks ahead.
The search area remains vast, so investigators are hoping to first find debris floating on the ocean surface that will help them calculate where the aircraft crashed into the water.
Meanwhile, several dozen Chinese relatives of Flight 370 passengers visited a Buddhist temple near Kuala Lumpur on Monday to pray for their loved ones, following a text sent by the Malaysian authorities to passengers' family members on 24 March saying there was no hope that anyone survived.
"You are not alone," one nun told the congregation, adding: "You have the whole world's love, including Malaysia's."
Additional reporting by AP
Register for free to continue reading
Registration is a free and easy way to support our truly independent journalism
By registering, you will also enjoy limited access to Premium articles, exclusive newsletters, commenting, and virtual events with our leading journalists
Already have an account? sign in
Join our new commenting forum
Join thought-provoking conversations, follow other Independent readers and see their replies