Dolphin named Mystique surprises visitors with 'treasure' from bottom of ocean
Staff at dolphin centre in Australia say dolphin hasn't been trained to find the presents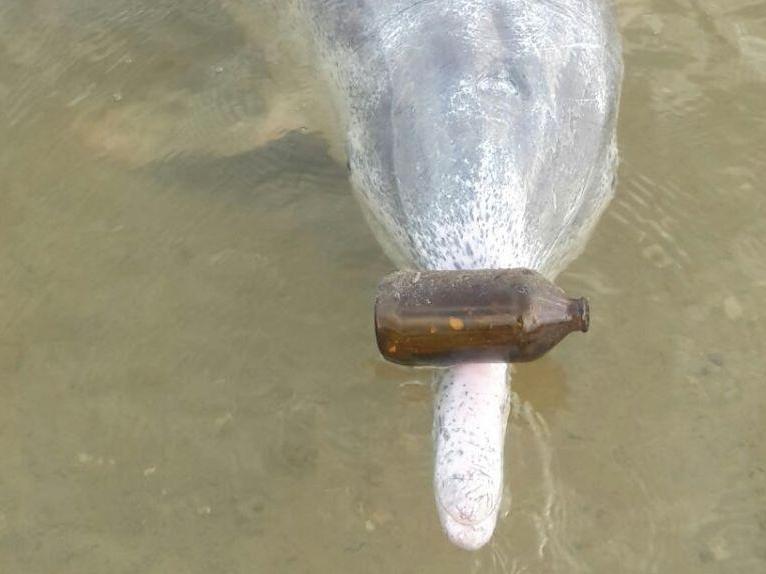 A dolphin has been finding hidden "treasure" at the bottom of the ocean and giving it to visitors in Australia during the Covid-19 pandemic.
Mystique, a 29-year-old humpback dolphin, has been presenting gifts to staff and volunteers at the Barnacles Cafe & Dolphin Feeding Centre in Queensland, Cooloola Coast.
Mystique has not been trained to search for the items at the bottom of the sea, ABC reported, but has been keen to keep human contact during lockdown as fewer people visit the shore.
"He gets under it [and] if he drops it too far out, or we say 'come on, that's not good enough', then he gets underneath it and brings it to us," said Lyn McPherson, a volunteer feeder at the cafe.
"We swear he has a collection waiting to bring to us."
The mammal has been giving items to visitors including coral, shells, bottles and wood in return for tasty bits of fish.
"What we have to do is give him a fish in return. We haven't trained him, but he has trained us to do this," Ms McPherson explained.
Volunteers at the centre say Mystique swims with a pod of up seven dolphins, but he is the only one known to search for presents.
It is thought Mystique first appeared in the area with his mother in 1991.
Mystique is the alpha male of his pod and is also scarred from his many battles, including a battle with a bull shark in December 2007, according to the cafe.
He is easy to spot because he has a chunk missing from his dorsal fin from the 2007 attack, the cafe says.
Barnacles Cafe & Dolphin Feeding Centre says its aim is to provide all visitors with a unique and memorable dolphin experience as well as increase awareness of these beautiful mammals and the dangers they face.
"Volunteers answer questions from visitors, as well as make special presentations, (including to groups of school children) on the nature of the Australian Humpback dolphin, its habitat, behaviour, diet and threats to its environment," its website states.
Around 200 people visit Barnacles Cafe & Dolphin Feeding Centre every day. It was forced to shut due to the ongoing pandemic but reopened on 16 May.
Join our commenting forum
Join thought-provoking conversations, follow other Independent readers and see their replies