Nigel Farage protesters arrested in Melbourne outside hotel hosting his speech
'His UKIP was designed to popularise the far right and give them a respectable veneer'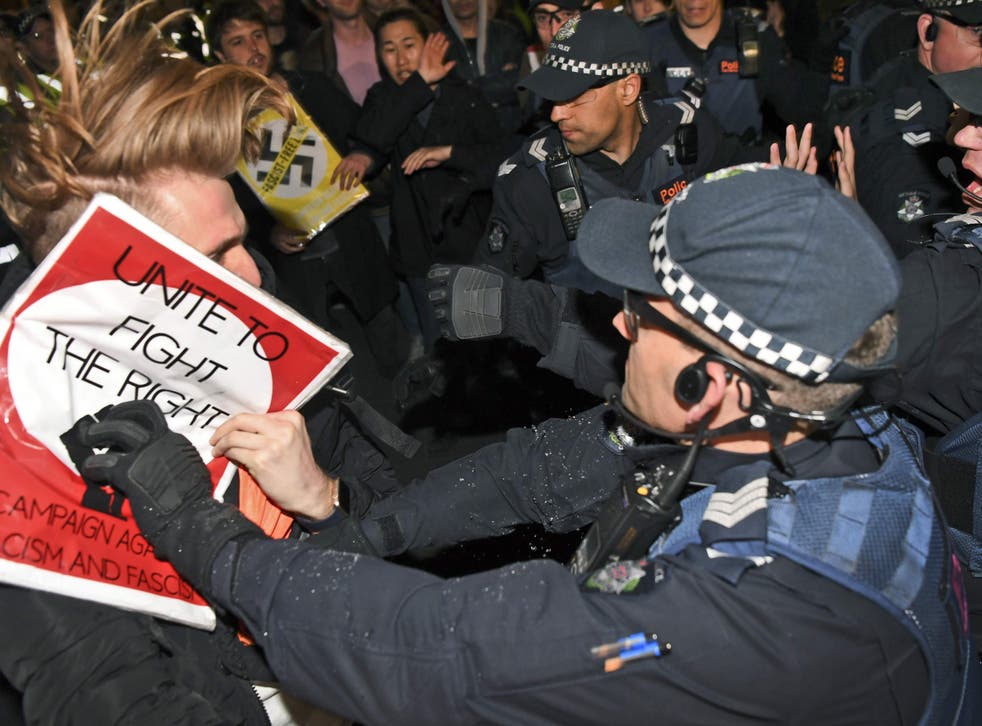 Five people have been arrested outside a Melbourne hotel where Nigel Farage was speaking on the latest leg of his tour of Australasia.
Around 200 people met for the protest outside the Sofitel Hotel on Friday, where Mr Farage was delivering the last of the series of speeches.
One person was arrested for criminal damage, another for riotous behaviour and a third for assaulting the police and covering their face, according to The Guardian. Two other arrests were made for unrelated matters.
The protest was led by the Campaign Against Racism and Fascism, an activist group dedicated to fighting the far right. The group's organisers described Mr Farage a "far right global leader" on their Facebook page.
"His UKIP was designed to popularise the far right and give them a respectable veneer," organisers wrote.
The former Ukip leader has spent five days on a speaking tour of Australia and New Zealand for which tickets for a one-to-one meeting and a photo went for AUS$295 (£166).
Mr Farage spent the tour speaking about Brexit, Ukip and his friendship with US President Donald Trump.
The former Ukip leader's tour has triggered outrage from other groups.
Protesters from the activist group United Against Bigtory and Racism gathered earlier this week at a venue in Perth where Mr Farage was due to speak.
Some heckled audience members who walked into the venue, labelling them "Nazi scum".
Mr Farage has suffered other setbacks during the tour. Earlier this week he was forced to move a speech from the 2,500-seat International Conference Centre in Sydney to a smaller venue, according to The Guardian. He later spoke at a smaller venue in Pyrmont, where a spokesman said 1,000 people attended.
Join our new commenting forum
Join thought-provoking conversations, follow other Independent readers and see their replies