'Please don't kill my son': Families of Bali Nine duo launch heartbreaking plea for their lives
Andrew Chan and Myuran Sukumaran are due to be executed today
Lizzie Dearden
Tuesday 28 April 2015 13:00 Comments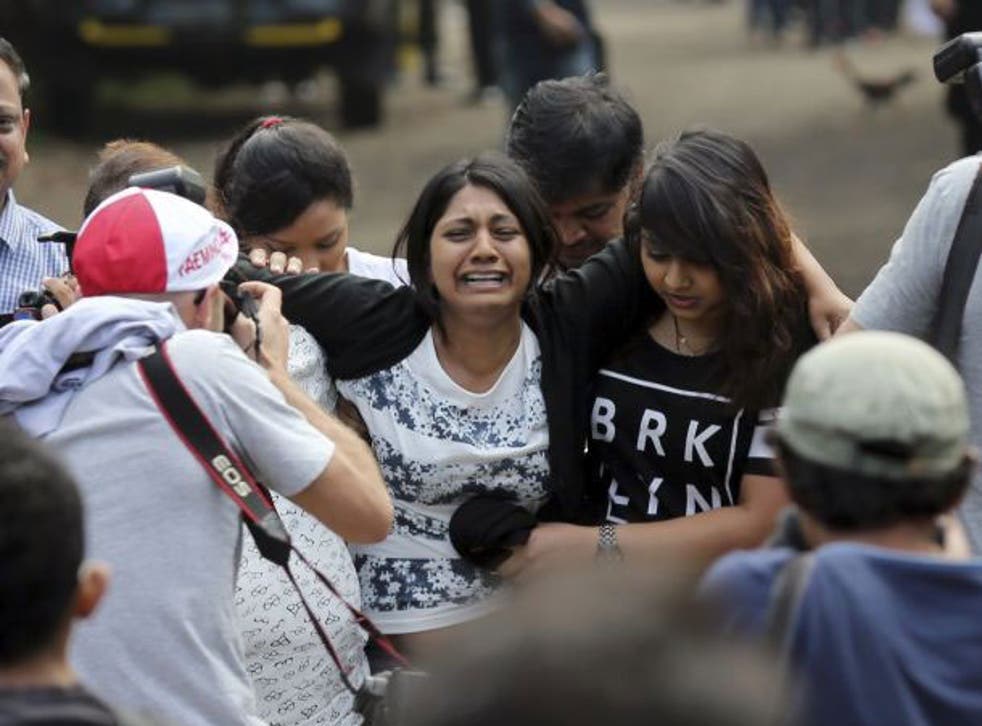 The families of two Australian men due to be executed have begged the Indonesian government to show mercy after seeing the prisoners for what they fear is the last time.
In heartbreaking scenes, the parents and siblings of Andrew Chan, 31, and Myuran Sukumaran, 34, broke down after leaving the notorious Nusakambangan "execution island".
Sukumaran's mother, Raji, pleaded with authorities to spare him during a press conference earlier today.
"I just had to say goodbye to my son - I won't see him again," she said, while sobbing.
"They are going to take him at midnight and shoot him.
"He is healthy and he is beautiful and he has a lot of compassion for other people.
"I'm asking the government please don't kill him today. Please don't hold the execution. Please don't kill my son."
Her daughter, Brintha, had earlier broken down on the way into the prison and had to be supported through the crowds.
"Please do not do this to my brother," she pleaded through tears. "Please don't take my brother from me. I'm begging you President Joko Widodo."
Her brother, Chintu Sukumaran, said the families spent several hours with all nine prisoners due to be shot dead today but it did not feel like enough time.
As well as the two Australians, there are four Nigerian men, a Filipino woman and one man each from Brazil and Indonesia.
"We did talk about the death penalty and he knows this is just a waste," Mr Sukumaran said.
Bali Nine pair executed

Show all 22
"It's not going to solve anything with drugs. Tomorrow, next week, next month, it's still not going to stop anything with drugs. If these nine people die today, it's still not going to stop anything."
Pleading with the President to show mercy, he added: "Please don't let my mum and my sister have to bury my brother."
Mr Sukumaran said that his brother was "dignified and courageous" in the face of death and that he and Chan vowed to comfort the seven others as much as they could.
"We still have hope right up until the last second that the President will see these people as individuals, as people with families that love them and show mercy," he added.
Chan's family were also there, including his brother Michael who said the experience of saying goodbye was something that "no other family should ever have to go through".
"Nine families inside a prison saying goodbye to their loved ones. Kids, mothers, cousins, brothers, sisters. You name it, they were all there," he said.
"To walk out of there and say goodbye for the last time, it's torture and no family should have to go through that."
Addressing the President, he called for a moratorium on the death penalty, which resumed in Indonesia in 2013, and said it was not too late to call the executions off.
Chan was granted his last wish to marry Indonesian girlfriend Febyanti Herewila yesterday and was spending his final hours in prayer.
Sukumaran, who has released several harrowing self-portraits since being given notice of his imminent execution, asked to be allowed to paint up until the last possible moment.
The pair are expected to be killed by a firing squad shortly after midnight, when Sukumaran has vowed not to wear a blindfold so he can "face it with dignity".
They were convicted in 2006 as part of the "Bali Nine" drug smuggling gang who were arrested on the island for trying to smuggle 8kg of heroin to Australia. Their Australian co-conspirators were jailed for between 18 years and life in Indonesia.
Register for free to continue reading
Registration is a free and easy way to support our truly independent journalism
By registering, you will also enjoy limited access to Premium articles, exclusive newsletters, commenting, and virtual events with our leading journalists
Already have an account? sign in
Join our new commenting forum
Join thought-provoking conversations, follow other Independent readers and see their replies