Sharia law 'obviously involves terrorism' - says Australian senator dubbed Canberra's Palin
Senator Jacqui Lambie is right wing, loud, and not very bright. The sober alcoholic also has a hand on the balance of power.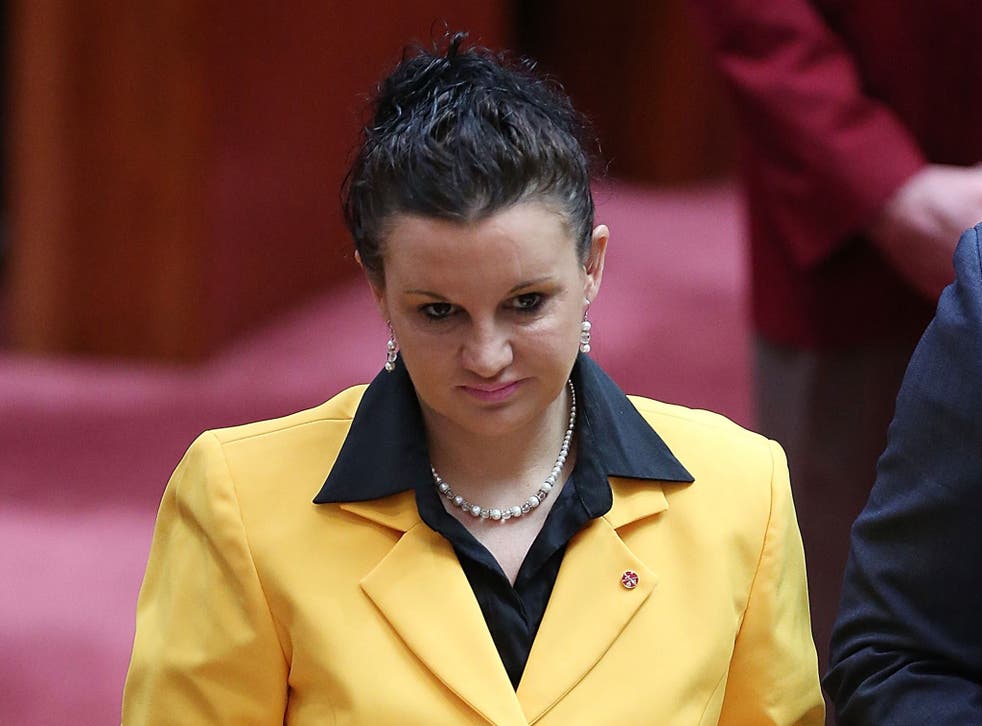 She's Australia's answer to Sarah Palin – and then some. Jacqui Lambie might not be the savviest person in Canberra – sharia law, she has confidently asserted, "obviously involves terorrism". But the outspoken Senator is stirring up the staid world of Australian politics and, some say, injecting a large dose of realism.
Whether pronouncing on her taste in men ("heaps of cash" and "a package between their legs"), calling for the burka to be banned, or warning about an imminent Chinese invasion, Ms Lambie has rarely been out of the spotlight since arriving in the capital with next to no political experience – and having been out of work for 14 years.
But the combative 43-year-old – who has also been likened to Pauline Hanson, the right-wing firebrand whose political star burned briefly in the late 1990s – is not just a headline. As one of eight cross-benchers holding the balance of power in the upper house, she has genuine clout.
Mr Abbott's own backbenchers can only watch with envy as Ms Lambie is wooed by the Prime Minister Tony Abbott and his Treasurer, Joe Hockey, who have held one-to-one meetings with her in an effort to win her support for unpopular budget measures.
A single mother, reformed alcoholic and former army corporal who declared in her maiden speech that she was in parliament because "God performed a miracle and put me in this place", the combative Tasmanian was actually elected on the coat-tails of Clive Palmer, the eccentric mining tycoon and new MP.
Ms Lambie joined his Palmer United Party after running out of money for an independent campaign. But she refuses to kowtow to Mr Palmer, making up her own policies as she goes along. "I don't back down to Clive Palmer," she told ABC TV. "Even a billionaire needs to be told, every now and again."
Like Ricky Muir, another fledgling senator and sole parliamentary representative of the Australian Motoring Enthusiast Party, Ms Lambie is one of the oddities thrown up by the country's complicated preferential voting system. Although elected last year, the new senators took their seats only in July.
While Ms Hanson famously raged against Asian immigrants, Ms Lambie is fixated on Muslims. In a Senate speech last week – lambasting supporters of sharia – she thundered: "It's about time we faced the fact that these maniacs and depraved humans will not stop committing their cold-blooded butchery and rapes until every woman in Australia wears a burka and is subservient to men."
The daughter of a truck driver and a factory worker who split up when she was 13, Ms Lambie grew up in public housing in Tasmania's depressed north-west. After injuring her spine during army training, she had to fight to get compensation.
Always clad in yellow, she is passionate about the problems of her home state, especially rampant unemployment, about the "rough treatment" of military veterans, and about the interests of "the elderly, sick, needy and disabled… the battlers, small-business owners and workers".
Her language is raw. Mr Abbott is a "bare-faced liar" and a "political psychopath". Unemployed young people, the target of proposed welfare cuts, already feel "like a bucket of shit". The high transport costs paid by Tasmanians are an "outrageous, stinking, filthy injustice".
During her maiden speech, Ms Lambie stunned many by claiming Aboriginal ancestry. When Tasmanian Aboriginal leaders challenged her, she warned them to "watch your step with me". She also offered to take a DNA test.
Intriguingly, she has set off a serious national debate by calling for dedicated seats in federal parliament for indigenous Australians, a system embraced by New Zealand in relation to Maori voters.
Noel Pearson, one of Australia's most widely respected Aboriginal leaders, described the proposal as "one model" meriting proper debate, and even Mr Abbott suggested it was worthy of "serious discussion". Ms Lambie has talked candidly about the depression, alcoholism and painkiller addiction which she battled after leaving the Australian Defence Force, where she had been a driver and military police officer. At rock bottom, when her younger son, Dylan, was seven, he was her "main carer". By 13, Dylan was a drug addict.
Next to Ms Lambie, Mr Palmer – who is building the world's biggest (replica) dinosaur park and wants to sail a replica of Titanic from Southampton to New York – seems like the voice of reason.
After her rant about sharia, he tweeted: "We are a rich and diverse nation… We have lots in common, we love our families, freedom and our efforts to help each other." He strenously denied reports that he had told another party senator that Ms Lambie was "not very bright."
In August, Mr Palmer sparked outrage when he described the Chinese on national TV as "mongrels" who "shoot their own people". Just as he was trying to dampen the row, Ms Lambie sprang in to warn that "we can't ignore the threat of Communist Chinese invasion". That earned her the nickname "Lambo".
Jacqueline Maley, a Fairfax Media columnist, told ABC TV: "Jacqui Lambie is completely unvarnished by the political machine. You might say that she's rough as guts, but she resembles real people more than anybody else in Parliament." Malcolm Farr, political editor of the News Corp website, concurs. "It's part of the brilliance and resilience of our political system that this woman… can make it to the Australian Parliament," he says. "It's a hell of a democracy that can find room for Jacqui Lambie."
Join our new commenting forum
Join thought-provoking conversations, follow other Independent readers and see their replies