Bride and groom seen cutting cake hours before bus crash killed 10 guests
Dozens of guests remain injured in hospitals across Sydney after bus overturns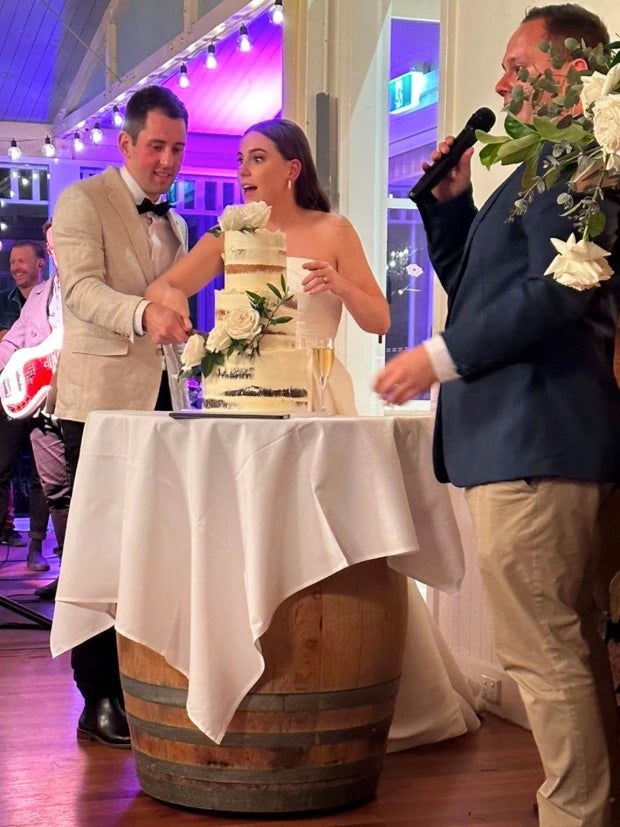 A bride and groom were filmed cutting cake at their "fairytale" wedding hours before the night descended into catastrophe.
A bus carrying dozens of Madeleine Edsell and Mitchell Gaffney's wedding guests overturned on Sunday night as it left the venue in Sydney, Australia, leaving 10 of their loved ones dead with 25 more injured.
Emergency services were called to the Wine Country Drive in the Hunter Valley near the town of Greta at 11.30pm on Sunday after reports that a bus had rolled over at a roundabout.
The guests were pulled from the front windscreen by emergency services as they scrambled to save the passengers.
Local MC Alex Tigani had posted a photo of the newlyweds cutting the cake on his Instagram story, hours before the fatal crash.
Mr Tigani is understood to be among the injured receiving treatment at a local hospital, as reported by The Sun.
A distressed guest told local media: "It was a nice day, a pretty good wedding... fairytale stuff really... and we got the news that there had been a crash, and we all started panicking."
The 58-year-old driver, Brett Button, has been in custody since the accident Sunday night and will appear in court on Tuesday on multiple charges of dangerous and negligent driving, a police statement said.
NSW Police acting assistant commissioner Tracy Chapman said earlier: "We're investigating all avenues of driver behaviour."
She said there was "sufficient information" to charge the driver and added: "He's under arrest.
"He's been the driver of a motor vehicle collision where there have been fatal injuries and there will be charges pending."
NSW Police Commissioner Karen Webb added that the driver was "currently in the charging process" and added she "cannot imagine what [the family] must be feeling".
Australian prime minister Anthony Albanese offered his "deepest sympathies" to those that lost loved ones and thanked emergency services for their efforts at the scene.
In a tweet from his account, he said: "All Australians waking up to tragic news from the Hunter send our deepest sympathies to the loved ones of those killed in this horrific bus tragedy.
"For a day of joy to end in such devastating loss is cruel indeed. Our thoughts are also with those who have been injured.
"Thank you to all the first responders who rushed to the scene, and those continuing to assist and care for those affected by this tragedy."
Join our commenting forum
Join thought-provoking conversations, follow other Independent readers and see their replies