Sheikh Man Haron Monis: Sydney siege gunman identified by police as well-known Islamist cleric
The 50-year-old extremist is well-known to Australian authorities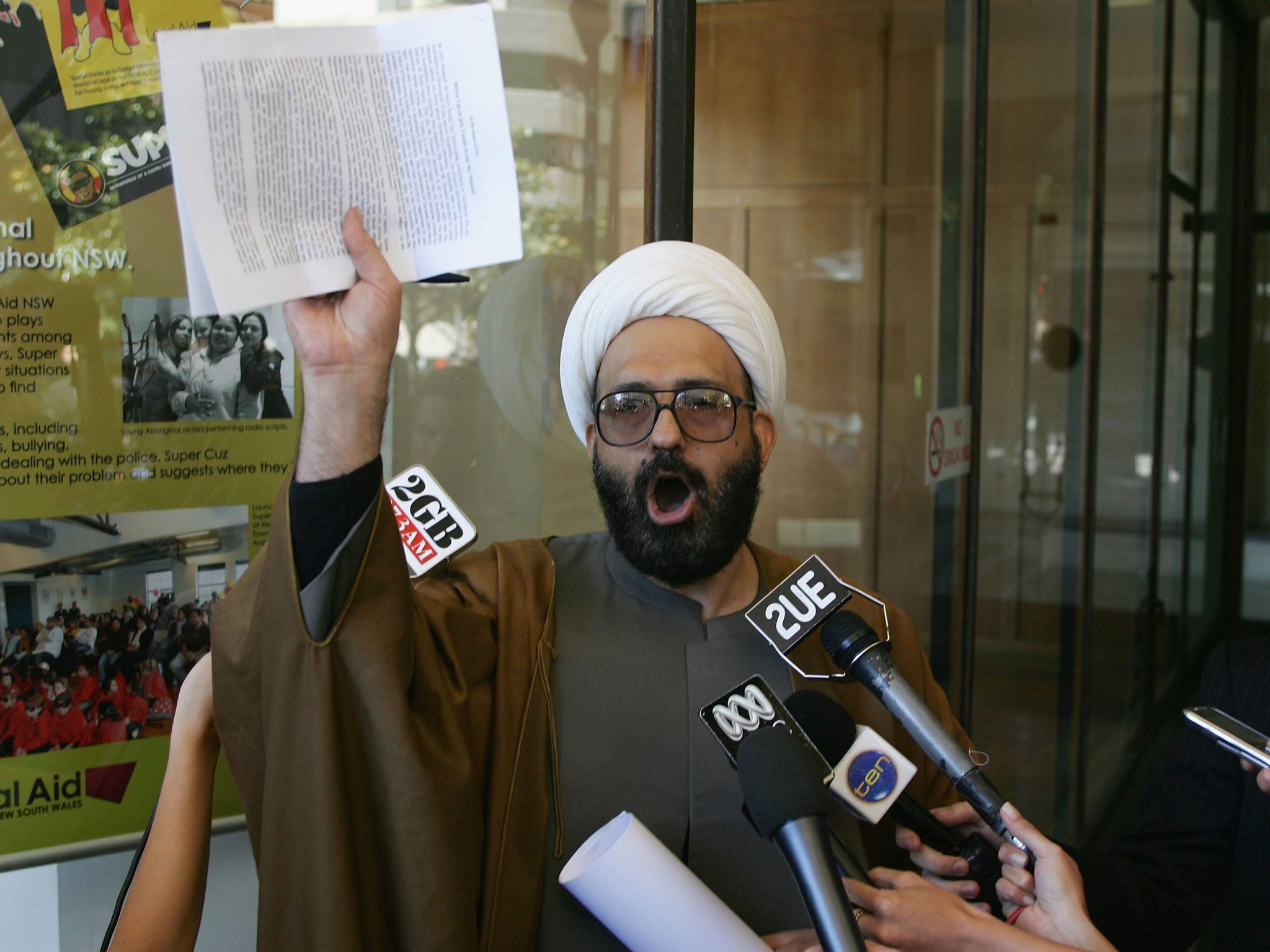 He rallied against Australia's "terrorism" towards Muslims, pleaded guilty to writing "deplorable" letters to the families of dead servicemen, and charted the rise of the Isis militant group in Syria and Iraq.
Now, police have identified Man Haron Monis as the armed gunman behind the siege at a Sydney cafe that has seen around 15 people taken hostage.
First named in Australian media reports and later confirmed by a police source, Monis was a 49-year-old self-styled Islamist cleric who has faced a host of previous criminal charges.
An Iranian refugee, he was on bail charged with being an accessory to the murder of his ex-wife and mother of his two children. He moved to Australia in 1996, and assumed the title of "Sheikh Haron".
Well-known to the authorities since he was found to have written hate letters to the families of Australian soldiers killed in overseas conflicts, Monis operates a pro-Islam website, YouTube channel, Facebook and Twitter pages in which he describes his various police charges as part of a witch hunt against him.
"There's no operational reason for that name to be held back by us now," said a police source, who declined to be identified.
In pictures: Sydney siege
Show all 32
Monis's website included graphic pictures of murdered children and railed against what he called "Australian oppression and terrorism".
He recently compared himself on his website to the Wikileaks founder Julian Assange, suggesting that recent charges against him were brought for "political reasons", and carried a quote which read: "I used to be a Rafidi, but not any more. Now I am a Muslim, Alhamdu Lillah."
In 2013, Monis pleaded guilty to 12 charges in relation to what police called "offensive and deplorable" letters sent to the families of killed Australian servicemen. Monis claimed the letters were "condolence cards" and defended them in the High Court as "politically motivated".
And according to Australian media, Monday's incident is thought to have followed an unsuccessful, last-ditch attempted in the High Court on Friday to have the charges overturned.
Bree Till, the widow of killed Sergeant Brett Till and one of the recipients of the letters, told reporters at the time of Monis' conviction: "We sat reading these letters (which) made out to be something supportive but then the juxtaposition of this man accusing my husband of being a child-killer while dictating how I should raise my children. It was scary."
Since last year's court appearance relating to his wife's death, Monis has also been charged with 50 counts of indecent and sexual assault relating to a time a decade ago when he claimed to be a "spiritual healer", The Age reported.
Join our commenting forum
Join thought-provoking conversations, follow other Independent readers and see their replies