The invisible man: Liberal Party candidate Jaymes Diaz looks set to win Sydney's vote
As national elections loom, the west of the city acts as a barometer for Australia – and Labor seems set for a trouncing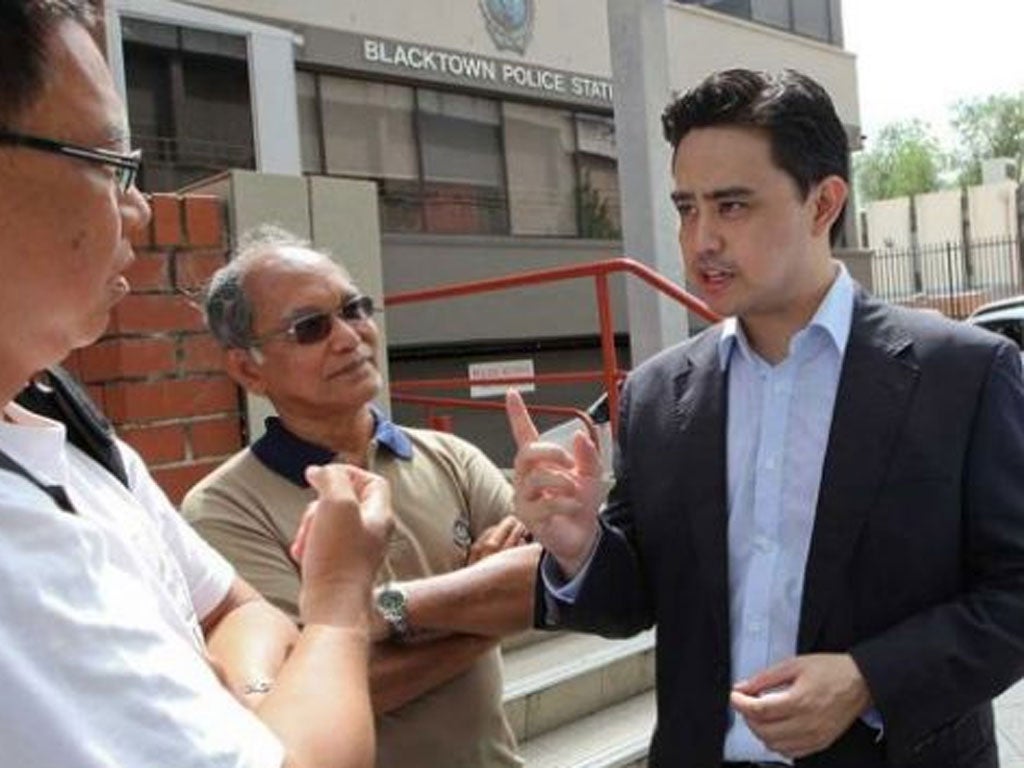 Jaymes Diaz is the Scarlet Pimpernel of the Australian election campaign. A week out from polling day, sightings of him are rare in Greenway, in Sydney's west, where he is the conservative Liberal Party's candidate. It's a stark contrast to another candidate in the election, who is also something of a Pimpernel. Julian Assange, the WikiLeaks founder currently holed up in the Ecuadorian embassy in London, is running for a senate seat in Victoria. As one of six WikiLeaks candidates, Mr Assange has taken to dressing up in a comedy wig and bandana to make fun of Australian politicians in videos posted online. But in doing so he has displeased his hosts. Ecuador's President has written to him asking him to desist.
"We have sent him a letter: he can campaign politically, but without making fun of Australian politicians. We are not going to allow that," said Rafael Correa of Mr Assange, who is fighting extradition to Sweden where he faces allegations of sexual assault.
While the WikiLeaks founder continues to be all too visible, Mr Diaz's local newspaper has taken to asking readers: "Has anyone seen Jaymes?" At a debate last week, he was present only as a cardboard cut-out, brought along by someone in a spirit of mischief.
Despite the invisible man act – and one truly dreadful performance before he vanished from public view – Mr Diaz seems on course to win Greenway next Saturday. Indeed, were the cardboard cut-out to stand instead of the flesh-and-blood candidate, it's tempting to think it would have an equally good chance of being elected.
That's no reflection on the incumbent Labor MP, Michelle Rowland, who is widely respected. It's because voters in Greenway – and across the key electoral battleground of western Sydney – are fed up with Kevin Rudd's Labor government. And while they may be lukewarm about the opposition leader, Tony Abbott, the polls all point to a victory for his Liberal-National Party Coalition.
Quite different from the Sydney of the tourist brochures, the western suburbs – stretching up to 60km distant from the beaches, Opera House and Harbour Bridge – used to be solid Labor territory. Increasing wealth and diversity have transformed the region, now home to two million people and containing a number of marginal seats critical to the outcome of federal elections.
Ms Rowland, a former lawyer, holds Greenway with the tiniest of margins – 0.88 per cent, or 701 votes – reflecting the knife-edge result of the 2010 election, which culminated in Australia's first hung parliament since 1940 and a minority government cobbled together by Julia Gillard, with the help of Greens and independents. She had deposed Mr Rudd two months earlier; he returned the favour last June.
Although Labor's ratings improved after Mr Rudd returned, they have since slipped back. A Newspoll survey published in The Australian last week gave the coalition a six-point lead. Up to a dozen seats in Sydney's west are considered vulnerable, including those held by the Treasurer, Chris Bowen, and the immigration minister, Tony Burke.
The "boat people" issue figures prominently in Greenway, which has substantial Indian and Filipino communities. While established migrants resent what they regard as queue-jumping, other locals fear greater competition for jobs in an area with an unemployment rate of nearly 10 per cent – in pockets, at least – as well as added pressure on a crumbling transport infrastructure.
Li Lee, who migrated to Australia from India in the 1970s, has been trying to bring her brother's family over for years, without success. "I feel sorry for the boat people, but they've got no education," said Ms Lee, shopping for groceries in Seven Hills, a district of Greenway, on Friday. "It seems like they get more help than Australians who've been paying tax for a long time."
Mr Abbott's promise to "turn back" boats when they enter Australian waters and ban asylum-seekers already in Australia from being resettled here resonates in western Sydney. So does his pledge to abolish Labor's carbon tax, which is blamed for soaring gas and electricity prices.
Formerly a collection of farming communities and country towns, the west was intensively settled in the immediate post-war years, as the population boomed and southern Europeans arrived under the country's new migration programme. Greeks and Italians were followed by migrants from Lebanon, Indo-China and, most recently, the Horn of Africa. Western Sydney is now Australia's most ethnically mixed region, and – once synonymous with blue-collar workers – has also become socio-economically diverse, with million-dollar mansions standing alongside 1950s "fibro" (asbestos) cottages. Young families – the demographic most squeezed by cost of living pressures, and also the most politically fickle – have moved there to buy larger houses with bigger gardens.
At the foot of the Blue Mountains, and marking Sydney's western boundary, sits Penrith, a river town which forms the heart of the seat of Lindsay. Here, another Labor MP, David Bradbury, is sitting on a 1 per cent majority. Although the population is largely Anglo-Australian, in contrast to Greenway, where 40 per cent of people speak a language other than English at home, similar concerns are voiced, including job insecurity, the slowing economy and a spiralling national debt.
A "barometer" seat which has always gone with the government, Lindsay turned Liberal for the first time in 1996, when Mr Abbott's predecessor, John Howard, was elected. Jackie Kelly, its new MP, became a poster girl for the west's "aspirational" voters. In 2007, when the nation turned back to Labor under Mr Rudd, so did Lindsay. Mr Bradbury's Liberal challenger is Fiona Scott, whose "sex appeal" was controversially highlighted by Mr Abbott recently.
Like Jaymes Diaz, Ms Scott is ducking the limelight, apparently on the orders of Liberal apparatchiks. In fact, all the party's candidates in the west have been effectively banned from speaking to the media or appearing at public forums.
The shutters went down, it seems, following an excruciating television interview in which Mr Diaz – the son of a migration lawyer who wields great influence within Greenway's Filipino community and Liberal Party branches – was unable to detail his own party's six-point plan for asylum-seekers. The interview has been watched more than 50,000 times on YouTube.
Ms Scott looked alarmed last week when The Independent on Sunday approached her at the Penrith markets, and a Liberal minder quickly ushered her away. Earlier this year, though, she was more talkative, describing Lindsay as a constituency "that thinks with its feet", populated by people "working hard to send their kids to school, to pay off their mortgages, to get ahead".
Mr Bradbury – who was also at the markets held in the grounds of Penrith's Club Paceway, a harness racing track – is refusing to write off his own chances. "I think there's still quite a few undecided voters, even at this point of the campaign," he said. "But I'm not wanting to make any Nostradamus–like predictions."
As he wandered through the throng of shoppers, cooing at toddlers and handing out red balloons, the Labor MP was buttonholed by Don Payne, a retired aircraft engineer. "You're a good bloke, but you're batting for the wrong team," Mr Payne informed him.
The mood for change in western Sydney appears to be reflected in crucial seats in Queensland, Victoria and Tasmania. And while voters are still wary of Mr Abbott, a devout Catholic, particularly of his socially conservative views, the polls suggest they are tentatively preparing to give him a stab at power.
David Burchell, a politics expert at the University of Western Sydney, believes the change of prime ministers has done little to help Labor. "All the Rudd transition did was muddy the waters for a little while," he says. "I think it's going to be a landslide defeat for Labor nationally, and a serious wipe-out in western Sydney."
"Labor doesn't smell too good in Sydney," says Grahame Morris, a Liberal lobbyist and strategist, referring to a corruption scandal (relating to approval of a coal exploration licence) that has enveloped former state Labor ministers. That affair, together with financial pressures on young families and anger about asylum boat arrivals, is proving "a fatal combination", he believes.
Back in Greenway, they're still searching for Mr Diaz, while in Lindsay Mr Bradbury is fending off questions about his sex own appeal. "I'll leave that for you to judge," he tells The Independent on Sunday. "For what it's worth, my wife says I'm still right up there, and that's all that matters to me."
Join our commenting forum
Join thought-provoking conversations, follow other Independent readers and see their replies